The Bose QuietComfort 35 Series II is a no-brainer purchase at just $299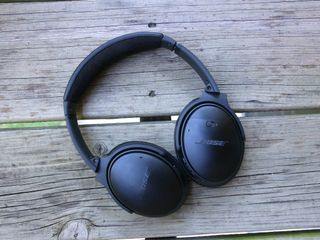 (Image credit: Android Central)
As someone that's never been an audiophile, I was a bit hesitant to pick up the Bose QuietComfort 35 (Series II) last year for their staggering retail price of $349. That's easily the most I've ever spent on a pair of headphones by a large margin, and while my wallet certainly felt the sting of that purchase for a couple weeks afterward, I don't know how I got by for so long without the things.
I called the QC35 II my favorite pair of wireless noise-canceling headphones when I reviewed them earlier this year, saying:
Bose's combination of excellent sound quality, fantastic design, and the industry's best noise-canceling make the QC35 II a force to be reckoned with, but like I mentioned above and in my review, $349 is a lot of money to spend on a pair of headphones.
Thankfully, if you've been holding out on buying the QC35 II and have been waiting for the perfect moment to do so, now's your chance. Amazon's currently selling them for just $299, saving you a cool $50.
This deal is being offered as part of Amazon's Black Friday sale, and whether you're shopping for a loved one or just want to treat yo self, this is an awesome offer. $299 is still a good chunk of change, but for headphones of this caliber, it's one of the best deals you'll find.
See at Amazon (opens in new tab)
Joe Maring was a Senior Editor for Android Central between 2017 and 2021. You can reach him on Twitter at @JoeMaring1.
A no-brainer in the sense that you must be devoid of a brain to spend that much for such a small improvement with most media sources.
The limits for most people are in quality of the media rather than the fidelity of the headphones. The best device won't be able to make poor quality media significantly better.

Here! Here! This place has become sales central with all their commision-based links. At least other sites have the decency to admit that they may earn a sales commission if you click and buy from one of their affiliate based links. The sites that do, mention it in EVERY SINGLE PRODUCT SALE POST. I have seen one, for Mint Sim here once. This site is a joke compared to what Crackberry was in its heyday before it rolled under the mobile nations banner.

And if you do spend three hundred smackers on a set of cans and come home with Bose... no brain!

Exactly. With all due respect, most people couldn't even distinguish between a $40 headphone and this. And spending $299 bucks is always something you should think a it about, even if you have a real fabulous set of ears. Because you know there are some good headphones around for much less. And without sound processing for the noise cancellation, in case you don't need this.
A "no-brainer" indeed to shove out money without thinking about.

Tried these things - They sound/work ok but -- they're too damn hot to wear for long --- can't stand ear muffs in the summer time!!!!

The point, at least for me, is the noise cancelling ability of these headphones, which is outstanding. Sounds is good but bass heavy like every Bose speaker/headphone.
I fly all the time, these headphones make it tolerable.

If you don't travel much or if noise canceling isn't a big deal then I wouldn't get these. I travel 2-4 times a year and I uses these everyday at home for at least a few hours a day. So for me I get a good value out of them. If I didn't use them that much, they would be a waste of money

The noise cancelation is too good. It alters the sound.
Android Central Newsletter
Get the best of Android Central in in your inbox, every day!
Thank you for signing up to Android Central. You will receive a verification email shortly.
There was a problem. Please refresh the page and try again.