Boost Mobile boosts plans with double data and lower prices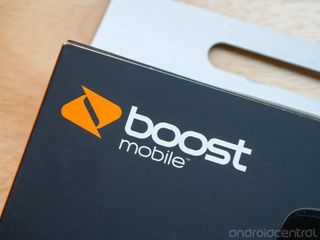 Sprint prepaid subsidiary Boost Mobile is running a promotion from September 3 to November 3 that will give customers discounted plans with double the usual data. As long as customers sign up during this period and keep their accounts active, then they can keep their promotional plan. Now, with a $5 discount, the starting $35 plan will give customers unlimited talk and text with unlimited data, though only the first 1 GB will be at high speed.
Moving to the $45 plan with discount will give users 5 GB of high speed data, though there won't be overages if you exceed, just throttling. Similarly, the $55 plan gives users 10 GB of high speed data.
Are you a current Boost customer? Will you be taking advantage of this promotion come September 3? Let us know.
Get the Android Central Newsletter
Instant access to breaking news, the hottest reviews, great deals and helpful tips.
Where can I get more info on this plan? I could not find it on Boost Mobile website.

Or you can just buy a Sprint phone and pay $60 for unlimited 4G LTE. Duhhh! Posted via the Sprint LG G2 Android Central App

But I believe that requires a contract. This service doesn't, and offers nice cheap phones, like that new Sharp Aquos Crystal for $150. Sprint really should offer a BYOD (Sprint, Boost and Virgin Mobile devices) Prepaid option for the main carrier.

I wouldn't want to get charged 500 for a stupid lg sprint phone boost rules dumb boy

10gb of data for 55$. I am paying 80$ a month for 10gb.I am definitely going to check this out. Posted via Android Central App

Check into the sprint 60$ plan. If sprint works in your area it could save you some Posted via Android Central App

True, but if you don't need unlimited data, then you may as well save the extra 5 bucks a month.

True. I use Sprint's unlimited data plan as well. Some months I use a lot of data other months I don't. It's just nice not having to worry about overages. Posted via Android Central App

I'd rather pay the extra 5 a month for unlimited. >I'm the kind of guy who stops a microwave at one second to feel like a bomb defuser.

I pay almost $200.00 a month on Verizon for 2 lines. One is unlimited and the other is a 2gb plan. >I'm the kind of guy who stops a microwave at one second to feel like a bomb defuser.

Two lines with both unlimited 4G LTE, fastest LTE in the nation, and including all taxes and reg fees, 110 for two lines :) MetroPCS FTW! Posted via Android Central App

Holy Crap. I should move to Boost. Me and my mom are paying $190 for unlimited text and calls with 10GB on Verizon with Boost that would be $110. Jesus. Looked at Verizon Prepaid plans for 4G and they are worse. The best you can get is 3.5 GBs to start. *sigh*. I need to move to GSM either end of this year or next, it would really open up my choice in smartphones and plans.

Not much. With GSM in America, your choices are either ATT 'expensive' or T-mobile 'problematic' depending on coverage area yet better value. And from what I've learned from Jerry, if you wish to migrate between those two carriers, one should purchase the T-mobile version for best cross over compatability. And as such, I believe T-mobile now has and will have less handset options than (some Spark capable) Sprint, Boost, Virgin handsets this Holiday season.

GSM period has more phone choices and more choices in prepaid than CDMA. That is what I am talking about, have no clue what you are on about.

You should look at metropcs plans, it will allow more phones choices than boost.

I heard if u do auto pay u get double the data, so with 45 dollars u get 1 gb of data, add the 20 dollar 3gb bridge you get 4 Gb total not bad for 65 dollars and the Verizon network. Similar plans on postpaid verizon will run u 90 for the single line plan which is 60 plus if u go over 1 gb is 15 dollars. That would be 90 if u go over for 4gb, and the more everything plan will run u about $110 for 4 GB.

Check out republic wireless. I have their 3g plan, which is fine for anything but streaming video (+300k down/+100up in my city, considering most full webpages are 1.5MB, this is more than enough). Really rough to beat $25/month with the option to switch to 4g whenever you want and ability to use it internationally on wifi. 5gb data cap. Great customer service too.

Not a bad deal, at all. If you live in a good coverage area, you'd be crazy to not at least give Boost an honest look.

Can anyone comment on the difference between Boost and Sprint service? Is it similar to AT&T/Cricket, where the coverage is identical, but pre-paid customers are kind of second-class citizens on the data network?

Pretty much. I've had a Boost, Virgin Mobile US and Sprint phone all on at the same time, and the Sprint phone will get better data service in some places where Virgin and Boost will not. I've not looked into it, but it seems like Sprint will use a partner network (in my case, US Cellular) while Virgin and Boost will not.

Yeah Boost and Virgin neither roam nor use non-roaming partners.

I see dchawk81 made the point that Boost and Virgin do not roam. I've heard the same. What then happens? No service? So does Sprint's MVNO services depend on how extensive the build out of Sprint's new network is in the area? When overloaded all carriers get into access management mode, I believe. In well built out areas going forward, will the lack of roaming be an Achilles Heel when using Sprint's MVNOs? Jerry:
This is one of your areas of valued expertise. Perhaps you could do an editorial on it. (again?) While I value and trust your hands on experience over hearsay, I wasn't able to find a credible, well researched, current, in depth answer to hendrikson's question posted (above) searching the Internet. This is something we would all like to know, especially with the competitive values Sprint is now aggressively offering.

You just lose signal. You're getting what Sprint has as native coverage. The plans are cheaper because there's no roaming charges for Sprint to pay to the partners.

It's a Sprint MVNO "Nothing I shoot ever gets back up again."

Yes. These developments are exciting for Americans. Sprint and T-mobile are finally offering Americans better value for cellular service that has been enjoyed by other easier to build out smaller regions particularly in Asia and Europe. Sprint / Softbank in conjunction with its MVNOs are in the process of unleashing an all out panzer assault to capture a significantly larger share of the US market with the largest array of device offerings and value access to what is poised to be the most advanced network in America. http://www.fiercewireless.com/tech/story/sprint-poised-become-king-data-...

With the word panzer in it?

Hahaha, this honestly got a laugh outta me.

But yet you mock me when I say that the two combined would have been great. Which side of your mouth is right? Posted via Android Central App

Very impressive and sprint is saturated in my area of delta Pa. Much more so than any other carrier believe it or not check the maps. Might take a look at boost but they need some fresh meat in the lineup. Next-us

Want excellent fresh meat? If you're talking about smartphone selections, check out the just released HTC E8, a premium smartphone at a more affordable price. There are also other new handsets coming in, many with Spark capabilities. Definitely worth checking out.

+1 I travel through there, Sprint is at least second in the area. It is worth a look Posted via Android Central App

Just left boost last month. Couldn't deal with the device selection. Just sold my lg volt last week. I got a little sprint spark LTE on boost but as someone who used them both in the past month I can say in the Cleveland Ohio area, T-Mobile has better coverage. I had the shrinkage plan but even at 45 with insurance my T-Mobile bill is only $5 more. I'll pass boost. Get some better phones. Also there's not a lot of developer support for their devices Posted via...The One

(quote from above link) The day after this story was published, Sprint announced that Sprint Spark is now available in the following 18 cities: Austin, Texas; Baltimore; Chicago; Dallas; Fort Lauderdale, Fla.; Fort Worth, Texas; Houston; Jacksonville, Fla.; Kansas City, Kan./Mo.; Los Angeles; Miami; New York; Philadelphia; Provo, Utah; Salt Lake City; San Antonio; Tampa, Fla; and Trenton As I said my small town home of delta Pa is blanketed in Lte and I work in Baltimore which now has spark. I just need a decent device and the LG volt is not it. Nor is the S5. Next-us

I don't live in those cities. Didn't say Shit about the lg volt being for you. I don't care where their coverage is. I disconnected my account with boost last Friday only because I paid it a week before I got my OnePlus one last month. Been with T-Mobile since August 4th with ABSOLUTELY NO regrets Posted via...The One

Don't believe I suggested you suggested the LG volt to me. My point was the LG volt has spark and I believe that the S5 does add well. I am not sure any other device in the lineup has spark. Thus my point. Coverage is good, new plans are great but if I'd switch I'd prefer spark and nothing in the lineup provides spark that appeals to me. How about a HTC E8? Or something like that? Boost still sells the S 3 for God's sake smh. Kyocera, ZTE, low end everything else except for the S5. This is a issue for me. AC every day

It's an issue for me too. I had them for a year. Had the s2, s3 and moto g. Not enough storage on the moto g, was ready to upgrade, got the lg volt, my wife switched to sprint and got the g2 which was better than my volt, I make more than her so I decided I needed to step it up to something more high end like she did and got the OnePlus one and switched to T-Mobile. I wanted something that was getting android L quick and carrier unlocked (don't switch to boost If you care about software updates). So it was nexus 5 or OnePlus, went with the OPO Posted via...The One

While it's great to see you saying "don't switch to boost If you care about software updates" in recognition of the role the carrier played, they actually have finally delivered. https://motorola-global-portal.custhelp.com/app/answers/indevice_detail/... Posted via Android Central App on my HP TouchPad (Schizoid PAC-ROM 4.2.2)

They're supposedly getting the Sharp Aquos Crystal, which looks pretty beautiful for a mid range phone. This new deal seems like a great thing for Boost. I actually hope that they make this change permanent to keep competitive.

That doesn't seem terrible but that's a mid range device. I want them to have more high end devices. Again I was at a boost store last Friday when I sold my lg volt and I asked the guy "Samsung galaxy s5 still $600?" He said yes. That's fine, but if they had a CDMA version of the HTC ONE M8, the LG G3, the note 3 some choices. That's my thing. Choices. The guy did mention they have a "g3" coming and "it'll cost less than the s5" but I think it's a mid range variant. One of those phones LG announced a few weeks ago Posted via...The One

This is great. Thanks for the notice, this price is wonderful

I just checked my area and boost has LTE and Sprint's spark all over my area. So I am going to do a week of testing on a LG volts which I just purchased online for 99$. I will post some network speed test by the end of the week. Posted via Android Central App

I got 99 problems and sprint is 1

Your move next Virgin Mobile. From my Note 3 to thee

Even though Sprint/Boost won't work for my 2 N4s, I'm very happy to see the price wars continue with the carriers. I just switched to Cricket on a $35 plan and love the monthly savings. Maybe they will increase the data allowance on their plans too. I was on Virgin long ago and I'd best describe Sprint service as squarely average, at best, during that time. Call coverage was fair, far better than TMob here, but surely nowhere near the ATT or Verizon level. Data speeds were hideous, on 3G at that time. I don't regret leaving them behind. I personally wouldn't rejoin Boost/Virgin/Sprint. Just not my cup of Joe. But again, I am 200% for the price wars among these guys. We as consumers win, not the carrier, and that's how it should be. Posted via Android Central App with my white Nexus 4 on Cricket

That is a solid deal. I should swing by the boost Mobile store that just opened in my town and check this out. Posted via Android Central App

Seriously, would it kill them to offer the moto x? Posted via Android Central App

I switched from boost to T-Mobile about 1 year ago because boost signal was terrible in my metro area. Tmobile's LTE is amazing in my area. I loved boost cheap monthly prices but I couldn't deal with that slow ass 3g/"4g"... Posted via My (unlimited everything) T-Mobile Galaxy S5...

its only for three months then they just throttle your data once its over

sure glad i am with metro pcs they have unlimited data

I just signed up for this last week. $55 for 10GB (Using LTE) of data isn't bad but majority of the time I use WI-FI so not for sure if I will keep it. Someone mentioned that its only a 3 month promo then they throttle your data, that's not correct. I was told as long as if you sign up before the promo ends, that it will remain the same.

I switched to metro in February for the 45 plan and by week two i got a message saying my data speed would be slowed because i was about to reach my data limit of 5gs sucked

When i was with metro pcs i paided 60 a month for unlimited data and it is truly unlimited data it does't stop at 1,4,or 5gbs, I pay 55 with boost for 10gbs and when watching a movie or video there is no stopping or skipping and no slow downs I'm going back to metro F boost!!!!!!!! If you people would give me unlimited data real unlimited data like meto pcs i might stay cause on june 1 i willbe going back to meto.

I'm with boost, have been for years. I hate them, they treat me like crap. And their insurance? Even worse! They refuse to fix any of the phones I've gotten even though i pay the insurance every month!
Yeah, unlimited isn't unlimited. I think i will check out Metro... Anything has Got to be better than what i have with Boost!