The best wireless chargers for your new phone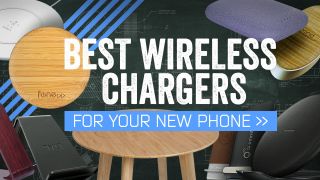 It's been eight years since wireless charging first came to smartphones with the Palm Pre, but it took Apple building it into the new iPhone 8 and iPhone X to make it matter to the mainstream. That's no snarky jab at Apple or its customers; in fact the iPhone's newfound embrace of wireless charging is reason to celebrate for all those who've ever known the joy of cutting the (charging) cord!
That's because wireless charging is about to return to the scene in a big way – and this time, there's no pesky standards war to get in the way of progress. I'm MrMobile and here's everything you need to know if you're treating your smartphones to a wireless charger in 2017.
Featured Products
Stay social, my friends
Android Central Newsletter
Get instant access to breaking news, the hottest reviews, great deals and helpful tips
Some of those are truly ugly. Hopefully now that Apple adopted qi, manufacturers can spend more than 5 minutes designing a charging pad.

I still use my beautiful JBL powerup and my Nokia charging pads / stands. They work with my Android devices and windows devices, since the new iPhones use Qi...well, there's no iPhones in my house.

Thank you! Someone finally remembered Palm Pre started the whole wireless charging thing. have always loved it.. and still miss Palm!

Same, I miss my palm pre and the touchstone charger. The magnetic docking style with the slight tilt was absolute perfection. They were ahead of the curve in a few ways. I think back on using the pre like it was yesterday. Very fond memories with that phone.

I love my Tylt! have been using them for a couple years now. They were a lot more expensive then lol.. I have two, and bought a friend of mine one for Christmas last year!

My Tylt is still going strong as well. Bought mine when you had to put the added imsert inside the Note 4 so you could charge wireless! These used to be $50.+ now they're $20.

So . . Out of all the items you displayed, the one I most want to buy is . . . The coffee mug 😉

I hate these articles that are just links to a video.

Is there such thing...wireless charging is convienant but not efficient at all.

It doesn't really matter if it's efficient when you're just keeping your phone topped off. I agree though, when my phone is about to die, I just plug it in
Android Central Newsletter
Get instant access to breaking news, the hottest reviews, great deals and helpful tips
Thank you for signing up to Android Central. You will receive a verification email shortly.
There was a problem. Please refresh the page and try again.