Best Wallet Cases for Galaxy S7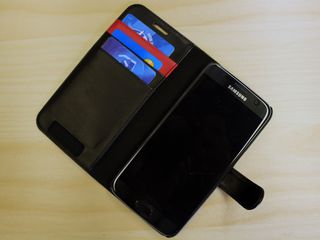 Wallet cases offer a blend of protection and functionality. They feature full coverage of your phone's screen and have room to store basic wallet items — like credit cards and cash — so that you have the option to ditch your wallet completely!
We've rounded up some of the best wallet cases for the Galaxy S7 that you can find. Take a look at the cream of the crop and pick one that suits your fancy!
rooCase Prestige Wallet Case
They call this case the Prestige, and with good reason — three card slots, a cash pocket, and a magnetic clasp that attaches to the front to keep it all together.
This case's two-piece design makes it stand out from the others on this list. The phone sits in a polycarbonate shell that attaches to the synthetic leather case via magnets. Taking photos with a wallet case can sometimes be difficult because the flip cover can get in the way of the rear camera, but not with the Prestige. Just pull it out of that stylish leather casing, take all the beautiful photos you want, and just plop it back in the case when you are done. It also features a kickstand ability for watching videos.
Because leather stretches over time, most leather cases take a while to break in. The rooCase is no different, so don't be too discouraged when it takes you a while to get your cards in and out of those slots for the first while.
See at Amazon (opens in new tab)
OtterBox Strada Series
OtterBox is well known for being the Fort Knox of phone cases and the Strada series is no different. OtterBox puts all their cases through rigorous testing, which includes dropping them on the ground and putting them through durability tests in various situations. So if you are looking for a strong wallet case, this could be the one for you.
The Strada series is a one-piece case. The phone snaps into a polycarbonate shell covered by genuine leather, with a cover that flips over the screen to offer full protection. The case fits snuggly and gives you the feeling of true security when it's in your hand.
The one downside of the OtterBox case is that it only has one card slot. You can fit more than just one in there, but it does lack the ability to be as organized with your cash and cards as some other wallet cases.
See at Amazon (opens in new tab)
VRSDesign slim fit leather wallet case
The first thing you will notice about this case is its size. It's made from genuine leather which gives it a great feel. The thickness the leather adds does make the phone feel a lot more secure.
Designed with three card slots and a spot for cash, the VRSDesign case is great for staying organized. The clasp around front is magnetic so it's easy to close the case and keep everything together. The cutouts around all the buttons and ports keep the functionality of the Galaxy S7 accessible at all times.
One thing you should know is this case seems to have trouble accommodating wireless charging. The thickness of the leather seems to impede the ability for most wireless chargers to function properly. If wireless charging is an important feature for you, this may not be the right case for you.
See at Amazon (opens in new tab)
Spigen Wallet S
The Spigen Wallet S is a solid entry into our round up because it seems to have a little bit of everything. Three cards slots, a slim design that doesn't add bulk to the phone, and a snug fitting polycarbonate shell that the S7 snaps into effortlessly.
The Spigen Wallet S can be used as a kickstand, so you can prop it up to watch videos or play games without having to hold the phone yourself.
The one bad thing about this case is the clasp at the front doesn't have a place to go when the case is open, so it is a little bit in your way when you are trying to use your phone.
If you want to learn more about the Spigen Wallet S, check out our full review.
See at Amazon (opens in new tab)
Snugg leather wallet case
The Snugg leather wallet case is the thinnest wallet case featured in our round up. The case doesn't seem to add any extra weight or bulkiness to the phone at all, which is highly uncommon for a wallet case.
With three card slots and a cash slot, the Snugg case has more than enough room to fit your most important wallet items, and it also has a kickstand feature.
The best feature of the Snugg case is the magnetic clasp attaches to the back of the case when the cover is open, allowing you to always have full view of the screen without the clasp getting in your way.
See at Amazon (opens in new tab)
Want more selection?
Check out the best cases we found for the Galaxy S7.
Update March 2017: These are still the best wallet cases for the Samsung Galaxy S7.
Do this for the LG V10 please! Posted via LG V10

I might need to get that Roo case for my S7 edge. Posted via the Android Central App

It's my favorite case for the s7 edge so far

Never been interested in those cases. I've never lost a phone in my life but if I ever did leave my phone somewhere, I won't be just losing my phone, I get to lose phone and credit/debit cards and drivers license, and health insurance cards Posted via the Android Central App running on my Galaxy S7

No need for your cards. Just use Samsung pay... I've yet to have to pull out a card in a while now S7 edge will make America great again!

Believe it or not, but the USA is not the only place to live. Here in germany we don't have Samsung / Android pay. Galaxy S7 Edge Exynos - Posted via the Android Central App

It doesn't support any of my cards... Posted via Galaxy S7 edge

I think the Spigen Slim Armour CS should be on this list. Although its not a flip cover type case, it has enough room for at least 2 cards, and micilaneous paper / cash. It also doesnt add too much bulk. Posted via the Android Central App

I actually have the Versus case for my S6 Edge+, and I love it. Wireless charging does work, it just seems a little finicky and you have to be more precise when you place your phone on the charger. The clasp will also attach to the front of the case when you open it to create a little kickstand action so you can watch videos hands-free. I only have two issues with the case: 1. (which is true for all wallet cases) the addition of more than 4 cards plus cash makes the front cover bulge and it's highly unattractive, thus I've started carrying a money clip for when cash is needed and 2. some of the rubberized edge to keep the leather from getting rough has started peeling off around one of the corners. I've gotten lots of compliments on it though, and I've completely stopped carrying a traditional wallet because of it. One less thing I have to remember to put in my pocket when leaving the house!

Yeah, I had the Verus case for my S6 edge. I loved it. I got compliments on it too. I think it looks the best out of the bunch but I like how that Roo case can detach. There were times where I'd leave the wallet case in my bag and I would need an extra case with me. The roo case could eliminate that problem. Posted via the Android Central App

wallet cases?? Get them while you can, soon to be collectors items. Between samsung pay and android pay, who needs credit cards???

I have the Spigen wallet case and it is really nice but that damn clasp is very annoying because it doesn't have anywhere to go and it just looks dumb hanging there out of place. I'm glad I didn't pay for it because Spigen sent it to me for free to do a Amazon review. S7 edge/AC app

Paid $3 for the one I got for my wife. She likes. I don't. Posted via Galaxy S7 edge
Android Central Newsletter
Get the best of Android Central in in your inbox, every day!
Thank you for signing up to Android Central. You will receive a verification email shortly.
There was a problem. Please refresh the page and try again.