Best unlocked phones on Amazon for every budget 2022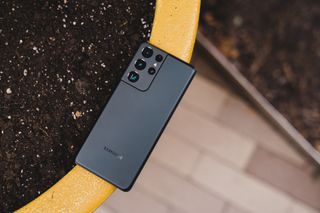 (Image credit: Hayato Huseman / Android Central)
Whether you're planning an international trip or you just prefer not to be financially tied to your carrier, it's never a bad idea to buy your next phone unlocked. Amazon sells the best unlocked phones, covering everything from the highest-end flagships to the absolute cheapest phone for someone on a tight budget.
The best
Samsung Galaxy 21 Ultra
The Galaxy 21 Ultra is one of the most versatile and powerful phones on the market. You get top-end specs across the board, plus all of the hardware features you expect: an incredible 120Hz display, waterproofing, bilateral wireless charging, and of course, the S Pen. The 108MP primary camera is incredible, and 10MP sensors offer both 3x and 10x native zooms.
Best under $800
Samsung Galaxy S21 5G Android Cell Phone
The Galaxy S21 5G offers incredible value, bringing the core Samsung flagship experience to a more affordable price. You even get the same top-tier processor and cameras you'd expect. The only sacrifices here (if you even want to call them that) are the lack of a 3.5mm audio jack and expandable storage.
Best under $400
Google Pixel 4a Android Smartphone
The Pixel 4a's shining feature is its camera, lifted straight from the Pixel 4 and subsequent Pixel 5. As a result, it produces stunning photos in all lighting conditions, blowing away phones twice their price. The rest isn't too shabby either: simple software, a solid hardware build, and guaranteed updates from Google. Perhaps best of all, it runs Android 11 right out of the box.
Best under $300
Moto G Power Android Smartphone
Motorola has defined the sub-$300 segment with the Moto G series, and the G Power continues the trend. Again, you get a solid build with a big screen and specs that will get the job done, and more importantly, the phone comes with an enormous 5,000mAh battery that can last up to three full days on a single charge. So if you need a weekend warrior, look no further.
Best under $200
Nokia G20 Android Smartphone
The Nokia G20 has a fantastic Nordic design with subtle but eye-catching finishes, a quad-camera system, a bright and large 6.5-inch display, and it runs a clean build of Android 11 with the promise of timely, continued updates for three more years. You even get a huge 5,050 mAh battery that lasts for days. For much less money, that's a lot of phone and an incredible value.
Best for $150 and under
TCL 10 SE
The TCL 10 SE squeezes in value with a stunning 6.52-inch display, triple cameras, and a 4,000mAh battery. You even get USB Type-C fast charging and reverse charging support via OTG. Sure, you only get 64GB storage, but that's expandable via MicroSD. Factoring in the killer design, this is a phenomenal device when you consider the price.
It's a great idea to go unlocked
Buying a phone unlocked is a great idea, and Amazon is an easy way to grab a new Android phone no matter your budget. However, if money is no object, you should, by all means, go for the Galaxy 21 Ultra. Its Dynamic AMOLED 2X display is one of the brightest and most vibrant on the market. Also, the 120Hz refresh rate looks great on the Samsung Galaxy 21 Ultra and serves a functional purpose in reducing the latency of the S Pen. It also has four of the best cameras you'll find on a phone and powerful Android 11 software.
For less money, there are other unlocked offerings on Amazon from Google, Motorola, and Nokia — they all provide great experiences at much more affordable prices. The Google Pixel 4a is a particularly great value given its amazing camera, and the Moto G Power has among the best battery life we've seen. No matter your budget, you can find the best unlocked phone on Amazon.
Andrew was an Executive Editor, U.S. at Android Central between 2012 and 2020.
Android Central Newsletter
Get the best of Android Central in in your inbox, every day!
Thank you for signing up to Android Central. You will receive a verification email shortly.
There was a problem. Please refresh the page and try again.