Best travel cases for your Kano Computer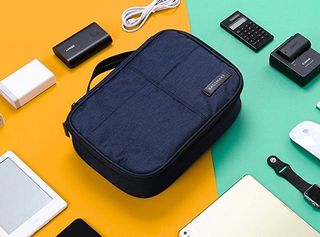 While travel cases for the Kano computer are, unfortunately, rather lacking, that doesn't mean you can't get a high-quality case that won't break the bank — or your tech. After breaking a lot of my own equipment due to a mixture of forgetfulness and stupidity, I decided to change my ways and always opt to get the best case that money can buy. This is why the Aenllosi Storage Carrying Kit (opens in new tab) has been included in this collection, as its durability keeps all of your Kano Computer parts safely protected from the world, and from your own klutziness.
Durable, trusty case
(opens in new tab)
Aenllosi Storage Carrying Kit
A completely crush-resistant case protects internal mesh pockets perfect for storing your keyboard, cables, and mouse. The Aenllosi's hard, water-resistant shell is also ridiculously easy to keep clean. Did you spill something over it? No problem! This case comes in 3 colors, including a beautiful red.
Long-lasting and risk-free
(opens in new tab)
Durable and long-lasting, Aproca's case doesn't have the same amount of colorful variety as the Aenllosi, but it can definitely get the job done. It's also 100% risk free. Not the case for you or your Kano Computer? You're guaranteed to get your money back.
Everything in its place
(opens in new tab)
Hermitshell Hard EVA Carrying Case
Unlike the more open layouts of our previous cases, the Hermitshell has very specific slots for each piece of Kano equipment. There is a place for everything, so you can make sure everything is in its place. This hardshell case keeps everything safely where it should be, and like the Aenllosi, it comes in multiple color choices.
As mentioned previously, the market of cases for Kano computers are low, but that also means everything you purchase here is a clear winner. If you're looking for a mix of style, protection and portability, my favorite case is the Aenllosi Storage Carrying Kit (opens in new tab) just because of how durable it is.
Android Central Newsletter
Get the best of Android Central in in your inbox, every day!
Thank you for signing up to Android Central. You will receive a verification email shortly.
There was a problem. Please refresh the page and try again.