The best streaming video box for most people is a Roku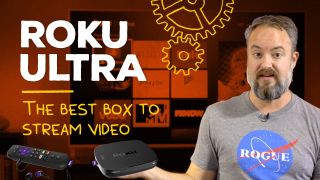 So you're cutting the cable TV cord. Good for you. And we've already established that the NVIDIA Shield TV is the best Android TV box. But what if you don't want to dive that far into Android? (Crazy, I know.) Which streaming box is the best? Easy answer. For most folks, Roku is going to be the best bang for your buck.
Subscribe to Modern Dad on YouTube!
First: Why a Roku? It pretty much has every streaming service available. (Everything except Apple content because Apple is why we can't have nice things.) It's got PlayStation Vue. Sling. Amazon. Google. Netflix. Chromecast. YouTube. So many different "channels" that for as long as I've had a Roku I feel like I've barely scratched the surface. (DirecTV Now is listed as coming eventually.)
Why a Roku Ultra, though, when there are sticks for a third of the cost? You get what you pay for. Yeah, the stick is cheap and can do a decent job, but if you want 4K resolution and HDR and USB media and a better remote and private listening and ... Basically it's way more future proof, and tended to handle the streams for me better. If you just want a test of how all this works, fine. A stick will do. But if you're serious about it, it's worth spending the extra money.
Get the Android Central Newsletter
Instant access to breaking news, the hottest reviews, great deals and helpful tips.
And what if you need to have Kodi on the box as well????

Then they've already recommended the NVidia Shield for that :) But I agree with this, as a streamer, the Roku is the one to beat. I'm perfectly fine with the stick (don't have 4K TVs and I can live with the voice search and private listening living in my phone). I just wish the apps and the interface overall on Roku would improve drastically. Sure, you can find pretty much any 'channel' there, but the interface and overall apps are just very plain and old-looking.

This article says the Roku is the best if you don't want to dive into the Shield. So like macawmatt said...what if you need to have kodi on the box as well???

You could install Kodi on your phone/tablet/computer and then stream to the Roku from there. Or like the below post suggests, going with a Fire TV, which can be modified to install Kodi. Natively on Roku (or from external 'channels'), however, Kodi is not supported.

Seems like if Roku would allow Kodi to be installed, then it would just about be the best streaming box.

Oh, if it did it'd be awesome! But I don't think that, as it stands, it could allow an app like Kodi to be installed (unless the Kodi team re-writes their entire code to work on Roku)

The Fire TV Stick is a good alternative in that case. http://www.androidcentral.com/how-install-kodi-fire-tv-stick

Can you stream from your own NAS ? I would assume you have to use Plex or something similar?

According to the video you can use a Roku with USB media.

Or directly to the Roku if your device supports Miracast or file transfer (it shows up as a Media device)

It might depend on what NAS you have. There is a plex channel and I have a Synology so there is a channel for that as well. I think there may be another one that I have that's more generic, I'll try to remember to look when I get home tonight.

It's also worth noting that Roku devices hold up *really* well. My dad's still using the Roku that I gave him after I used it myself for a good long time. I think it may actually be the OG Roku box, which is eight or nine years old.

Uhm... Roku can't do Kodi therefore it is NOT the best for cutting the cord. I don't see anyone liking Roku unless they want to pay for all sorts of services. It's a proprietary OS, it's not Android. So much wrong about Roku.

Android TV is proprietary.

Isn't Android TV ... Android though? Much more flexible than Rokus OS.

Insofar as you can sideload apps, yeah. But Android TV is like Android Wear in that it's locked down. Can't build for it. (That also means folks are hacking their TVs now. :p )

Interesting, thank you Phil. It's good to know that I don't know as much as I think I do 😎.

Right, Roku is for those who don't want to steal television or movies :)

Kodi is for a lot more than just piracy. Do your homework.

I know, I use KODI. Just being a butt over here :D

One of the best things about Roku devices is that they are supported by Spectrum (Charter/Time Warner/Bright House) and can be used instead of renting another cable box. Unfortunately Amazon Fire or Android TV is not supported by Spectrum.

Roku is a myth... Too many channels require you to have a cable subscriber login to view anything. Luckily I just use my parent's, but I'd be pissed at cutting the cords then trying to watch a channel and it say "You need to authorize with a cable provider information." Can't watch unless I plug it in. Sure, very few items are free without the login, but the vast majority of channels you'd normally watch are blocked.

How dare TV cost money!!!! More seriously though, if you have PlayStation Vue, you have access to those subscriber logins.

And the cost of Vue, for the plans is way higher than what i'd get if i just paid for cable TV.
For the Access Slim package of Vue, its $30. I can add 125+ channels to my internet plan and pay the same.
For $40 more I can get over 200 channels, all the premiums, NFL RedZone, etc.... Roku is touted as a great way to cut cable, yet you really need cable to take full advantage. Sure, if you want a few features (Hulu or Netflix, or Prime Videos), you will still ahve to pay those. Or if you want other channels that you thought you'd get, you still need a cable plan. This negates the savings you were expecting. I have Prime, Netflix, doing CBS Access, along with a HDTV antenna. Still need to have a login for many other channels I'd expect. So what point are all those channels on Roku, where you need to login with a cable subscription, if you can't watch them without the supscription you cancelled in the first place? Why even bother. Don't get me wrong, I like our Roku, but the savings or "freedom" expected, aren't quite there.

As a long time Roku owner I have to disagree here...I find the device to be very well built, regular OS updates and access to channels you cannot get with Amazon or other devices. Add to this the 5 star reviews by the likes of Cnet and countless others I feel the Roku is by far the best streaming device made. I've owned one since the first generation device and have had the Roku 3 for years now.

Roku is a great device.. Not saying it wasn't. Saying the "freedom to cut cable" that Roku touts, isn't there. Many channels still need a cable subscription to watch via login. So if I'm cutting cable, to use a Roku, then need a cable subscription to be able to watch those channels, when did Roku become useful? I could use HULU, but not all channels are there. Try to use ABC and NBC and FOX, and they ask for login. At least for me. I could use an HDTV antenna, sure, but then don't need a Roku to see those. If HDTV is free for those channels, why ask for login?
So again, as a cost cutting option, its a myth, because you still can't take advantage of many channels.

Try Xiaomi Mi Box. Its better and good. Combined with IPTV service from www.AngadTel.com where you can see all the channels(its subscription based for only 15/month), its just better than Roku or NVidia or Amazon. Amazon box is still better than Roku. How do I know? Because I have used them all. Its coming from my personal experience.
The folks here have already recommended another box few days ago. They will just say anything to put affiliate links for sale. Its business after all :)

I use Plex on my Roku and it has has way more options (Plex) here than the smart TV version of Plex (LG, Samsung, and Sony Android TV). I'm actually amazed how feature-poor the Android TV version of Plex is compared to a phone or tablet version, but the Roku version is really feature rich...

Loved Roku until I sold them for the Fire TV's. I don't use the stick from either. The best feature of the roku, when using the remote is being able to plug headphones into the remote and listen while others are sleeping, etc.

No it's not the best if lossless sound or immersive codecs are important to you.

I use playon on my roku and it is better than kodi...I have kodi on my android tv... people are only saying kodi is necessary because it is what is known

Rokus apps and operating system is awful just like this article. Roku is holding back apps on the TV while Android TV, Fire TV and Apple TV embraces it.