The best soccer apps for Android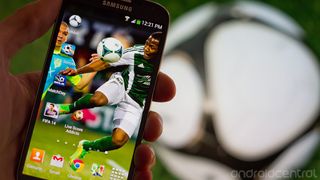 Major League Soccer playoffs are right around the corner, and if you're into this kind of football, it's bound to be an exciting time. There are plenty of Android apps out there to help you keep tabs on scores, get in the spirit, and otherwise enjoy the last few matches.
Most of these are widely applicable to football all around the world too - even if you're not into MLS specifically, these apps can help you keep tabs on everything regardless of league. Of course, it's not all just scores and stats - we've got a few games kicked in there too just to keep you occupied once you're caught up on news.
MLS MatchDay
MLS MatchDay (opens in new tab) is the official app for Major League Soccer. The usual stuff like scores and news is included, with additional filters and a club favoriting system to make sure you're getting the information you're keen about. Users can chip in for the subscription fee if they want to catch live streaming or on-demand video of their favorite matches.
Download: MLS MatchDay (opens in new tab) (Free, with subscription option)
FotMob
FotMob (opens in new tab) is easily the most popular app for keeping tabs on soccer scores across many leagues. With FotMob, you can easily see the current standing, the top-scoring players, and latest news from sources like the Associated Press and Goal.com. There's home screen widget support to see which matches are coming up next, and with an in-app upgrade, you can get push notifications and get rid of ads.
Download: FotMob (opens in new tab) (Free, $2.49 premium upgrade)
Flick Soccer
For a casual futbol game, Flick Soccer (opens in new tab) is great. It presents a variety of kicking games where players have to race against the clock, hit targets, and otherwise score some goals. The swipe recognition is highly polished and results in some very natural-feeling kicks. Even after the kick has landed, you can alter the trajectory with a quick swipe.
Download: Flick Soccer (opens in new tab) ($2.30)
Live Score Addicts
Live Score Addicts (opens in new tab) is another highly-regarded football app. The UI is a little more polished than FotMob, and you can get team notifications without a premium upgrade. Follow multiple leagues and teams, check current standings, and vote on the outcome for upcoming matches. If for whatever reason FotMob isn't doing it for you, check out Live Score Addicts. With optional in-app purchases, you can buy new UI color schemes, too.
Download: Live Score Addicts (opens in new tab) (Free)
FIFA 14
If you're looking for something a little more intensive than Flick Soccer, FIFA 14 (opens in new tab) offers the full experience. Hand pick your team from across 33 leagues (including MLS), and play in stadiums from across the world. Smar new touch-optimized controls ditches the classic virtual control pad in favor of taps, swipes, and hold & drag controls. Over time you gather coins with which you can get new players and items for your team. Yes, you can buy those coins through in-app purchases if you're feeling lazy. A special Football Club Match Day mode reflects real-world news, such as suspensions and injuries, be reflected in-game.
Download: FIFA 14 (opens in new tab) (Free with IAPs)
That's about it for our favorite soccer apps on Android, but what are yours? Which teams and leagues to you keep an eye on?
Android Central Newsletter
Get instant access to breaking news, the hottest reviews, great deals and helpful tips
Simon has been covering mobile since before the first iPhone came out. After producing news articles, podcasts, review videos, and everything in between, he's now helping industry partners get the word about their latest products. Get in touch with him at simon@futurenet.com.
Livescore Addicts is the best one.

+1 Posted via Android Central App

Are there any apps to convince US broadcasters to show more soccer on OTA TV? Posted via Android Central App using an LG G2.

"Soccer, the game for 4th graders that foreign people take seriously" - Stephen Colbert Posted via my thumb(s) and the submit button.

Haha ;-) but real men play football, just not the one with the gay helmets and dresses.

Foreign people = rest of the world. Stephen Colbert needs to go back to 4th grade. I say both sport are great in their own rights - why argue over which one is better?

Not sure about your market, but in mine all SKC games are broadcast on an OTA station except their nationally televised games (NBCSN and ESPN games). SKC created the Sporting Television Network, and their games are aired live on a local station and replays air on a local cable-based sports channel. I feel really lucky because I can watch every single SKC MLS game (USOC, and CONCACAF games are harder to find) since I have cable. I don't know what team is in your market, but I imagine that unless they regularly sell out the team really has little reason to broadcast more games.

Also: THE Football App - it is pretty well designed. https://www.androidcentral.com/e?link=https2F2F...

+1 MLS playoffs huh, really there are four reasons to have a football app and none them involve the MLS.

The is the one I settled on a little while ago as well.

That being said, I just installed the both Live score addicts and fotmob on my tablet... we'll see if either makes it to my phone to replace The Football App. Thanks for this post!

Looking forward to how many comments point out the word "soccer" in some way.

As of now, no one except you. Edit: Oh, I'm wrong

+100000 Sent from my SM-N900

What is soccer? Posted via Android Central App

What is soccer? Posted via Android Central App

Duplicate Posted via Android Central App

MLS Playoffs already started.

FOOTBALL!!!!!!! lol living in the USA i hear it all the time and how "Soccer" sucks.... my reply is "Spandex is for women, shoulder pads are from the 80`s and crash helmets are for motor cyclists", then they come back with something to do with men running around in shorts so i will then come back with the finisher "how can you call a sport football when you run with it in your hands 90% of the time"..... yeah... pin dropping an all that, i love this country lol

It has almost nothing to do with feet, so I call it "tackleball" which is far more descriptive (and also shows my disdain for it... well, all sports really).

+1 Posted via Android Central App

Name of football has nothing to do with actually using the feet to kick a ball. It's a category of sports which is played on feet instead of horses. So, get over it.

New Star Soccer is stupidly addictive.

Bleacher reports has been awesome for me this past baseball season and fussball, all your stats in a one tap access Posted via Android Central App

FotMob is the best one. All leagues and you can chose your favorite teams to get notifications from.

Also a fan of FotMob, use it on both my Android and iOS devices. Push notifications are a must.

I'm switching to Nexus 5 from WP and currently use the below apps in WP for my football fix. ESPN Scorecenter - Push notifications + Live tile
The Football App - News + Push notifications + Live tile
Goal Live - Push notifications I especially love The Football App in WP. Hopefully their android app is equally good as well.

None of them is the best in my opinions. U guys are missing out the most important ones. Eurosport is one of them. And Goal.com also is very cool Posted via Android Central App

Football. Sincerely rest of the world. Posted via Android Central App

Fifa 14 is the best game I've ever played on Android - period.

This is a great game also :- https://www.androidcentral.com/e?link=https2F2F...

"Scoremobile FC" app for me is by far the best soccer app out there for scores and news, they pretty well cover every league out there and have a cool widget that comes with the app if you like aswell ...its made by the Same people who make "the score" sports app Posted via Android Central App

Live Score Addicts is my favorite app for notifications but being able to actually watch the games on the NBC Sports Live Extra and WatchESPN apps beats getting notifications.

Nope. No good for football scores Posted via Android Central App

No mentions of LiveScore? None? Oh well. It is my go-to football app for the latest scores across the globe and the site I use when on a computer as well. Recent updates include assists and the league table. Posted via Android Central App

That super Amoled panel makes thins look really good here

For football outside the top flight it's got to be foot mob. I support Nottingham Forest, they are in the Championship (the second flight). The only way to get decent up to date scores is through foot mob Posted via Android Central App

Is REAL FOOTBALL 2014 on the play store yet Posted via Android Central App

ESPN Goals. Not available in the US Playstore so you need to get the modded apk from xda.

Fotmob is unbeatable. Especially for anyone who follows worldwide leagues.

On a slightly different topic does anyone know of a good football coaching app. I coach a u-11 team and I'm looking for something I can use to keep track of player minutes and stats. A friend of mine showed me the soccerdad iOS app and that one is ideal. Too bad they don't have an android app yet. Posted via Android Central App

This is merica, man. We don't need that girly sport. :)
Android Central Newsletter
Get instant access to breaking news, the hottest reviews, great deals and helpful tips
Thank you for signing up to Android Central. You will receive a verification email shortly.
There was a problem. Please refresh the page and try again.