Best Samsung Galaxy Z Flip & Z Flip 5G cases 2022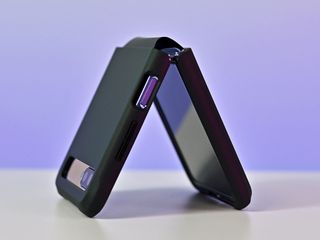 (Image credit: Daniel Rubino / Android Central)
Samsung has given us the most promising and functional foldable yet, but the Galaxy Z Flip has one small flaw to its mirror-finished body: It's slippery as an eel! Even when you set it down on a flat surface, it tends to slowly slide around, slipping off wireless chargers and tables. The case market for the Z Flip is incredibly slim, but we've gathered some of the best Galaxy Z Flip cases to protect your expensive new phone.
Premium feel
Samsung Leather Cover
Samsung's official case is a luscious leather that adds grip and scratch protection to your mirror-finished Z Flip. I wish more colors were available, but silver and black go with all color models.
Luxurious design
LICHIFIT Ultra-thin Tempered Glass Protective Skin
Make an already exciting phone even more fun with the LICHIFIT Ultra-thin Tempered Glass Protective Skin. It has a fabulous black and gold theme with bolts of lightning running down its back and gold accents. The tempered glass ensures a decent level of protection.
Name-brand protection
Spigen Thin Fit Designed for Galaxy Z Flip Case (2020)
This thin polycarbonate case won't add bulk but will add grip and scratch protection to your Z Flip. Spigen leaves just enough gap for a magnetic plate inside if you like to use magnetic car mounts.
Classy leather option
KEZiHOME Genuine Leather Case
Brown leather is in a league of its own. Your Galaxy Z Flip is surely deserving of such an exclusive and classy phone case.
Sleek sculpted grip
Ringke Slim
Ringke's thin case is available in purple and clear if you want to show off your mirror finish, though I much prefer this metallic purple instead. It won't be nearly as much of a fingerprint magnet, but it still has a soft shine.
Rugged and reliable
Case-Mate Tough Flip
This rugged model connects the two shell halves with a flexible piece providing cover and impact protection. The Tough Flip adds up to 10 feet of drop protection and needed grip.
Variety is the spice of life
VVUPIC Polycarbonate Shell Cover Vivid Color
Gone are the days when you couldn't get anything exciting to warp your Z Flip in. Instead, VVUPIV offers a huge assortment of bright and colorful patterned polycarbonate shells.
Clear and classy
Araree Nukin
The Z Flip might come with a clear case in the box, but it's flimsy. This hard clear case offers a micro-dot pattern to prevent splotching, and there's an anchor point for attaching a lanyard or phone charm.
Strap it on
Nakedcellphone Cobalt Blue Snap-On Cover with Holster
This handy cover from Nakedcellphone comes with a rotating belt holster so you can rock your flip phone with style. Your Z Flip will stay on your belt all day, just like pagers in the good old days.
Flash of color
Araree Aero
If you're tired of the plain old Mirror Black and Mirror Purple of the Z Flip, you can get a bright red case for a unique look.
Rose-gold with a twist
Breclar Color Electroplated Cover
Breclar's Electroplated Cover will revamp your Z Flip into a charming accessory. Its tempered glass is durable, thanks to its 9H level of hardness.
Extreme sports
Zoust Carbon Fiber Case
Petrol-heads and F1 fanatics need a cover to embody their sporty passion. The Zoust Carbon Fiber Case looks like something Michael Schumacher would carry. If you share a love for speed and power, get this scratch-resistant Galaxy Z Flip cover.
Grip and glamour
The Galaxy Z Flip is a weird but wonderful, absurdly expensive phone, so you'll definitely want the best phone cover for it. The official Samsung leather cover gives us a nice premium option for this premium-priced phone, but it's also almost twice the price of Samsung's leather covers for its other Galaxy phones. If you want more robust protection, there's the Case-Mate Tough Grip. Drop protection up to 10 feet is impressive for a folding case, and it features good definition for the buttons and around the fingerprint sensor.
If you have already gone bankrupt acquiring the folding phone itself, a cheaper option makes sense. The Ringke Slim phone case is reasonably priced, and it doesn't compromise the safety of your precious Galaxy Z Flip either. On the more material side of things, the LICHIFIT Ultra-thin Tempered Glass Protective Skin looks absolutely stunning with its lightning-like design, shiny tempered glass, and gold accents.
Namerah Saud Fatmi is a freelance writer for Android Central. She has a passion for all things tech & gaming and has been an honorary Goodreads librarian since 2011. When she isn't writing, she can be found chasing stray cats and dogs in the streets of Dhaka or slaying dragons in the land of Skyrim. You can reach her on Twitter @NamerahS.
Android Central Newsletter
Get the best of Android Central in in your inbox, every day!
Thank you for signing up to Android Central. You will receive a verification email shortly.
There was a problem. Please refresh the page and try again.