Best Products to Pair with an Arlo Security Light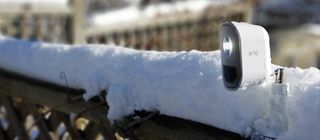 Home security cameras can give you a much better look at who keeps cutting through your backyard if you can get some light on them. The Arlo Security Light is a wire-free smart light that's weatherproof and can be mounted over any walkway, porch, backyard, or hunting blind on your property. Now, this little light can do a lot on its own, but it can do so much more if you combine it with some sensible accessories and fellow smart home products.
These are a lot of accessories to consider, but the three I'd absolutely buy for any Arlo Security Light are the HOLACA skin (opens in new tab) since you don't have to buy that one in pairs, Wasserstein's quadpod mount (opens in new tab) so you can stick the light anywhere and everywhere you want, and the Amazon Echo Dot (3rd gen) (opens in new tab) so that you can turn the light on and off without having to dig out the app at 3 a.m. when bugs or spiderwebbing is making it go off every 15 seconds. It is kind of insane that Alexa can control the Arlo Security Light and Google Assistant can't, right?