These 10 light bulbs work over Bluetooth and don't need a hub
How-to
Contributions from
last updated
Light up your home with no annoying hub setup.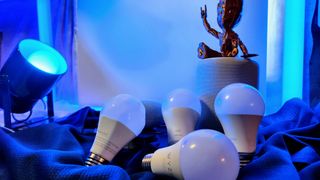 (Image credit: Chris Wedel/Android Central)
These 10 light bulbs work over Bluetooth
If you're looking to upgrade your home's lighting with a smart bulb, you may have noticed that some models require some extra hardware in the form of a hub. While some people prefer the simplicity of the hub when it comes to setup, you give up some of the flexibility in terms of connectivity options and perhaps most importantly, price.
Smart bulbs without a hub
There's nothing more annoying than spending $30 or $40 or sometimes even more on your first smart bulb, only to screw it into a light socket and realize that those smart features you paid for don't work without a hub — which is, of course, sold separately. This adds yet another expense to an already expensive bulb and setup can get complicated since the hub needs to be plugged connected to your home internet. Thankfully, not all smart bulbs require a hub.
When it comes to features, many of the best smart light bulbs will do the trick, and even those without a hub will be a significant upgrade over a traditional bulb when it comes to control. For example, many smart bulbs can adjust to the daylight to keep your home a comfortable warm color temperature in the winter. Think of this like the night mode feature on your phone.
Here are 10 smart light bulbs that work over Bluetooth
Philips Hue Smart Edison Vintage LED bulb
Comfortable and warm
This smart bulb from Philips, like some older models, doesn't require a hub to work. Its spiral filament gives this bulb a classic look without the heat and fragility of a real Edison bulb. Warmer lighting in your home can make it feel more comfortable than some cheap LED or CFL bulbs with cooler temperatures. Edison bulbs also look great in hanging fixtures.
Cync Smart LED Color Changing Light Bulb
Control with Alexa or Google Assistant
Cync is the smart home brand from GE and offers some strong features for the price. These bulbs work with both Wi-Fi and Bluetooth so they're easy to set up. You can also control them with Google Assistant as well as Alexa.
Cync Smart LED Soft White Bulb
You don't always need RGB
If you like Cync's bulbs but don't need RGB, you can save with a simple soft white bulb. You still get easy control and scheduling with Bluetooth. These bulbs are also dimmable.
Sylvania Smart Light Bulb Bluetooth Mesh
Simple soft white comfort
Sylvania makes a few models of affordable smart bulbs which makes these soft white bulbs and excellent fit for outfitting multiple rooms. With Bluetooth mesh, these bulbs can communicate with one another making applying settings quick.
Sengled Smart Light Bulbs
Clear and bright
This RGB smart bulb from Sengled might be the perfect fit for many with plenty of brightness at 800 lumens and Bluetooth control with Bluetooth mesh. These bulbs also work with Alexa for voice control.
Govee Smart Wi-Fi and Bluetooth Light Bulbs
Simple and dimmable
This soft white smart LED light bulb from Govee is about as basic as a smart bulb gets with only one color. You can still control the brightness and set up a schedule making this a great pick for something like a hallway or garage.
Vanance Smart Light Bulbs
Simple and easy
This set of four bulbs from Vanance keeps things simple with some basic RGB smart light bulbs with easy control thanks to Wi-Fi and Bluetooth connectivity. It even comes with a remote which can be a blessing for those looking for smart features without having to grab the phone every time.
Sengled Solo RGBW Bluetooth Light Bulb Speaker
Light and sound
The Sengled Solo bulb has not only a smart LED RGBW light, but a bluetooth speaker as well. If you're working with limited space (or outlets) this bulb can add both light and sound to your room.
Philips Hue White Ambiance E12
Add comfortable candle-like light
This Philips Hue bulb works with Bluetooth and has warm light that makes it perfect for a candle fixture. These bulbs are a bit more expensive than some, but the great control and the option to use a Hue hub make them a solid value.
DOGAIN Smart Light Bulbs E12
RGB candlelight
These RGB bulbs from Dogain are E12 sized making them good for replacing smaller bulbs common in decorative lighting. These bulbs work with Wi-Fi or Bluetooth for for maximum compatibility including Amazon Alexa and Google Assistant.
A smart home hub still has some benefits
Philips Hue may be one of the most recognizable brands in the smart lighting space, but its bulbs have famously required a Hue Bridge for even the most basic functions. The benefit of the Bridge is that it quickly connects all of your bulbs, which is convenient when you plan on outfitting your entire home with Hue bulbs, but it makes them much less accessible if you're only after one or two bulbs.
Fortunately, Philips Hue now includes Bluetooth functionality with many of its most sought-after bulbs. With this, you can control up to 10 Hue bulbs without a Hue Bridge, assuming you're within Bluetooth range — though you'll still need a hub to control an entire household of bulbs when you're away from home or for some more advanced features like Hue Sync and IFTTT.
Be sure to check for Bluetooth compatibility before buying a Hue bulb without a Bridge. And keep in mind that even if you go with a Philips Hue Bluetooth-enabled bulb and you eventually decide to add more smart lights to your home (who could blame you?), you can always purchase a Hue bridge down the line, and it'll still work with your existing Bluetooth bulbs.
Sign up for Black Friday email alerts!
Get the hottest deals available in your inbox plus news, reviews, opinion, analysis and more from the Android Central team.
Olivia Lipski is a freelance writer for Android Central and loves testing out the latest smart home tech and discovering the best cell phone plans. When she's not busy running around NYC trying to find great food or coffee, she's in her kitchen trying to make it herself.