Best Amazon Prime Day Bluetooth Speaker deals 2021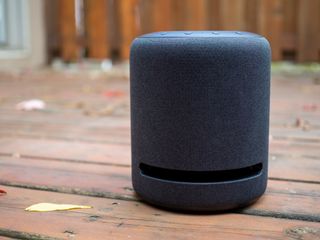 (Image credit: Daniel Bader / Android Central)
Amazon Prime Day. Need we say anything more? Ever since 2015, Amazon has used this shopping event as a way to showcase some of its best deals of the year — offering substantial savings on everything from Android phones, microwaves, furniture, you name it.
There are a lot of upcoming Prime Day deals that we're rather excited about, and in this article, we'll be highlighting our favorite Bluetooth speaker deals as they appear. Whether you want to jam out to your favorite music, catch up on all of those podcasts you've meant to listen to, or have better audio for YouTube videos, everyone deserves a trusty Bluetooth speaker of their own. If you've been meaning to pick one up but have been waiting for an irresistible deal, keep an eye on this page for the Prime Day savings you can't miss.
The Bose SoundLink Revolve+ is a seriously impressive speaker. It's compact, sounds amazing, and gets great battery life. It's certainly one of the higher-end options out there, but thanks to the latest sale at Amazon, you can save $50 off its regular price instantly.
Out of all the tech gadgets and gizmos that get discounted during Amazon Prime Day, Bluetooth speakers tend to be among the most abundant deals. Whether you're looking for something in the high-end space or want a speaker that you can comfortably buy on a budget, here are the top deals you need to know about. Though Prime Day isn't live just yet, we'll no doubt be seeing some excellent Prime-exclusive offers soon, especially on Amazon's own devices like the Echo Studio. Until then, we'll be sharing the best Bluetooth speaker deals available leading up to Amazon's big shopping holiday.
Best Amazon Prime Day Wired Bluetooth Speaker Deals
To kick things off, let's take a look at wired Bluetooth speakers. These are the ones you place inside your home and keep plugged into the wall, ensuring your house or apartment is always filled with some kind of music or podcast playing in the background. Here are some of the best ones you need to check out.
Best Amazon Prime Day Wireless Bluetooth Speaker Deals
Wired speakers are great if you want convenient Bluetooth access in your home, but what about those times when you go to the beach, on a hike, or outside on your patio? In those instances, wireless Bluetooth speakers are the way to go. These speakers come with built-in batteries so they can be taken virtually anywhere, and of course, Amazon Prime Day sales are just as prevalent.
Bluetooth Speaker Price Tracking
You probably aren't thinking about buying a new Bluetooth speaker throughout the entire year, but when an event like Prime Day rolls around, it's a good excuse to take stock of your shopping list and see what you need/want to pick up. If a wired or wireless Bluetooth speaker is something you've been eyeing, Prime Day is an excellent time to buy.
Bluetooth speakers often see sales and discounts throughout the entire yet, but those get even better with Prime Day. Whether you're shopping for wired or wireless, expensive or affordable, there's bound to be some sort of deal to catch your fancy.
If you find that you're having trouble keeping up with all of the promotions that Amazon announces, fear not. We're staying up-to-date with all of the latest Bluetooth speaker deals as they happen, and as new ones pop up, we'll be sure to add them here for you to see.
Prime Day 2021 Bluetooth speaker deals to be most excited about
With so many Bluetooth speakers on the market, it can be difficult to think of just one or two to look forward to for potential Prime Day deals. For 2021's Prime Day offerings, there are two that we'd really love to see a discount on.
First on the list is the Bose SoundLink Revolve+ (Series II). Bose speakers are iconic for delivering some of the best audio quality out there, and the Revolve allows you to treat your ears to excellent tunes no matter where you go. The regular SoundLink Revolve+ is currently available at a nice discount, but it would be nice to see the upgraded model come down in price, too. We'll be keeping an eye out.
The second is the UE Megaboom, which will hopefully see even greater savings. Ultimate Ears is known for its very accessible speaker range, and the Megaboom is one of the best portable speakers you can buy at $200. There are cheaper variants if you don't mind snazzy colors, but snagging a Megaboom for around $100 would be insane. We have to see what Prime Day has in store for us.
Should you get a wired or wireless Bluetooth speaker?
As mentioned in this article, Bluetooth speakers come in two distinct styles — wired and wireless. The distinction between these two form factors is pretty simple. Wired Bluetooth speakers need to be plugged in at all times, while wireless ones can be taken anywhere you go, thanks to a built-in battery.
Given this, it's safe to say that wireless Bluetooth speakers are a lot more convenient. Being able to pick up your speaker and take it wherever you want is a huge perk, especially if you're someone that spends a lot of time outdoors. For that next hike or beach day you take, a wireless speaker ensures you can bring along your tunes and get vastly better audio than your phone can deliver.
Wired speakers don't have this functionality, but that's not to say you should ignore them. We're all spending more time in our homes than ever before, and having your house covered in great audio is pretty magical.
What makes a good Bluetooth speaker?
When looking for a good Bluetooth speaker, there are a couple of things to account for, especially if you're looking at wireless Bluetooth speakers. Battery life is one of the most important aspects because what good is having a great-sounding speaker if it can't last more than a few hours at a time? A good speaker should have at least 10-12 hours of battery life, but great ones will have 24 or even 30 hours per charge!
USB-C charging is a must, and it's a big plus if you can find a speaker that supports wireless charging as well.
Durability is also something to consider. Wireless Bluetooth speakers are often must-haves on trips or outdoor gatherings, and you want your speaker to be able to take a fall, especially in water. IPX4 or IPX6 ratings will help ensure it can withstand splashes or rain, but you may want to look for a speaker with an IP67 or IP68 rating so you can take it to the pool with some peace of mind.
Built-in virtual assistants like Alexa or Google Assistant can provide a more hands-off experience, and you'll be able to tell your speaker to play a song or playlist without picking up your phone.
Joe Maring was a Senior Editor for Android Central between 2017 and 2021. You can reach him on Twitter at @JoeMaring1.
The Klipsch is only $190 right now
Android Central Newsletter
Get the best of Android Central in in your inbox, every day!
Thank you for signing up to Android Central. You will receive a verification email shortly.
There was a problem. Please refresh the page and try again.