Best Podcast apps for Android 2022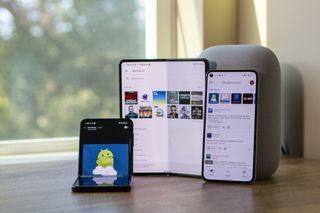 (Image credit: Andrew Myrick / Android Central)
Whether you're doing laundry, driving home from work, or breaking a sweat at the gym, podcasts are great if you want to throw in the best earbuds and fill up your time with the latest news, comedy shows, in-depth storytelling, and so much more. Podcasts are the new radio stations, and there are plenty of options to choose from, but how do you find them? These are easily our picks for the best podcast apps for Android.
Ditch the radio with the best podcast apps for Android
Why you can trust Android Central Our expert reviewers spend hours testing and comparing products and services so you can choose the best for you. Find out more about how we test.
It should come as no surprise that Pocket Casts is our favorite podcast app for Android. Even with changes to the platform that made the app free but introduced another subscription service, it doesn't get much better than this.
Did you really think that Spotify wouldn't be included? The app is already our favorite music streaming service, and the company has been steadily improving the podcast experience as well. Spotify's one of the best podcast apps for Android if you're looking for an app to serve as an all-in-one solution.
Google Podcasts is one of the more unique options out there, as you can either opt to download the app, or just listen from your browser. Just fire up the Google app and search for "Podcasts", and from there, you'll be able to serach for, and listen to, your favorite podcasts.
1. Pocket Casts
For years now, my podcast app of choice has been Pocket Casts. With the move from a paid app to a subscription-based model, there was a bit of push back until the company announced that those who previously purchased were "grandfathered" into Pocket Casts Plus. You can stick with the free version for the new users or sign up for Pocket Casts Plus for either $0.99 per month or $9.99 per year.
Beyond all that, Pocket Casts is just fantastic. It looks great, is easy to navigate, and runs like butter. There are also playback controls including speed controls, a volume booster, and the ability to cut out any moments of silence in an episode.
Add that together with a beautiful dark theme, fun playback stats, auto-downloads, and more, and it's easy to see why this is our top pick.
The best

Paying for apps is something many people just won't do, but if you want the best podcast experience possible, it's worth shelling out a few bucks for Pocket Casts. The app has a gorgeous new design, a dark mode, playback controls, easy content discovery, and can be used on just about anything.
2. Spotify
Not everyone needs a dedicated podcast app. If you're already using Spotify for your music needs, you might as well listen to podcasts on it, too.
You won't find nearly as many features on it as you would with Pocket Casts or some of the other options on this list, but the fact that you can just listen to podcasts along with your tunes in one single location on an app you probably already have is damn convenient. Spotify has been going all-in on podcast hosting over the past couple of years, so there are more podcasts available than ever. There are even a few that are exclusive to the platform, and you can browse by category.
Music and podcasts in one

Spotify is one of the world's most popular music streaming apps, but did you know it's also home to all of your favorite podcasts? Finding and playing podcasts on Spotify is quite easy, and if you already use the app for your music needs, it's nice to have everything in one spot.
3. Google Podcasts
It's kind of amazing it took so long for Google Podcasts to come to market, but in many regards, the long wait was well worth it.
Google Podcasts is 100% free to use, and if you're deep in Google's ecosystem, it's the option that makes the most sense. Finding new podcasts is as easy as doing a Google Search, and if you start a podcast on the app, you can easily pick up where you left off on your Assistant-powered speaker with just a voice command.
Google Podcasts gets big points outside of those Google integrations thanks to a sleek and simple design, easy-to-use UI, and great podcast discovery.
Google all the things

Launched in June 2018, Google finally released its long-awaited podcast app. Google Podcasts has a nice, simple design, but the real star of the show is its integration with other Google services. You can find and play podcasts via Google Search and have full playback controls using Google Assistant.
Other great options
Though they didn't quite make it into our top three, here are some more fantastic podcast apps for Android that you should try out.
Podcast Addict
If you're looking for one of the best podcast apps for Android with one of the biggest content libraries, then Podcast Addict fits the bill. The app features more than 750,000 podcasts, more than 120,000 radio stations, and an additional 20,000 audiobooks, all at your fingertips. Customize your main screen to place your favorite podcasts at the top or search for a specific episode that you missed out on.
Podcast Addict provides the option to use customizable playlists that can be organized by topic or with custom filters. That way, you can check out your sports podcasts for a while before switching over to the Android Central podcast when you're done learning about how your teams are doing. The app even allows you to add podcasts with local files, RSS news feeds, or even YouTube channels so you can always keep up on what your favorite creators are working on.
Super powerful

For years and years, Podcast Addict has been one of the most popular podcast apps on the Play Store. Its UI is pretty outdated by current standards, but it sacrifices good looks for power. You can use the app to manage podcasts, audiobooks, live radio streams, YouTube channels, and RSS feeds. It's free to download with a paid option to get rid of ads.
Castbox
Castbox is an all-in-one podcast player, but it's not the same as something like Spotify or Amazon Music. Castbox takes a different approach, aiming to provide content from any sources you want, including the top news sources, FM radio, and even audiobooks. If you're a stickler for statistics, there's also a Listening Time tab that shows you how much time is spent listening to different podcasts throughout the day.
There is one rather unique feature when it comes to Castbox: the built-in Zen Mode. This feature provides more than 100 different nature sounds for you to play or mix together. You can use Zen Mode to fall asleep or drown out surrounding sounds if you need to focus on some work.
Hidden gem

Castbox is a podcast app that seems to go unnoticed, but if you haven't checked it out yet, you really should. Not only can you easily discover all of your favorite shows, but Castbox also has an integrated community hub, original content you won't find anywhere else, live radio streams, and so much more. It's free to use with an optional paid membership.
Podbean App & Player
It's not often that you come across a podcast app that not only provides access to your favorite shows but also makes it easy to record podcasts of your own with the built-in Podcast Studio. Podbean is an app that has been around for a few years and has a rather simplistic (yet, refreshing) interface for handling your various subscriptions and shows.
As expected, you can listen to either audio or video podcasts, along with being able to customize your listening speeds. This is a great way to save time if you love listening to podcasts but don't like having to deal with all of the pauses that occur while listening to a conversation. There's even a built-in Volume Boost, which ensures that you can hear everything crystal clear, regardless of how softly the podcast hosts are speaking.
Podcasts and audiobooks

Podbean is an excellent pick with easy recommendations for popular channels, and you can even get started creating your own. Plus, Podbean gives you the option to check out an array of audiobooks, making this your all-in-one audio stop.
Stitcher Podcast Player
If you listen to podcasts, then chances are you've tried out Stitcher at one time or another. The app features many exclusive podcasts that are only available to listeners via the Stitcher app, making this a no-brainer for those wanting something unique. Even with the exclusives, Stitcher is still a fine app for being the home of the rest of your podcasts. It supports Android Auto, and there's even an Amazon Alexa skill to take advantage of.
Stitcher is completely free to use, but the real power is unlocked if you sign up for Stitcher Premium. This provides access to ad-free shows, along with exclusive podcast episodes and more. You can sign up within the Stitcher app for either $4.99 per month or save about 40% and get Sticher Premium Yearly for just $34.99. Regardless of whether you stick with the free version or not, Stitcher is and has been a great podcast app for everyone.
Exclusive podcasts and shows

Stitcher has been around for years, and the app is one of the most popular options on the Play Store. While the app is free, you can sign up for Stitcher Premium and get access to exclusive premium podcasts and ad-free shows.
Amazon Music
To be honest, if it weren't for Jeramy Johnson's awesome take on Amazon Music's "feature stuffing", I wouldn't have known that the app allowed for podcast listening. Amazon has taken an approach similar to that of Spotify in an attempt to turn its Music service into an all-in-one content-consuming app for all of your needs.
When perusing the various lists of categories for podcasts, you'll find Amazon Originals, which are podcasts unique to Amazon's services. You can also search for and subscribe to the podcasts you have already known and love over the years. There are some things that could be improved, like the discovery options, but the same could be said for just about every app on this list.
Another all-in-one
All-in-one Amazon streaming
Amazon Music isn't just for music anymore, making this the perfect app for those wanting to consolidate their music and podcasts into a single app.
AntennaPod
Many of the best podcast apps for Android come from companies with either years of experience or those owned by larger parent companies. AntennaPod bucks the trend by being an open-source solution for your podcast player needs. The app has a familiar interface, making it easy to find, sort, and listen to your podcasts.
You can even favorite specific episodes, making it easy to go back and listen to an episode that resonated with you. Smart Speed adapts the audio playback speeds based on the podcast you're listening to or just speeds things up so you can get through long podcasts quicker than you normally would. There are even more automation controls built-in that aim to enhance the experience, along with helping to save battery power and data consumption.
Open source freedom
Open source podcasts for the win
AntennaPod is a simplistic yet powerful podcast app with many features that you would expect to find. These include automation controls for helping conserve battery life, along with speeding up your podcasts to finish them quicker.
Sonnet
There are many podcast player apps out there that try and lure you in with some cool features but then keep you trapped by paying for more features. Sonnet breaks that mold as this relative-newcomer to the Play Store provides premium features all for free. The app allows you to easily search and subscribe, download episodes for offline playback, and easily switch between light and dark mode.
But you'll also have the ability to quickly start a podcast over from the beginning with the useful delta button. You won't even have to worry about not being able to sideload or subscribe to those "members-only" podcasts, as Sonnet makes it easy to do both of those right from the app. And the best part is that you get all of these features for free without having to deal with any in-app ads.
Open source freedom
Sonnet - Free, Simple Podcast Player
Premium features for free
If you're looking for a feature-packed podcast app that won't nickel and dime you, then Sonnet is the way to go. The app includes more features than you can count, is completely ad-free, and you won't have to pay a dime.
Get the Android Central Newsletter
Instant access to breaking news, the hottest reviews, great deals and helpful tips.
Senior Editor - Chromebooks, tablets, and wearables
Andrew Myrick is a Senior Editor at Android Central. He enjoys everything to do with technology, including tablets, smartphones, and everything in between. Perhaps his favorite past-time is collecting different headphones, even if they all end up in the same drawer.