The best Android smartphones on U.S. carriers [late 2012]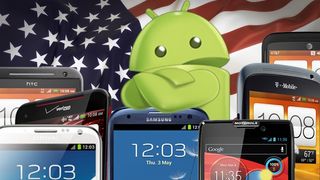 We've said it a number of times the past few months -- never before have we seen a time when there are so many good Android smartphones on so many U.S. carriers. We've practically been tripping over them all year.
From T-Mobile to Sprint to AT&T to Verizon, most of the major manufacturers are represented. But when we get down to it, we're going in the same direction as we did in our international picks.
Best of the Best in the U.S.: Samsung Galaxy S3 and Galaxy Note 2
Our all-around winner(s) for best smartphone remains the Samsung Galaxy S3, and its larger sibling, the Galaxy Note 2. OK, so that's two phones. We're adding the Note 2 here because it really is in a category all its own.
Back to the Galaxy S3, though. It's got the design. The whole "inspired by nature" thing is Samsung's most personable, fluid design yet. It makes a large, 4.8-inch phone feel good. The specs, while maybe not on the bleeding edge anymore, remain more than good enough for most smartphone owners. The inclusion of microSD storage and a removable battery give flexibility that other phones don't. (Those features have been trending off in the majority of other devices. And while we don't ding them for it as much as we used to, you can't overlook the fact that it's better to have a microSD card and removable battery and not need them, than to not have the option.)
What's more, the Galaxy S3 is the only phone on every major U.S. carrier (and a few of the regionals as well). The experience is largely the same whether you're on T-Mobile or Sprint or AT&T or Verizon, network issues aside. The camera is among the best you can get. The software remains on the newer side of things, with the phone starting to get its upgrades to Android 4.x Jelly Bean. Samsung's TouchWiz user interface isn't our favorite way to get things done, but, again, for most smartphone users, it makes life easier.
OK. The Galaxy Note 2. It's also available on every major U.S. carrier. Picture the Galaxy S3, only bigger. Some 5.5 inches, to be exact. Take all the features Samsung's put into the Galaxy S3, and add some excellent pen input mechanisms and dual-screen viewing, and you've got another winner, hands-down.
So should you bother to look at anything else?
Absolutely.​ If we have to pick just one phone, the Galaxy S3 takes it. But as we said at the outset, there are a number of excellent options on each major carrier.
These aren't also-rans. We're not picking other phones to make their manufacturers feel good about themselves. The phones we've listed after the break are the phones that our in our pockets. They're the phones that we use day after day. We live with them. We work with them. We travel with them. We rely on them to document our lives. And we recommend any one of them.
The best of Verizon Wireless
Why you can trust Android Central Our expert reviewers spend hours testing and comparing products and services so you can choose the best for you. Find out more about how we test.
Verizon probably has the deepest bullpen of the U.S. carriers. That's by design, of course. Verizon also has the most robust 4G LTE network in the country, hands-down. Its "Droid" line remains the cream of the crop, even if the name is getting a bit stale. At year's end, pair of phones stand out, along with the GS3, of course. One is from HTC, the other from Motorola.
Droid DNA by HTC
Gorgeous 5-inch display with a 1080p resolution. Anemic storage at 16GB, however, with no microSD card. It is Qi-compatible for wireless charging, though, which is good because it's got an annoying door over the microUSB port. The battery is non-removable. Read our full review.
Droid RAZR MAXX HD by Motorola
Still right up there in terms of power, has an ample 32GB of storage, and the 4.7-inch display is decent. But it's the 3300 mAh battery that's the talker here. It's not removable, but with as much juice as it has, that's not a deal-breaker. Read our full review.
The best of AT&T
AT&T's Android lineup falls off pretty quickly. That's not to say it'll full of horrid phones, it's just that its top shelf isn't as populated. Aside from the Galaxy S3 and Galaxy Note 2, we recommend:
Google Nexus 4 by LG
Technically, this one's not a carrier device. That is, you can't walk into an AT&T store and buy it. But the Nexus 4 is one of our favorite phones, even if the Galaxy S3 beats it out for the all-around title. It's "Pure Google," meaning you're going to get updates quicker than anybody else. And it's got some of the newest hardware available. Basically, it's an LG Optimus G on the inside (which is why AT&T's Optimus G doesn't make our list here), with a quad-core Snapdragon S4 Pro processor. The camera is decent, though not the best. While it works just fine on AT&T, one thing it's missing is LTE data. You might have read that a few locations are able to pick up LTE, but that's few and far between, unofficial, and Google's likely to squash that (officially, anyway) in a future update. Do not buy the Nexus 4 if you have to have LTE. Read our full review.
HTC One X+
You'll need to pay a little attention here. The original HTC One X is on sale for, like, $1, depending on where you look. But its newer cousin, the One X+, is the one to get at this point. It's a little more powerful and has 64GB of storage, and a slightly larger battery. Plus, it still has one of the best cameras we've used in an Android phone. Read our full review.
The best of T-Mobile
We'll be perfectly honest here -- T-Mobile is still selling phones we'd forgotten even existed. (And a couple we had to look up again in the first place.) Like AT&T, there's a pretty big gap between the penthouse and the ground floor. Aside from Samsung's finest, we recommend:
Google Nexus 4 by LG
For all of the reasons we listed for AT&T, plus it's available in a few T-Mobile stores, and on contract as well. If you're in a good T-Mobile coverage area, chances are you won't even miss LTE data.
HTC One S
It's not quite as powerful as the HTC One X. Its display isn't as high-resolution. And its battery isn't quite as big. But the form factor. Lordy, this phone just feels good. It's not too big, not too small, and has curves that go on for days. Plus it's got the same camera improvements as its big brothers. Read our full review.
The best of Sprint
Just about every phone we've reviewed on Sprint this year had the following line: Great phone, struggling network. Unfortunately, we're still waiting on its 4G LTE network to gain some legs. It's taking longer than probably everybody would like. Here's what we like that's not called Galaxy S3:
HTC EVO 4G LTE
This basically is a tweaked version of the HTC One X. (Not the One X+.) Sprint changed the design and added a kickstand and microSD card. Otherwise, same hardware, same great camera, and same gorgeous display. The phone's not the youngest, but we should have another four or five months before we see its replacement come out. Read our full review.
Motorola Photon Q 4G LTE
It's been a while since we saw a phone on Sprint with a full QWERTY keyboard, and the Photon Q was a surprising little gem. The display's not the best. And the phone's not the thinnest. But there was just something about the Q that burrowed a place into our hearts. Plus, that keyboard was pretty damn good. Read our full review.
LG Optimus G
This might well be the closest you get to having the Nexus 4 on Sprint. The design's a little different, and LG's software is ... well, it's special. Let's just call it that. But it's thin, it's powerful and it's got a really good display, with a decent 13MP camera on the back. Read our full review.
So that's it. The best of the best in the U.S. as we window down 2012 -- and get ready to do it all again in 2013. Look for a new update come springtime.
Get the Android Central Newsletter
Instant access to breaking news, the hottest reviews, great deals and helpful tips.