How to get a free Mint Mobile SIM card for your phone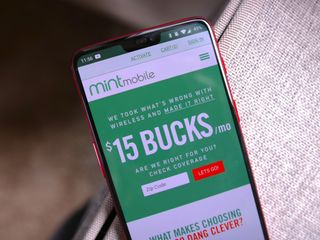 (Image credit: Android Central)
Perhaps you've noticed Mint Mobile's humorous ads featuring Ryan Reynolds, and you've wondered whether you should give this quirky carrier a shot. Mint Mobile is a prepaid carrier that offers customers affordable cell phone plans on T-Mobile's vast 4G LTE and 5G network at a lower cost when you sign up up for three, six, or 12-month terms. If you want to put the carrier up to the test before committing, Mint Mobile is willing to send you a free Mint Mobile SIM card to try out during a free 7-day trial. To sign up for the trial and get your complimentary SIM card, all you have to do is follow these simple steps.
How to get your free Mint Mobile SIM card
Mint Mobile offers some of the best cell phone plans today and can help you save you some money. But joining a new carrier or switching over from one that you've been with for years can sometimes feel risky, which is why Mint launched a free 7-day trial to try out its service. The trial comes with 250MB of 5G and 4G LTE data, 250 texts, and 250 minutes that you can use right from your phone once you've popped in Mint's SIM card or installed your eSIM. You'll be provided a new number to use during the trial, and Mint promises that your current service won't be affected.
To get your free Mint Mobile SIM card, you'll need a compatible device and a credit card handy.
To get started, download the Mint Mobile app on your mobile device from the App Store or Google Play.
Open the app on your phone and select Try before you buy.
You'll be taken to a screen where you can activate or order your free trial. If you're eligible for an eSIM, you'll be given two options—you can either purchase an eSIM or a physical SIM card.
To continue with an eSIM purchase, select Continue with eSIM on both screens.
The next screen will ask for your ZIP code to help assign a new phone number. Select Automatic ZIP code recognition or I'll enter ZIP code manually.
Verify your ZIP code or enter it manually and press continue.
Source: Mint Mobile App
If you rather get a physical SIM card in the mail, go back to the Activate Your Free Trial screen and press Check out your other SIM options and, when prompted, Order a SIM card. But if you don't have an eSIM eligible device, you'll only have one option to choose from on the Order Your Free Trial screen.
Select Order your SIM card.
On the next screen, the Mint Mobile app will ask to run a Compatability Check. Press Let's check, or you can skip this step, though it's not recommended.
Source: Mint Mobile App
Mint's compatibility checker will let you know whether your device is compatible. For instance, mine was "Foxtastic." If that's the case for you, too, this means that the address you provided gets excellent coverage, and your device is compatible.
Press Continue if you have good compatibility with the Mint Mobile network.
Enter your personal details to create your account, including first name, last name, email, and phone number if requested. Press continue.
Enter your shipping address and press continue. If you're getting an eSIM, you won't need to provide an address.
Add your credit card details and press continue. You won't be charged anything, but Mint still needs to have your card on file.
Confirm purchase of your free trial starter kit or eSIM free trial. Select Order now.
Source: Mint Mobile App
Your purchase will be free, no matter if you ordered a physical SIM card or an eSIM. Once you receive your SIM card in the mail or digitally, you'll be provided with a new phone number to use throughout your trial. And at the end of seven days, you can decide whether to continue using your SIM card and phone number by signing up for a full plan.
Our top equipment picks
Free samples
Try out Mint Mobile for 7 days
Mint Mobile offers cell phone plans you can afford on T-Mobile's 4G LTE and 5G network in three, six, and 12-month terms. By signing up in bulk, you can save more money on your data plan.
Be an expert in 5 minutes
Get the latest news from Android Central, your trusted companion in the world of Android
Olivia Lipski is a freelance writer for Android Central and loves testing out the latest smart home tech and discovering the best cell phone plans. When she's not busy running around NYC trying to find great food or coffee, she's in her kitchen trying to make it herself.