The best multiplayer games for your Oculus Go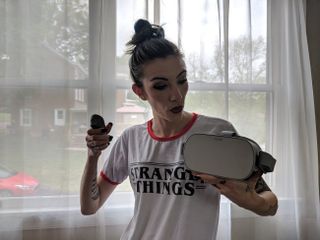 The Oculus Go has countless game and apps for you to enjoy. But, playing games by yourself is something we can always do no matter what device we're on. After that huge spiel during F8 about connecting with your friends and family, why not try and find something to play together? Games are always that much more fun when you have someone to share them with.
So, strap on your headset and get ready to teach all your loved ones why you love VR. Here are all the best multiplayer games for your Oculus Go!
Catan VR
Why you can trust Android Central Our expert reviewers spend hours testing and comparing products and services so you can choose the best for you. Find out more about how we test.
Bring a whole new immersive environment to the tabletop games you love to play with your friends. No costumes or imagination are required when it comes time for you to envision your best friend is the Wizard you always knew he was. Not just that, but Catan VR simplifies the process of playing said board games with your friends. Instead of needing Skype, a phone app, and a google document to keep track of all the progress, the game does it entirely for you. Now no one needs to DM the party and can get right to enjoying the party with one another. For about $15 on the Oculus Store you can enjoy this experience with friends or strangers!
RUSH
Take a deep breath and get ready to plunge yourself from the highest mountain. Before you leave a small voice whispers in your head, "It's too dangerous to go alone, take this!" and you're equipped with a hang gliding suit. Your friends line up with you and it turns into a race to the finish, who can reach the ground first? Test your luck with the course and try to collect more powerups than that Jerk Dan who keeps bumping you into oncoming rocks. For just $7.99 on the Oculus Store, you and a group of people can get the real experience of hang-gliding like your life depends on it.
And I gotta say, for a game about free-falling I didn't experience any form of nausea. And this is coming from someone who almost puked playing UltraWings up until I learned how to avoid that.
Anshar Online
Pretty sure my head exploded a little bit when I saw the words "space", "shooter", "Co-op" and "PVP" all in the description of one game. Anshar Online, available for $7.99 on the Oculus Store, has a 4 out of 5-star rating with 63 reviews. There are over 50 missions for you to give a shot at with your friends, or heck, even your enemies. Power up your ship and get ready to take out the other team. There are gorgeous environments with a pretty solid movement system that makes sure you'll feel comfortable in this VR game.
Drop Dead
Zombies, guns, and your most trusted survival partner... What more could a girl ask for? My only complaint about Drop Dead is the ability to have only one person to play with you. I would 10/10 nostalgia all over my keyboard right now if I got a zombie game experience close to what we had when Nazi Zombies was a thing back on Call of Duty - but for VR. You can get Drop Dead for $9.99 on the Oculus Store and truly immerse yourself into a simulated zombie apocalypse. Prepare yourself for the screaming (and laughter that follows) when you've got oozing, rotting bodies jumping in your face.
Good thing there's a VR headset protecting your cranium!
What's your favorite?
Did you get to try out any of the games I mentioned above? If so, which one is your favorite? If you have a favorite that I didn't mention let us know in the comment section below!
Get the Android Central Newsletter
Instant access to breaking news, the hottest reviews, great deals and helpful tips.
Essa Kidwell is an expert in all things VR and mobile devices who can always be found with an Oculus Go, a Pixel 2, and an iPhone 7+. They've been taking things apart just to put them back together for quite some time. If you've got a troubleshooting issue with any of your tech, they're the one you want to go to! Find them on Twitter @OriginalSluggo or Instagram @CosmeticChronus.