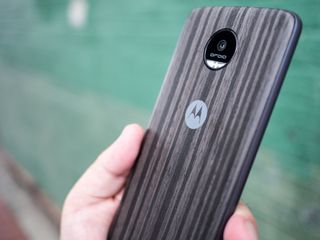 The Moto Z, on its own, is very thin at just under 6 mm. If you're not planning on opting for any Mods, then you'll want a case with great protection against drops, since a spider-webbed screen is abstract art that's pretty hard to appreciate.
Note: These cases are only for the first-generation Moto Z and Moto Z Droid released in 2016.
Spigen Rugged Armor
Why you can trust Android Central Our expert reviewers spend hours testing and comparing products and services so you can choose the best for you. Find out more about how we test.
One of my favorite cases for any phone is Spigen's Rugged Armor. It's a one-piece TPU shell that's sturdy and strong, but flexible, with excellent shock absorption, helping to prevent cracks should you drop your Moto Z.
The TPU's texture provides excellent grip, and the cutouts for the camera and ports are precise, giving you a really well-fitting case. The volume and power buttons are covered but very responsive. Pick it up in black for just under $12.
See at Amazon (opens in new tab)
OtterBox Commuter
The OtterBox name is synonymous with quality, and the Commuter series is equal to "you can drop it and your phone will survive." The Moto Z version (or Moto Z Droid, for Verizon users) is no exception, with a two-piece assembly that includes a silicone insert to absorb shocks and an outer hard plastic to take the brunt of any damage you may inflict on your phone, accidentally or otherwise.
Grab it for a mere $19!
See at Amazon (opens in new tab)
Speck CandyShell Grip
Speck's CandyShell cases feel very solid in the hand, and the Grip series adds ribs in all the right places, so you can firmly hold onto your Moto Z at all times. The outer shell is a hard yet flexible polycarbonate, while the inside is soft and flexible "Impactium" (Speck speak).
The two combine for excellent drop protection (aided by the reinforced corners), and aid in preventing scratches and chips, especially thanks to the raised front bezel, which protects your phone when laid face-down. It's available in clear or a range of colorful options, so you can fit one that matches your personal style. Grab it for a steal at just under $5 for a few colors!
See at Amazon (opens in new tab)
Poetic Affinity
Poetic's Affinity cases are fairly simple polycarbonate shells with a neat lined design consisting of a bit of rubber, though it does nothing for protection.
These cases are reinforced all around to provide shock absorption in the event of a drop, and the fit is snug, so it feels like the Affinity becomes part of your Moto Z.
The Poetic Affinity is available with clear accents or black for under $8. Highly recommended!
See at Amazon (opens in new tab)
Incipio Moto Z case
The Incipio case for the Moto Z is made of two layers to protect your ultra-thin phone from ultra-hard surfaces. It's not the sleekest case in the world, made up of a two-layer system comprised of a silicone liner and "rigid plextonium shell," which helps against impact.
One of the best things about the case is that it's the perfect thickness to keep the protruding camera ring protected without adding considerable thickness to the 6.1mm phone.
It's available in five colors: red, black, gold, silver, and pink for around $13.
See at Amazon (opens in new tab)
Your favorites?
Are you using an awesome case with your Moto Z not mentioned here? Let us know in the comments below!
Update, February 2018: Added the OtterBox Commuter case and updated pricing. Enjoy your case!
Android Central Newsletter
Get the best of Android Central in in your inbox, every day!
Daniel Bader was a former Android Central Editor-in-Chief and Executive Editor for iMore and Windows Central.
Um yes the phone and mods are out already. I don't have it yet but planning on getting the bumper case from Verizon that you can use with the mods and backs (with a little modification). Posted via the Android Central App

I have that bumper and all the mods and they work excellent together. Enjoy! Posted via the Android Central App

I was expecting at least one bumper suggestion in the article, because mods are a huge reason to buy the Moto Z.

If someone is looking for a case adding bulk to a thin phone, might as well be a battery case or shell with that tiny one inside the phone

Why on earth does this article start by saying the phone isn't "even out yet?"

The article was likely drafted before the release date last week, and they just forgot to update it before they published. It happens.

Where's Phil when we need him?

I get that, but the very first line of the very first paragraph? Even my editors are competent enough to catch that. :D

So, if the case makes it to where you can't use Moto Mods, why do many of them have cutouts for the pins?

Noticed that too. Maybe these cases where designed before they knew what the pins were actually for. Someone probably though it was an odd charging connector.

Maybe they assist with heat dissipation? That's be my only guess.

Have the same question. WHY

Otterbox doesn't release the case for Moto Z Droid?

Yes Otterbox offers a case for this phone

They make commuter cases.

So, what is the point of the cutout for the mods in that Defender case?

The case manufacturer males the case before the phone comes out, they probably get a non working phone to use. All they now is there are connections on the back. They have no idea what they are there for or how they will be used, so they make to cut out. Posted via Android Central App

Needs more bumper cases available! Posted via the Android Central App on the Moto X Pure Edition

Verizon has a true bumper case that works with the mods. Posted via Android Central App

From the forums, it doesn't work well.

Seems it was fixed? I know - old comments, just posting it for future reference.

My bumper case is from Verizon and it works excellent. I can swap backs and mods with it on no problem.

I've had Verizon's (black) bumper case for 6+ months now and it has worked GREAT!. Mods go on/off easily and I've had 3 or 4 drops from waist height with absolutely no damage. (I have the Force.) I'm most pleased with it.

Verizon's bumper sucks! Its too loose and if you drop your phone it will fall out and get scratched, or worse. Mine actually fell out and cracked my screen.

There are bumpers coming from CaseMate and Incipio as well. Posted via the Android Central App

Incipio has one, but you have to take it on and off just to take off the backs. Makes it a no go for me.

I'm thinking the same thing. What's the point of a case for a phone that's designed to have interchangeable parts on the fly?
Why not just go with the force and shatterproof screen and take your chances. A phone like this isn't designed to have a case. They shouldn't have even made the regular one. To thin, to fragile, no practical cases. Posted via the Android Central App

I just dropped my phone (moto z) from pocket height, and the screen cracked..

Was it the Force version ?

No one is actually going to buy these gimmicky phones are they? Posted via the Android Central App

I have them and think they are great. I'm finding great uses for the mods too. Posted via the Android Central App

What's a gimmick to you is not a gimmick to others. You know, people love iPhones...

Actually I will probably be using my Play for music with my speaker mod long after its retired and I have another device. It's more than just a phone now.

Despite the mods the phone offers plenty despite what you consider a gimmick. Though the mods offer practical benefits that are far from gimmicky.

Just got the Moto Z and boy the phone is A.W.E.S.O.M.E!!!!! *ffs Moto Z, where have you been all my life ffs*

..none of the cases listed here work with a Style Shell on.

I have the Verizon bumper case (the clear one) and the backs and mods swap out easy with it still on.

How's it still working? Have you tried dropping it, on a soft surface, to see if it pops out? It did on mine and now my screen is gone.

On a whim, I tried my wood grain style mod over my $2 ebay, clear bumper type case and the magnets were strong enough to hold it in place. It's not perfect, but it gives me limited protection from the full wrap clear case, while giving the phone a nice look. I may buy one of the true bumpers to wrap just the edge of the phone and see if it works even better with the style mod.

Moto Z and Z Play are such beautiful devices with lovely build quality, cases are a crime :/ Those style shells are very good

I like the shells, including the incipio, along with the incipio Co molded bumper.

THIS! The Incipio Co molded bumper is SO much better than the Verizon bumper. The one from Verizon seems loose while the incipio is more robust and doesn't slide around. I take it off if I want to change the mods...but small price to pay for the security. Love it.

So I got the Verizon bumper. Bad mistake!
Dropped phone, phone and mod pop'd out of the bumper, and the phone hit the sidewalk cracking the screen. All less than a week. The Verizon bumper is way too loose.

I have the Incipio Co-molded bumper case along with the Mophie Juice Pack that works really well

Got the Z Play and this device won't need a case ! style shell is enough. Solid build quality and not a single scratch in display after half year heavy use.

A half year? It didn't release until October 20th, so at most you've had it for less than 3 months.

Wish it wasn't so slippery with the battery/wireless charging pack. Where are all the Grippy cases to go over the battery mod?

There are 3 different battery backs now. The Incepo one isn't slippery at all

There are no cases that go over any of the battery packs.

I have the tumi power pack and a clear CaseMate for my Z. Wish the Force was available here in Canada.
It would be nice to have a stretchy bumper case that works with mods

Stretchy bumper case? What's that?

I purchased the Spigen Ultra Hybrid and am disappointed thus far. The rear phone camera protrudes a bit out of the case, so if I lay the phone flat on a desk, the desk surface will scratch the camera. A tiny lip around the camera area would have been great.

On my phone new bookmarks keep getting added to Managed Bookmarks folders. How do I delete the folder and prevent it from happening again?

I've been using the Spigen Rugged Armor on my moto z since new and did with my still mint condition 6p. These cases are the truth if you want protection and a slim fit that doesn't get in the way or add much bulk.

The new portfolio case put out by Motorola is great. It sticks on as a mod so it can pop off easily to replace with camera, projector, etc. It's not expensive, either.

Don't know why bumped this old post, but in case anyone is wondering, all cases for the original Z (2016) with the Z2 (2017). If you have a Z2 Force it may not be completely snug because it's slightly thinner, but it works. Bear in mind that most cases for the Z2 Force will not fit a Z or Z2 Play.
Android Central Newsletter
Thank you for signing up to Android Central. You will receive a verification email shortly.
There was a problem. Please refresh the page and try again.