Best Microsoft apps for Android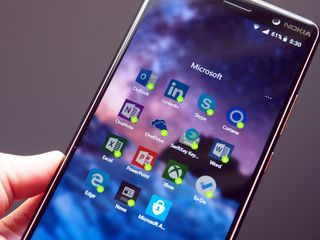 Microsoft essentially shunned Android and iOS for several years, but with Satya Nadella taking the helm in 2014 and adopting a mobile-first stance, the company has turned its attention to bringing its apps and services to rival platforms. From heavy-hitters like Office to side projects developed by employees in their free time under the Microsoft Garage label, Microsoft has a lot to offer on Android.
Microsoft Office
Why you can trust Android Central Our expert reviewers spend hours testing and comparing products and services so you can choose the best for you. Find out more about how we test.
Microsoft made the Android and iOS versions of Office free in 2014, opening up the floodgates for its adoption on these platforms.
Standalone apps for Word, Excel, and PowerPoint debuted in 2015, allowing users to quickly edit documents, spreadsheets, and presentations on the go. Basic editing functionality is available for all users, but if you want advanced features — inserting section breaks, viewing file history, customizing headers and footers in Word — you're going to have to subscribe to Office 365. If you're just looking to create, edit, or save documents, then the free option should be more than adequate.
Word, Excel, and PowerPoint sync over OneDrive, allowing you to quickly view files stored on the cloud. The apps work even if you don't have the cloud storage service set up, but you'll be limited to working with files locally stored on your device. If you're not a OneDrive user, you can also sync your files through Dropbox or Box.
Microsoft Launcher
Microsoft Launcher offers an interesting take on an Android launcher. It emerged from the previous Arrow Launcher but was reborn for the better. As well as regular launcher features, like adding apps to home screens and customizing your wallpaper and widgets, Microsoft Launcher has some neat tricks others do not have.
You can set up your own personalized feed of things, such as news, calendar appointments, office documents, and contacts, while also having the ability to set the feed as your default home screen. Glanceable information is something Microsoft has done for years in Windows on phones.
One of the most interesting features is integration with "Continue on PC." When linked to your Microsoft account, you can perform certain actions on your PC that you started on your phone. And that's beyond nifty.
Download Microsoft Launcher from the Play Store (opens in new tab)
OneNote
OneNote has picked up several new features lately, turning it into one of the best note-taking apps currently available. One of the biggest additions in recent times is cross-platform availability, making it a viable contender to the likes of Evernote, even more so now that the latter service has gravitated to a paid structure.
By contrast, OneNote is completely free, and lets you easily type, draw, or hand-draw notes. The service lets you scan handwritten notes, and has a powerful search feature that lets you find what you're looking for. You can organize your notes with labels, save web clippings, take voice notes, add photos and videos, and so much more.
OneNote also offers the ability to password protect your notes, version history for your files, Android Wear support, and a widget that lets you quickly jot down a note. The best feature is that you can access your notes even when you're offline, which isn't possible unless you're on a paid plan on Evernote.
Download OneNote from the Play Store (opens in new tab)
OneDrive
OneDrive is a feature-rich cloud storage service that rivals Google Drive, Dropbox, Box, and others. OneDrive integrates with OneNote and Office apps to provide a seamless experience on Android. The app has automatic photo and video backup, and you can link it to your camera roll to automatically sync photos to your OneDrive account.
OneDrive lets you download files for offline use, share photo albums and collaborate on documents, and receive updates when someone makes changes to shared documents. The free tier comes with 5GB of storage, but if you're subscribed to Office 365, you'll get 1TB of cloud storage. If you're not on Office 365, you can buy 100GB of storage for $1.99 a month or 200GB for $3.99.
Download OneDrive from the Play Store (opens in new tab)
Skype
Skype revamped its UI in 2015, offering a cleaner layout that gives you easy access to calls, chats, and contacts. Calls between Skype users are free, and the service also offers group video calls for up to 25 people. Skype retooled chats by rolling out emoticons and Mojis, which are essentially short clips from popular movies and TV shows. You'll also be able to send photos, videos, and share your location from the IM interface.
Skype also offers the ability to call international numbers and landlines, with the service boasting some of the most affordable rates in this space. To incentivize adoption in emerging markets, Skype is letting customers from India call mobile numbers in the U.S. and Canada for absolutely free.
Download Skype on the Play Store (opens in new tab)
Outlook
The Outlook app is one of the best email clients available on Android. Microsoft paid over $200 million for Acompli, a mobile email service with built-in calendar and file sharing, back in 2014, and has rebranded the service to Outlook. Since then, it has added several features, including the core functionality of Sunrise Calendar, another of Microsoft's acquisitions.
Outlook lets you manage email from Gmail, Outlook.com, Microsoft Exchange, Yahoo, and others, providing a unified mailbox. You can archive or delete mails with a swipe left gesture, or peruse your mails at a later time using the schedule function.
The app hooks into the built-in calendar to add details from your emails automatically, and it offers a Focused Inbox that lets you prioritize important emails. You can also attach files easily from OneDrive, Dropbox, and Google Drive. As with all Microsoft services on Android, Outlook is free. If you're in need of a better email client, then you should definitely give Outlook a try.
Download Outlook from the Play Store (opens in new tab)
Microsoft Edge
Microsoft Edge launched on Android earlier this year, and there's a lot to like here. Edge offers a seamless browsing experience, allowing users to pick up from where they left off on their PC and continue browsing on their phones. Data is synced between devices automatically, and Edge also offers an InPrivate mode that doesn't save browsing history on your phone.
There's a reading mode as well that optimizes content on the screen, and you also get a native QR code reader.
Download Microsoft Edge from the Play Store (opens in new tab)
Microsoft Authenticator
If you regularly sign into a Microsoft account, the company's own two-factor authenticator comes in handy. Instead of the usual six-digit code to log you in, Microsoft Authenticator lets you authorize the sign in attempt with a simple tap, making the process much more convenient.
In addition to adding your Microsoft account, you can also add details for other services that are secured by two-factor authentication, including Google and Facebook. Haven't secured your accounts yet? Here's why you should set up two-factor authentication right away.
Download Microsoft Authenticator from the Play Store (opens in new tab)
Office Lens
Office Lens is essentially a portable scanner that lets you easily scan whiteboards, documents, and receipts. I used Scanbot (opens in new tab) for several years, but Office Lens' integration with Office apps gives it a distinct advnatage over other utilities in this space.
You can scan and upload your documents to OneNote, Word, or OneDrive, and Office Lens offers the ability to convert your images to Word documents, PDFs, and even PowerPoint files. The app uses optical character recognition to convert images into text, making them searchable.
Download Office Lens from the Play Store (opens in new tab)
Xbox
If you have an Xbox One, the Xbox app offers a ton of utility. The app acts as a virtual controller for the Xbox One, allowing you to control your console with your phone. You can also scroll through your activity feed, view achievements, messages, buy games from the store, and much more.
Download Xbox app from the Play Store (opens in new tab)
Bonus for India: SMS Organizer
SMS Organizer is one of the best messaging apps available on Android today, and it's a shame that the app is limited to India. SMS Organizer is designed as a way for customers in India to sort through promotional emails and automatically filter out spam texts.
The SMS client also lets you back up and restore texts from OneDrive (or Google Drive), and it even has a dark theme.
Download SMS Organizer from the Play Store (opens in new tab)
Your turn
What Microsoft apps do you use on your Android phone or tablet? Let us know in the comments below.
Updated April 2018: Added Microsoft Edge and the India-only SMS Organizer to the list.
Get the Android Central Newsletter
Instant access to breaking news, the hottest reviews, great deals and helpful tips.
Harish Jonnalagadda is a Senior Editor overseeing Asia at Android Central. He leads the site's coverage of Chinese phone brands, contributing to reviews, features, and buying guides. He also writes about storage servers, audio products, and the semiconductor industry. Contact him on Twitter at @chunkynerd.
I use almost all of these, coming from Windows phone. They're amazing. Love Arrow the most.

I'm currently on Windows Phone with a Lumia 950, but have decided that I'm going to make the jump soon, probably when the Galaxy S8 comes out. I'm pretty well ingrained in Microsoft services, did you find it hard to set up your phone to utilize their services as much as possible? I've got an old S5 I've been playing with and installed Arrow Launcher and basically all these apps, but just curious if it's difficult to default to their apps over others.

It's definitely different. But everything does work well together. And once I disabled the Google apps, (switching to Cortana was the biggest thing for me) it all works seamlessly. I hate to say it, but for now Windows phone doesn't have a pulse so the switch just makes sense.

Exactly, I've just got to the point where I don't see a reason to stick around anymore. Playing with the S5 has been eye opening in just how nice it is to be able to download certain things, and get current versions of apps. I love Windows Phone, I've been with it since 2010, and would go back in a heartbeat if things changed, but for now it's time to try something else. And I'm not going to Apple since this is more customizable, and I already have USB-C cables for my 905!

I switched from WP to Android and the biggest headache I've had was dealing with the bloatware. I have a Note 4 on Verizon, so I had many, many triplicated apps from Google, Samsung, and Verizon. Can't get rid of any of them. Might be able to turn some off, but don't be surprised if they turn themselves back on and keep bugging you to update. Getting a massive SD card is useless as the current OS (MM), doesn't allow the SD card and internal storage to be pooled (as it is on WP); not sure if this is still the case in Nougat, but if it can, make sure you don't cheap out on the SD card and get a fast one. In any event, get a phone with as much internal storage as you can afford. The quality of the cameras vary widely, so make sure you read up on the particular models you're looking at. Finally, and this kinda goes to the part about internal storage: Apps like FB, FB Messenger, Office, Groove, and OneDrive, are memory hogs (I believe FB is close to 500MB). If you want to use Groove/OneDrive to save music to your device for offline streaming, be advised that they will save those files to INTERNAL storage with NO OPTION to save externally. That will really eat into your phone's storage, which is way 32GB is the MINIMUM (and really, it should be 64GB), spec.

FYI, I also switched, although it was 2 years ago now. Regarding disabling of apps, for Samsung phones, the Samsung Package Disabler Pro is well worth the money and it "disappears" these apps very well and can also be backed up so that if you have to do a hard reset, you can load the disabled apps list. Also, Google Music offers so many benefits over (current) Groove that I would suggest switching. For one, you can store offline music on an SD card. Secondly, it comes with YouTube Red at no charge. This allows for ad free YouTube viewing and background YouTube. With that switch, I've never had an issue with the SD storage not being adoptable on Samsung phones.

Concerning Google Play, I find the UI fugly and not very easy to use (especially if you're on the run and don't have ten minutes to stare at the screen and pull-up screen after screen). One thing I frequently do is to play all from an artist. With Groove, I just open the app, it lists artists (something I've been clamoring for- have the app open to the last section instead of always defaulting to Playlists), flick down to the artist I want to listen to, and then tap the picture. Pretty quick. Google Play requires like a dozen taps and still won't play-all. Thanks for the tip about the Disabler app...will look into it.

Thanks for the tips! So it's basically possible to make the Microsoft apps default for almost anything, including Cortana? I've come to love Cortana, it would be really hard not to continue to use that as my main assistant. And about Groove, I actually think at this point it's pretty darn good. I haven't used another service for a couple of years, I've had this since Zune Pass, but with the recent updates it has most of the features I need, and I've never had any trouble finding music. What phones do you guys have? I was going to wait for the S8 or the new LG's, but Android Central just ran an article about the S7 being on sale for $360 out the door with T-Mobile, who I use.

I couldn't figure out how to make Cortana the default voice assistant on Moto G4 running Marshmallow; it doesn't seem possible without major hacking. But it is possible to add shortcuts to Cortana (both the Cortana app and Cortana voice) on the homescreen. Keep in mind, though, that Cortana for Android right now is still in beta and is half-baked. You can't ask her to play music in Groove, for example. She can't add events to Outlook Calendar (adding to Google Calendar works, however). Asking for directions to a certain place first brings up Bing web page, then Google Maps web app, and you have to do a few more presses to eventually get to the phone's Google Maps app. At least setting reminders and alarms and asking general information questions work well.

There is an app to change th default launcher I used it on my g5 works great have a look in the app store

Don't worry, Microsoft has 72, yes that's 72, apps in the Play Store

Yep, which is why I'm jumping ship on WP for now! I love the OS, but I've just waited long enough. Because of their app development for Android and iOS is why I feel comfortable giving something else a shot right now.

I dropped my Lumia 950 for the Galaxy S8 months ago after years on Windows phone. I really like my S8, but I'd I had to do it over I'd get something that runs a base Android OS like A Pixel. The Samsung bloat, plus running the Microsoft Launcher on top of Samsung's junk just seems clunky. I've disabled as many Samsung "services" as possible without losing real features and that helps. I've also replaced the Bixby button with Cortana and that works OK. Of you can, get an unlocked, unbranded version too. That will eliminate the carrier bloat. Although you may miss some features like visual voicemail, wifi calling and HD calling. I'm so certain that a base Android OS would be a better starting point that I was going to get the Pixel 2 after just dropping $800 a few months ago. Unfortunately, the Pixel 2 XL is too big and the Pixel 2 is underwhelming.

I'm coming form Windows phone (1520) and use almost all of them minus Groove. I wish I could use Windows Maps on my S7 too.

I had a Lumia 1520 also and loved it (miss that phone and that Pureview camera a bunch). Even though Windows Maps is a no-go (at least for now), you have the next best thing with HERE WeGo - Offline Maps & GPS. It's what used to be Nokia Here Maps on WP. There are times where I prefer HERE Maps to Google Maps. Those offline maps do come in handy.

Thank you. Downloading HERE WeGo now. I will give it a try today. Because I was spoiled by the size of my 1520, I will be getting the S8+.

Thanks for the tips on the maps! The offline feature is awesome, even for peace of mind. Definitely going to check out Here WeGo. Do you like the S7? I was going to wait for the S8 or a new LG, but as I mentioned above, Android Central has an article today about the S7 being on sale with T-Mobile for $360. That seems like a pretty good deal.

Very difficult question to answer. It really depends on what's important to you. I'm a bit of a gadget nut - used to upgrade to the latest Nokia as soon as it came out. Now I tend to at least try most of the devices. The S7 and S7 Edge are not the fastest phones out there, but they're extremely capable. Their cameras are outstanding, and their screens in my view are still the nicest you can find. In my case though my original S7 Edge eventually developed lag that I couldn't fix even with a hard reset. I also was frustrated with Samsung's not staying up to date with security patches (same can be said of all the OEMs except Google themselves). If the security updates are important to you, the Pixel or Pixel XL with 128GB is the way to go. If not, if budget is important, I'd consider the OnePlus 3t with 128GB - it's far quicker than the Samsung, but it's camera is good, nothing to write home about. If you're into music and listen to a lot of music through headphones, consider the LG V20 or wait for the LG G6, or the ZTE Axon 7. Lots of choices, and none of them are bad. My favorite phone of the year so far has been the Note 7, but that's unfortunately gone. After that, I'd say the OnePlus due to it's insane performance. I currently switch between the LG V20 (for the audio, large screen, and manual video camera), and the OnePlus 3t. My wife has an S7, and after we upgraded it to Nougat, it's back to performing fairly well. My daughter has a ZTE Axon 7. Not half bad either - especially for audiophiles. Not sure if that was more confusing than helpful...

That's really helpful, thanks for this! Honestly, I guess performance and updates in general is the most important. I don't need the best camera, but would like a good one. I'm not an audiophile either, so I'm good there. The other thing is that I'm on T-Mobile so I couldn't do the Pixel, which is why I figured I'd wait for the S8. The question with new phones is always how much better are they going to be than the previous model. I'm fine with a year old phone if the performance and features aren't much different than a new model, but since I'm getting a new one, and my 950 works mostly fine, I can be patient for the S8 if it's worth it. But that price of $360 is pretty nice.

Surely Solitaire should come top of the list ?

I like all of the office apps. Even if you don't have a 365 subscription, they are still much better than Google's apps on android.

Outlook has been one of the best email apps I have used on both Android and iOS. I still mainly use Inbox, but I really miss the integrated email / calendar aspect of Outlook.

I have personally never liked how Outlook manages both calendar and mail. I prefer having separate apps.

Yup, Outlook totally s ucks. Nine is much better for email. DigiCal for calendar.

Sign up for the hub+ Suite from BlackBerry. The best pim you can get.

I like Digical but since assistant reminders don't show up on it, kinda worthless to me.

I like outlook and would use but since they don't have badge notifications, no deal.

Have you tried using Nine? That has integrated email, calendar and address book.

Yeah from what I hear, Nine is a lot better than Outlook. Outlook is decent to me, but not as good as it is on iOS.

This squared. Outlook on iOS is fantastic and by far the best Exchange/Office 365 email client on iOS, but it's no where near as good on Android. Nine rocks though.

I think what Dennis means is he doesn't like or want mail and calendar integrated into one app. But what's the worst thing about the Outlook app is that your account in Outlook doesn't integrate with the phone calendar... so if you have a different calendar app it can't see the calendar in your Outlook account. Nine doesn't have this issue and is an all around much better mail app for Exchange... In my opinion it's the best one out there.

Whoa it doesn't do that?! Okay, that's it, I'm going to need to have Nine in my life! Going to buy it right now.

Yeah I use a calendar widget that I really like called "Calendar Widget: Month" and it doesn't work with the Outlook app since it can't see my Exchange account through Outlook. Any apps that integrate with your phone calendar and contacts will show up in Accounts under Android Settings... If they don't show up there then the accounts that are setup within these apps are mostly limited to just their own app... Hope that makes sense?

It makes sense, thanks. I have noticed this and I thought that was just the way it is. Since you have enlightened me that Nine is just that good, I needed to have it for myself.

Nine is great. I prefer using it on my phone over Outlook on my desktop.

Oh and another great thing about Nine is they have a widget icon for the app that shows the number of unread email on the icon... so when you add the Nine icon to your home screen make sure you use the widget instead of the icon from the app drawer.

I have Nine and use the icon from the app drawer. It shows the number of emails.

That depends on the launcher. Many stock launchers plus Nova do show unread counts on Nine. But others, like OnePlus, don't, requiring the use of the widget.

? Non -issue. Sign into the accounts you use in Outlook so they are on your phone. Every other calendar app I have tried since moving from my Lumia 950 to my LG V20 has had no problem syncing with my calendar in Outlook or my Exchange calendar. BTW, I am using Informant because it will sync to-dos and notes from non-Goog apps and put them onto a widget that is much more customizable than the one Outlook offers.

You must have a really special Outlook app then

Really? I hate the Outlook app. Half the time you can't press to highlight text in an email, and it's totally random in terms of if it will or won't work. Many times their spam filter just shuts off and sends all the dating and money making spam to my inbox, and lately when I go into my inbox, each new email has a duplicate. If I select one of the icons it deletes both emails, and if I try to select both the first one gets selected and if I select the 2nd email it deselects the first. I send emails to the devs to inform them of the issues but I never get a response and the problems never get fixed. I have no problems with Microsoft's other apps, but Outlook needs a lot of work, it's the reason I opened this article to see if they would pick it as one of the best, and now I'm questioning their judgment on other things.

I have to agree. Outlook looks great but has some really annoying issues. I thought it was slowly getting better but then new issues crop up. I use the Outlook app for my Hotmail account (I've had this account for around 20 years, before it was owned by Microsoft, so I'm loathed to change it). - doesn't sync correctly: if I delete or move emails using the website they still appear in my inbox in the app
- duplicate emails
- syncing very old emails usually resets the date(this is an issue with Hotmail in general I think)
- can't select and/or copy email content
- when replying ro emails the phone slows to a crawl, the keyboard really lags badly Think I'm going to try something else.

lol Skype.. no. Skype makes me long for MSN messenger. It's such **** these days.
But Microsoft's own RDP on Android works great.

Groove isn't available in India.
Apart from that I use Like all the apps and Mainly because I had to shift from WIndows Phone to Android Beacuse of the Absence of Good Budget Phones.
I would have liked Groove to be available in India though.

Definitely Outlook for the win!!! One of the best

I just wish they would make Cortana work in the car like Windows phone did. You Simply Call Cortana with your bluetooth in car and Cortana, being a "Contact", then allowed anything handsfree...was awesome.. please make work for android the same way!

This. Would be nice for OK Google as well.

Cortana or OK Google, whoever does it first wins my usage!!

I thought I was the only one who had this problem. What a good solution! I'd be using Cortana if it worked like that in the car.

i want Microsoft movies and TV on android, one drive is nice that it lets you stream your one drive videos

OK, we ARE on Android Central right?.... So WTF do I need Microsoft apps for? Androids got everything you need... Just get Windows phone if you want all the windows apps. That's one of the reasons I chose Android way back to begin with, to not use Microsoft.

Don't install them, you don't have to but, some of us like to see what we have on our PC

Android has everything you need... BUT, I refuse to only use Android if there is a better alternative. That is "fanboy-dom" and a disservice to myself. Use what is best or easiest, regardless of the maker.

Exactly. Anything else is just a disservice to yourself. It's never that serious.

Android does not have all I want. My work documentation requirements are described by ISO documentation that specifies .doc files. I wanted to allow people in my group to use mobile devices to fill out forms made out of Word docs. My IT department only supports Android and IOS mobile devices for use on company WiFi. I thought Word for Android would allow this mismatch of device and SW to work.
I was mistaken because - Office programs for Android do not support macros written in VBA (Visual Basic for Applications).
So I can't use fill-able forms on Word for Android. The Word for Windows 10 in the MS Store won't support macros either.
I had to get MS Surfaces ( I begged the desktop division of our IT dept to find an 'Image' for it that would allow access to the company WiFi.)
I also had to use the desktop version of Word.
Are there also Android apps made for use on Windows devices that aren't used through a browser?
If so, are they fully functional?

No mobile device supports Office Macros. Only full Windows does. They're not supported on Windows Phone either because they use the x86 Intel architecture.

That's true, but you should have said, Only Windows desktop running Office desktop supports VBA macros.
The touch screen (mobile) versions of Office apps don't support macros at all on any operating system. (Android, Windows mobile, Windows desktop)
When they release the Windows desktop version that runs on mobile processors (ARM), it will change everything, and it will end the silly limitations of mobile apps. (I hope)

Yes, you're right about that. I didn't really consider the non desktop versions of Office running on a desktop, but those are there. Hopefully they'll sort it out as you said with the new stuff they're working on.

Macros are not officially supported on the desktop version of office as of the 2016 version, they can be enabled for compatibility purposes but are disabled by default as they are an attack vector for viruses.

Because alot of people use Windows and Android? I can easily say why use Google services on a PC when Microsoft already has everything. But it's nice to use the same services on both devices whether you choose a Google service or a Microsoft service.

What a narrow minded little world you must live in then. Whoever makes the product shouldn't matter, it's just a question of does it do a better job for you than the alternatives. I'm sure the people at Microsoft don't care if you want to 'punish' them for whatever disservice you feel they've done you.

You're right. Android does have everything INCLUDING Microsoft apps. As it turns out, those Microsoft Apps are better than the other alternatives in the Play store. No reason to get a Windows phone if you have an Android phone and want the best office apps. If you don't want the best office apps, then stick to the hobbled ones you're already using and kindly STFU.

They're all 'hobbled'. The mobile 'productivity' apps for Android and Windows both can't compare to surface type PCs and Windows desktop apps.

The entire mobile experience is hobbled compared to PCs & Windows desktops. Nothing new and amazing about that. What matters is which app you use on your mobile device and how well it performs relative to other apps. IN this case the Microsoft apps are better than the rest, making the rest seem hobbled.

So using an Android phone means you can only use Google stuff, right? I hate using Google's office 'apps' for one. I also like Groove because I can play it in the background while I'm on the Xbox One. Google Play Music do that? And that's just for starters.

If you don't like what you see, move along to the next article. Problem solved.

Why would I NEED to download the Google app on Windows Phone when I have Bing search built in, see it works both ways!!!!

The only MS app I use on my Android phone and tablet is Outlook.

I liked Outlook but eventually uninstalled it because you can't edit contact information in it. And if you edit your Outlook contacts within the Android contacts app, your edits get overwritten by Outlook the next time it syncs. Very frustrating.

EXACTLY! I don't know why the reviewers always overlook this glaring problem. Microsoft keeps promising to address the issue, but never delivers.

Yeah it really is the most annoying thing ever.

Because these writers are lazy and probably don't even use these apps. A lot of the articles just sound like copy from the company.

Teams
Outlook
Authenticator Onedrive could use some Aesthetic work in my opinion, but very functional

Coming from Windows Phone two years ago Microsoft made my transition so seamless and that's appreciated. That said I mostly use Office and Note when it comes to Microsoft apps.

I'm surprised next lock screen wasn't mentioned. I personally love the app, changing wallpapers and easy access to recent contacts along with quick settings. Allows me to triage notifications too.

Agreed. I have it on my S7 edge. love the daily bing wallpapers

Onenote is hands down the best, at least for me using a surface and a Galaxy note. Outlook is worthless from my experience, it's buggy and ALWAYS syncs my email contacts with my phone contacts when I've got sync disabled. Got too annoyed of it to keep it on my phone.

That's the reason why I uninstalled outlook and use gmail with my outlook account, you can't edit contacts.

What weather widget is that?

Pretty sure it's One Weather

I'll give it a shot. Thanks.

It's the one that comes with Arrow.

That's default Time and Weather widget from Arrow Launcher.

Next Lock Screen is pretty awesome loaded with amazingly convenient features. HOWEVER, Android Pay will NOT recognize it as an actual lock screen as is required when activating your Android Pay. So I no longer use it because it's too inconvenient and unnecessary to swipe up on one lock screen to swipe my pattern on yet another just to use my mobile pay apps. Android needs to fix that in my humble opinion.

I have all of these except xbox, authtenticaor and groove.

Lens - really like this for on the go document snaps. Business cards and invoices. Really quick to get a decent picture that's auto cropped Groove - I've used Apple and Google Music as well as Spotify. I'll admit some songs aren't on Groove but the interface is nice and easy. In Canada if you go on the Microsoft store you can buy an annual pass for 99 bucks (so get 12 months for the price of 10). It's currently the only music streaming service I pay for. OneDrive - my favorite cloud storage. It was also nice I got a free 100gb with my S7 purchase for two years. Easy to use. Microsoft apps are severely under rated. Especially Groove. Outlook - only started using this a few months ago. It's now the only mail app I use. Easy to use. Easy to setup. Lets me use my Gmail and Outlook accounts.

Use Arrow launcher. Article is not up-to-date. Also use the Next lock screen which is as good as any!
Outlook runs through Acompli's server, extra step and security problem, otherwise, quite decent.
Office lens is very similar to others of its function. Implemented as thin skin for native-compiled modules so might not run on all architectures.
There are alternatives to Office, name your poison. Not very practical editing docs on these devices.
And then, there is cortana. Will run fine on better devices, there is an alpha which will place a swipe-tab on stock lock screens. Seems more fluid than Google but supplies less anticipatory information, no voice commands.

Outlook is a crappy PoS email client, whether on Android or WP. Nine is MUCH better. DigiCal is also superior to Outlook's calendar in every way. Office Lens is seemingly having issues with not being able to sign-in to MS accounts, hence, unable to save to anything but to local storage. Been going on for months. Groove is OK, but desperately needs a family plan.

Outlook on WP is superior to the Android version in almost every way, that's to be expected though as it's Microsoft's platform. I do use it on Android though but syncing with the built in Calendar would be a nice addition.

I use OneDrive because it offers way more free storage than Google Drive. (Old User)
I use OneNote because on Desktop there is no better client than OneNote. (Windows PC)
I use Outlook for the Microsfot email , Gmail for Gmail and Nine for work. (I love Nine BTW)
I have the Xbox app but find it slow.
I have the office suite but dont use it much. The point being Microsoft on Android phone is quite good.

I mainly use OneDrive, OneNote and office. Also lens and Xbox

I've always been a hotmail, msn and now outlook user so OneDrive and Outlook are no brainers but I couldn't help but be impressed by Office Lens. I've always disliked many store's use of overly large receipts when you bought only a few items. Using a traditional flatbed scanner was not hard but not nearly as painless as using Office Lens and having it automatically conform to the exact size/shape of the receipt. Soo easy now to save those thermal paper receipts that fade so quickly.

The main problem with Office Lens on Android is that you cannot scan multiple pages into a single PDF like you can on the UWP Windows 10 version. That is a pretty severe limitation for me. Otherwise, I agree with how amazing the app is. It (especially on Surface and Lumia) has completely replaced my scanner (in fact I ended up giving the scanner away).

Coming from Windows 10 Mobile into Android, I have basically all MS apps. Most of them work great if not better than on Windows 10 Mobile except for Outlook and Cortana (not mentioned here). I wouldn't blame MS for a crippled Cortana but Outlook needs some improvements:
- Unable to edit contacts (in People)
- Unable to add/edit recurring calendar event
- No customizable quick action in notification shade
- No dark theme

Coming from Windows phone I use Onedrive, OneNote,Outlook,Word,Excel,
Powerpoint, Office Lens and also Cortana Preview.
Groove is not available in India.Everything, including notifications sync nicely with my laptop through Cortana Preview. I find the week view of Outlook Calendar in Windows 10 mobile better though.

Since Microsoft bought SwiftKey, does that count as a Microsoft app now? It's a damn good keyboard.

Gmail does a much better job of integrating MS accounts than Outlook does with Gmail, etc. Google now even sets alerts from synched emails and it's hard to see why anyone would opt to use outlook primarily unless forced to for their work.

I am also coming from a Microsoft phone (Lumia 1020). I now use a LG G5 (great phone) and use mostly Android Microsoft apps.
Why Microsoft apps:
1) They mostly work
2) Microsoft is working at improving them.
3) There is sense of familiarity to the apps Yes as others mentioned there are some bugs but if they continue to improve their apps then hopefully everything will work seamlessly. I use Microsoft products at work and overall I am satisfied with them. Microsoft's vision of software as a service follows what a lot of other companies are doing. Making Android and IOS platforms connect readily with Microsoft product makes business sense. If they had continued ignoring those platforms they were only hurting themselves. I didn't really want to abandon the Microsoft phone platform but was left with little choice since MS focused on other things (abandoned Microsoft phone). The only reason I didn't go iPhone was cost. I can buy a lot of very good Android phones for the price of one current model iPhone. I believe Apple would totally take way more of the market share if they offered low, mid and high priced models. There are things I Iike and don't like about Android, Apple and Microsoft. But mostly, I just want things to work. I am tired of years of fiddling around with operating systems, programs and hardware to have things work.
Sorry for the rambling on.

Next lock screen, Office lens, word flow, Cortana, Skype, MSN Sports, MSN Weather, MSN news, MSN Money. Here's some I use too.

Outlook still no black color themes

how can I uninstall these without it reinstalling?

I use OneDrive, Microsoft Office, Office Lens, and I have the Arrow Launcher installed but I rarely use it. I've never owned a Windows Phone, but I think I would like a MS launcher with live tiles and more of a Windows Phone look.

I love Arrow Launcher. It's simplicity is great. The Outlook app from a couple of years or more back was also perfect but they changed it to a codebase from a company they bought out and it's nowhere near as good. As a result my usage of it has dropped.

We have a family Office 365 sub and I use it across multiple devices including my Android phones. OneDrive is great as well. I have no interest in Outlook as I use Gmail. But MS do great things like Office Lens as well. Choice is a wonderful thing.

FWIW, Outlook isn't just the "gmail competitor", its also the name of their app. In this case, they're talking about the app, which can work with gmail just fine. In fact, prior to being purchased by Microsoft, it was the most popular Gmail client on Google Play other than Google's stock app (it likely still is, just the download count has been reset for the new name).

One Note is great, I've used it since I had to give up on Evernote as they stripped free features

Was a Windows phone user for a number of year's until I reverted back to Android and have to disagree with the opinion of Groove Music, on the W10 mobile platform, this music app is fantastic, brilliantly laid out, when moving over to Android I still had my annual subscription to Groove so it was natural to carry it on but boy was I so disappointed with the Android version, baring basic features, there was so much missing so much so I cancelled my subscription and took a family plan on Google Play. Shame really but I guess each OS is going to streamline an offering to it's competitor.

It's funny to say that every msft app works better on android that in Windows 10 mobile have both an Lumia 950XL and a Samsung s7 and all applications of Microsoft works better on android

I too use to be a Windows Phone user. Groove was great on that platform, but I too canceled my subscription after trying it on Android. I have not found a music service as good. Currently I do the family plan for Google Play. One additional problem with the Groove player. It will not recognize or let you save music to an SD card. For some people that is not a big deal. However, I will never own a phone that does not allow for an SD card. I currently have an LG V20, with a 256GB card.

Onedrive is completely useless for business. The desktop client doesn't work and the UI between onedrive eand SharePoint is confusing at best. I'd also add that the admin section of the office 365 package is an utter waste of time for small businesses. If you want a confusing and frustrating experience then get on board with Microsoft today!

Hey guys just spreading the word of my new subreddit! www.reddit.com/r/microsoftandroid Check us out for info on Microsoft related android apps, tips, and help! We're here to help those making the move from windows phone or just those that like Microsoft services on their Android device.

I just want an app that lets me watch the hundreds of dollars worth of movies I've purchased through the Microsoft/Xbox store anywhere other than my Xbox.

Why would you spend all that money on a such a limited platform?

You should be able to access those from any windows pc or windows tablet. Which you then should be able to Miracast as well.

I use arrow and Xbox app. I have wunderlist and OneDrive.. I also came from windows phone. I just bought an telephone P9000 with no bloatware and I really like it.. Since it comes with only so-so versions of apps and the default marshmallow interface known as launcher 3 I installed arrow and it runs beautifully.

I use OneDrive, MSN Weather, MSN News, and on my tablet right now Arrow Launcher.

Outlook? I don't think so. You can't even edit your contacts with it. It is worthless.

I use the full office suite, skype, one note, one drive and Next lock screen with bing wallpaper of the day feature. I have used arrow for a while, but I am back on Action launcher for now. I have nearly as many MS apps as google apps on my phone!

Is it possible to force Outlook on Android phones to sync contact pictures? I see contact images in promotional ads for the app but I can't get mine to upload to my phone (all other info syncs). I have used alternate email clients with my outlook account on my Android phone such as Nine and Blue Mail and they all sync contact photos. Has anyone had any luck figuring this out? Thanks Thanks

>The app hooks into the built-in calendar to add details from your emails automatically... How can this be configured (default Samsung calendar with the Galaxy S8 in my case)?

I skipped MS Authenticator and went with Googles. I know I lose a small bit of convenience with my MS account, but being able to use one app for all my accounts is more important, and there are a ton of accounts not supported by Microsoft.

Microsoft Solitaire Collections is pretty solid too. Anybody who has ever used Windows has played Solitaire or Freecell.

ive said this several times that past couple of years Microsoft needs too have an android/iOS app for Microsoft movies and TV

On my windows phone I can access the outlook calendar via an app
can NOT do that on Android also if my email is NOT focused it does NOT
show up o trhe ANDROID APP

I use OneDrive, Outlook, Authenticator and Office Lens on my Nexus 5X. I uninstalled Skype, since no one I know uses it. For music, I use the Amazon Music app, which, in my opinion, is better than anything Google or Microsoft has cooked up thus far. I don't do MS Office anywhere except my Win10 desktop at home; and I'll be damned to use OneNote instead of Google Keep. There is just no competition there -- Google Keep is comprehensive, linear and simple. OneNote is... OneNote. Google and Microsoft had better hope that Jeff Bezos doesn't decide to toss his hat into the office productivity game; Amazon is already besting Google and Microsoft in both AI and music apps as it is.

I use both Google Keep and One Note and love both. If you've ever used OneNote on the desktop and the power of what can really be done with it, well beyond the capabilities of Google Keep, which is why it's so big in the Enterprise/professional space, you could definitely understand why someone would use it on their mobile. When it comes to simple lists and notes, I do use Google Keep and love the location-based reminder features, but I know where Keep ends and OneNote begins.

I don't use xbox, the launcher (I have in the past) or skype. Otherwise I use all the others.One Note in particular has been a personal favorite since I moved from the free version of evernote. I recently downloaded Edge browser to test it out.

Using the launcher currently and like it.

As a recent Windows mobile convert to Android, having all of these Microsoft apps helped ease the transition. There are things that the Windows mobile version did better **cough cough** Outlook and calendar **cough cough**, but I've found alternatives for those instances. I like that the auto upload to OneDrive is available on my S8+ because I've been using it for years. I really didn't want to migrate to another cloud storage option. I'm probably in the minority, but I wish Microsoft made a launcher that looked and behaved like the W10 mobile interface. My biggest gripe with my interface is the abundance of unused space. Tiles and live tiles were great, and they gave a bigger region to tap. Oh well, I'll get used to this new interface over time. So far I'm happier with Android 7.0 than I was on iOS.

The only MS app i use on Android is Skype and that is only on my tablet and not my phone, not that I like what Skype have become.

What MS REALLY need to do is to get Cortana on Android to the point - in terms of capabilities - she is on Windows Phone. I miss her completely hands-free text-to-speech and speech-to-text, which you just cannot do with Android or any of the apps which purport to do it I have tried to date.
I miss getting in the car wherever I am, saying "Cortana, take me home" and having the navigation pop-up with the route all set.
I miss having caller names announced into my BT headset, but not announced over the speaker if the headset is not on.
I miss Live Tiles and their instant information.
And I really miss getting 6, not 4 hours of on-screen time between charges.

i gave up on Microsoft just like they gave up on us. nope all in on Android now

All of the Office Mobile apps are great except Outlook. The Outlook apps sucks compared to Nine for Exchange email. There are two big things I cannot stand about the Outlook app... 1st, is the how it tries to group your emails in the Focused tab. I do not want or need my emails sorted like this and to make things worse is it's the default tab it opens up to. 2nd, the Outlook app does not integrate your exchange calendar into the main phone calendar. It's sad that Nine makes a better app Exchange than Microsoft can make for their own service.

LinkedIn, Edge and Cortana. I pretty much use everything they offer.

It is that Good to use, I mean the <a href="http://www.naijaslog.com/2016/06/facebook-urges-retailers-to-start.html"...

I also use MSN Money and Weather apps on my Android, Oh and Skype Lite as well. Apart from Office apps, I read here some people whining about how Outlook groups all of your email boxes, well personally for me it is the best view of all of my combined Mail boxes.

I periodically use Microsoft Launcher. But it lacks landscape mode. But it's really neat that the layout is stored in onedrive and easy to use when moving over to a new phone

Mile IQ is a Microsoft app, is it not? Use it every day to log miles.

It seems to be a secret, but yeah it's a Microsoft app.

Microsoft has the best android launcher and email client garanti

Mostly great Apps...except Skype, which just lurches from one disastrous 'reboot' to another. Whoever that team are, they're hopeless.

SMS Organizer is a real saver. No more fiddling around in messages. I love it.

What they need is the keyboard from Windows Phone. That was hands down the best keyboard I have ever used.

You should look at Microsoft Teams as well...

I use almost all of these on a daily basis, except for Skype. I also use Microsoft's To-Do app. Still technically in beta I believe, but I like that it syncs into Outlook on my laptop through my outlook.com account.
I've tried many launchers, was a big Action Launcher user, but Microsoft Launcher has become my default, go-to launcher. My friends love to razz me since I'm using hardware by BlackBerry (KEYone), OS by Google, and software by Microsoft.

Thanks!i use all of them, except SMS Organizer. If/when it comes to the USA I will use it as well!