Best Meta Quest 2 and Quest 3 games 2023
From shooters to multiplayer, family-friendly to horror, we rounded up the best Quest games in every category.
The Best Puzzles and Relaxation VR Games
As VR games get more advanced, developers are starting to focus more on "realism" and "immersion" to make players live out fantasies and explore worlds. But VR got its start in many ways on puzzle games, with players encouraged to interact with their environment to solve mysteries and get past obstacles. These best Quest 2 puzzle games will challenge and tease your brain in the best way.
Cubism
Tetris no longer has a monopoly on colored shapes
When you think of puzzlers, your brain almost indelibly goes to Tetris. The catchy tunes and hypnotizing movement of the pieces are only broken by the speed you have to keep up to win. So what if you took Tetris and made it decidedly more zen? That's maybe a semi-decent description of Cubism, a 3D puzzler that only makes sense in VR space, as it makes you feel like you're picking up physical colorful shapes and trying to fit them into another hollow shape.
What seems like a straightforward formula at first makes way for a brain-teasingly good time that's earned the game a nearly flawless score on the Oculus Store — and earned it many awards in the process. There's nothing quite like getting lost in the zone of solving puzzles only to find yourself emerge from VR a few hours later. Later puzzles are deceptively difficult, especially given the ease at which the game pulls you in.
It's truly the perfect example of a pick-up-and-play VR game since you can jump in for a few minutes at a time. Built-in hand-tracking support is fun and lends credence to this feeling; plus, with the recent update to hand tracking 2.0, Cubism should control much more naturally than before without controllers.
Either way, pick it up. Your brain will thank me later. —Nick Sutrich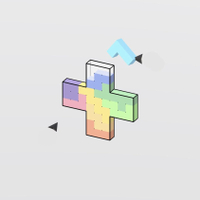 Cubism
Exercise your brain with Cubism, a delightfully challenging puzzler that inserts some much-needed zen into the world of puzzle games.
Buy from: Oculus
The 7th Guest
A party to die for
When The 7th Guest originally came out in the early 90s, it was revolutionary — at the time, Bill Gates himself declared it to be the new standard in interactive entertainment. The 7th Guest was one of the first games to be available only on CD-ROM, which is one of the many reasons it's so influential.
Today, it's probably best remembered for the campy, chroma-keyed FMV sequences and playfully macabre puzzles. Does it hold up well? That's debatable. But regardless, there's now a VR remake and it's fantastic.
This new take on The 7th Guest completely revamps the game for VR. The environments look gorgeous, the new puzzles are challenging and make great use of VR, and it even keeps the iconic FMVs by using new actors with volumetric video technology. If you're a fan of escape room-type games and have a VR headset, it's a must-play. - Nick Ransbottom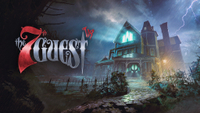 The 7th Guest
Rather than simply being a 1:1 recreation, the VR remake of The 7th Guest is a fresh take on the classic 90s adventure game. New mechanics and new puzzles make it perfect for players who love escape rooms and want to try a puzzle game with some horror elements mixed in.
Buy at: Quest Store
A Fisherman's Tale series
A dream within a dream within a dream
There's really just no comparison to how perspective can be used in VR, and A Fisherman's Tale is the perfect example of a game that thrives on the aspect of perspective and scale that VR can bring. What starts as a tale of a simple fisherman who mans a lighthouse quickly evolves into a tale of psychological wonder.
Players will interact with every object in the lighthouse, but beware: you may not be controlling who you think you're controlling. Are you the fisherman himself or the puppet in the model lighthouse? Are these stories real, or are they tall tales from a sailor who has seen too many days lost at sea?
Riddles, mind-bending mysteries, tricky puzzles, and bizarre situations await you in one of the most unique puzzle games you'll likely ever play. This one isn't just about matching shapes up to complete a goal. It's also about living through an adventure story and adapting to the realities you begin to uncover.
When you're done with that, Another Fisherman's Tale completely changes things up by introducing brand new mechanics including larger, free-roam areas. Your days as a fisherman haven't just given you tall tales to tell, they've also imbued you with special powers that can only be called by the sea.
Whether you're tossing your hand and controlling it remotely like Thing from The Addam's Family or even popping off your own head to rest in a bird nest, Another Fisherman's Tale is filled to the brim with creativity and a surprisingly touching narrative that's sure to bring you to tears when it's all done. —Nick Sutrich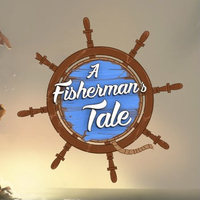 A Fisherman's Tale
In this collection of tall tales, you'll find yourself wondering if you're the fisherman telling stories or one of the many seemingly identical characters within the tale.
Buy from: Oculus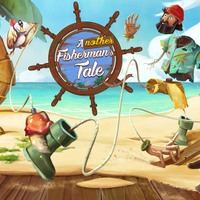 Another Fisherman's Tale
An old fisherman is never done telling tales, and these are even taller than the first collection. Are you a human, or just a walking collection of interchangeable limbs? Find out why you're both and unravel the true past of your grandfather in this heartwarming and incredibly creative sequel.
Buy it at Quest Store
Gravity Lab
In space, no one can hear you scream... when you can't solve that puzzle
What could be a more perfect setup for roomscale VR than a giant do-it-yourself Rube Goldberg machine? A giant do-it-yourself Rube Goldberg machine in space with zero-gravity! Gravity Lab was one of the first roomscale games on PC VR platforms back in 2016 and received a marvelous port to the Oculus Quest.
Gravity Lab puts players in a defunct Moonbase that was clearly used for some weird science experiments. Are you supposed to be here? Are you part of the experiment? There's only one way to find out: Get to solving those puzzles so you can move on to the next! Most puzzles involve getting some ball or another item from one point to the next, but the limited number of pieces you can use make it a challenge.
After the first few levels, you'll have to really start thinking out of the (gravity) box as puzzles begin to increasingly evolve into ones that don't rely on gravity. The clever puzzles are injected with humor to spice things up a bit, and the simple narrative helps carry players from one level to the next without getting convoluted. —Nick Sutrich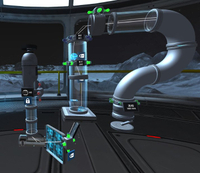 Gravity Lab
Fans of Rube Goldberg machines will find themselves at home on the defunct Moonbase, solving puzzles and forgetting all about gravity along the way.
Buy from: Oculus
I Expect You to Die 2
James Bond meets MacGuyver ... again
I'll always love 2016's I Expect You to Die, one of the first VR games I ever played. While it's still worth playing, its newly released sequel makes major leaps forward and claims its spot on this list. I Expect You to Die 2 begins where the first game ended, but you can understand the story well enough from context if you want to dive right into the superior sequel. It adds better graphics, more fun set pieces, amazing voice acting, and a blast of a story.
Named after Goldfinger's iconic line to James Bond, the game makes the homage obvious with an amazing psychedelic intro complete with a ballad by Puddles Pity Party. You play as a secret agent who must navigate a series of escape room-like traps and scenarios, facing off against a nefarious foe voiced by Wil Wheaton. The sandbox-esque levels are full of objects you can pick up telekinetically and pull to you, and you never know what random item will save you from death.
Be prepared to die a lot — the game does warn you — as you try to find unorthodox solutions to deadly situations by trial and error. At times frustrating and illogical, I Expect You to Die 2 feels triumphant when you finally find solutions — and if you keep a sense of humor, your deaths are frequently hilarious. The game is relatively short, but you can replay levels to find trophies and alternate solutions to puzzles that give you achievements.
In terms of VR games released in 2021, this one tops our list so far. It's charming, well-acted, and enjoyable gameplay; I only hope the 3rd game will come out sooner than 2026. —Michael Hicks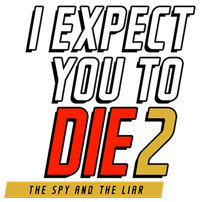 I Expect You to Die 2
One of the most charming games on the Quest 2, I Expect You to Die 2 is a must-buy and a more-than-worthy successor to the original game. Take on cartoonishly evil villains and defy the odds as you survive outlandishly deadly traps and schemes.
Buy from: Oculus
Puzzling Places
Relax and assemble real-life locations scanned into 3D puzzles.
As someone who spends his holidays putting together 1000-piece jigsaw puzzles with his family, I was intrigued but cautious about trying Puzzling Places, which lets you construct 3D puzzles constructed from photogrammetry scans of real-world locations. I thought I would miss the tactile sensation of the pieces and the camaraderie of puzzling with others. But it turned out to be one of my absolute favorites, and doesn't require me to hunch over a coffee table to see the pieces as I work!
The base game has 17 puzzles — plus a ton of DLC with new temples, churches, fountains, and other cool locales and monuments from around the world — and each puzzle is split into different difficulty levels at 25, 50, 100, 200, or 400 pieces. You can start with a smaller number and then jump into the hundreds for an entirely new challenge. You'll put together bundles of pieces and then set them aside so you can reserve the main area in front of you for the next matching set. And as you put pieces together, real-world spatial audio of that location will start to play, immersing you in the place you're creating.
Many of our Quest 2 favorites work best for gamers with their "VR legs" but can be nauseating for first-time Quest users. If you want a tranquil, charming experience, that lets you slowly but surely create amazing and realistic objects while leaving the real world behind, Puzzling Places is just as essential a VR experience as Beat Saber — just different. —Michael Hicks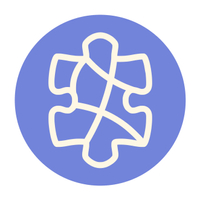 Puzzling Places
Not all puzzles have to be obscure head-scratchers. Sit back, relax, and spend a couple of hours per puzzle putting together jigsaw pieces until you form gorgeous photogrammetry-produces locales from around the world.
Buy at: Oculus
Red Matter 2
More than just the best graphics on the Quest 2. It's smart AND creative!
Tired of VR games with simplistic graphics or cartoony visuals? Want to see the best the Quest 2 hardware can do? Then Red Matter 2 is for you. The developers at Vertical Robot proved that they could work magic with the original Red Matter, but Red Matter 2 is on another dimensional plane altogether. This game has the best visuals you'll find on the Quest 2, bar none. They even, somehow, managed to get the Quest 2 to do ray-tracing, which is something usually only found on far more powerful consoles or PCs.
Now, while the visuals will certainly suck you in, the gameplay will keep you in the game for a long time, especially if you're a fan of classic adventure titles. You'll play as the same Atlantic Union agent as in the first game but, this time, you're on a quest to find a long-lost friend whom you thought was dead. While you'll be solving plenty of intricate puzzles that'll have you scratching your noggin time and time again, Red Matter 2 ups the ante by adding in combat situations.
In addition to combat, players now have access to a jetpack that can propel them through zero-gravity situations and on gravity-heavy space stations. That gives players even more freedom of movement than they had in the original, which would often have you moving between areas in pre-determined paths. It's an upgrade over the original, yet doesn't lose any of the charm. Just make sure to play the original first — or watch a play-through on YouTube — if the story really matters to you. —Nick Sutrich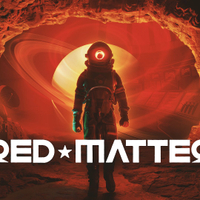 Red Matter 2
As a Cold War in space rages on, use your jetpack and hacking skills as you track down your friend, rebel against your destiny, and discover the truth.
Buy from: Oculus
The Room VR: A Dark Matter
An excellent puzzle mystery that challenges and intrigues.
I unfairly ignored The Room VR for years, assuming from the name that it would be a run-of-the-mill horror game. Referencing the escape room genre and coming from a popular franchise of 2D puzzle games, The Room VR turned out to be a fascinating, graphically impressive experience that strikes a good balance between making its puzzles challenging and intuitive.
I could go into more detail about the game, but quite honestly, it's one that is best experienced without any spoilers and needs little introduction. It'll only last you about 5 hours or so, depending on how quickly you solve the puzzles, but don't let that dissuade you: it's short but very sweet. Plus, you can play several other The Room ports on Steam — though they're not available in VR, unfortunately.— Michael Hicks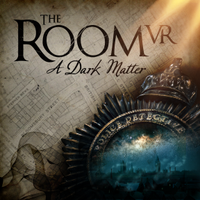 The Room VR: A Dark Matter
The British Institute of Archaeology, London, 1908: The disappearance of an esteemed Egyptologist prompts a Police investigation into the unknown. Explore cryptic locations, examine fantastic gadgets and enter an otherworldly space that blurs the line between reality and illusion.
Buy from: Quest Store
Tetris Effect: Connected
Do you dream of Tetriminos? Then, this Tetris remake is for you.
AC's pick for the best puzzle game on the PS4, and winner of 2018's game of the year on several gaming sites, Tetris Effect, took the classic Tetris formula and added some beautiful visuals and gameplay twists to make it even better for modern consoles. Successful block-breaking leads to explosions of color across the screen. The Tetriminos descend to match the music's rhythm, and everything combines to make the experience feel magical, and that effect's only compounded in VR.
The newest feature is called Zone, which freezes falling blocks in place. You can use this respite to figure out your next move or place multiple blocks before they take effect, which lets you blow up more than the maximum four lines of blocks if you play your Tetriminos correctly. The game itself has a ton of different modes and over 30 levels, so there's plenty of replay value. It's also fun to join in on the Weekend Rituals and try to unlock new perks with your fellow players.
What took this game from fun to near-perfect is the new Connected mode with cross-platform multiplayer. There's a Connected mode where three players work together to beat a boss, Score Attack to beat fellow players' scores in real-time, or Zone Battles where you send garbage blocks to opponents' boards. Plus, the devs finally optimized the graphics for the Quest 2, making it more beautiful than ever. —Michael Hicks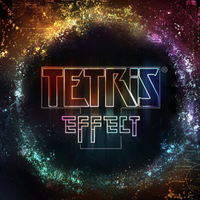 Tetris Effect: Connected
This ain't your parents' Tetris! Tetris Effect has attractive visual effects and many game modes that switch up the core gameplay and keep things fresh.
Buy from: Oculus
Sign up for Black Friday email alerts!
Get the hottest deals available in your inbox plus news, reviews, opinion, analysis and more from the Android Central team.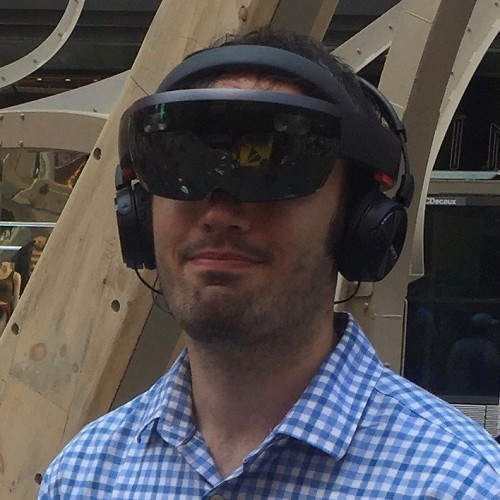 Senior Editor, VR/AR and fitness
Michael spent years freelancing on every tech topic under the sun before settling down on the real exciting stuff: virtual reality, fitness wearables, gaming, and how tech intersects with our world. He's a semi-reformed Apple-to-Android user who loves running, D&D, and Star Wars. Find him on Twitter at @Michael_L_Hicks.