Best Replacement Samsung Galaxy Watch Charger Cables & Docks 2021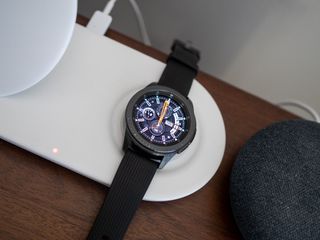 (Image credit: Android Central)
While the original Samsung Galaxy Watch is a few years old now, it's still an incredible smartwatch that's full of useful features. A time may come when you need to replenish your charging accessories. Fortunately, there some great options out there. We've rounded up some of the best replacement Samsung Galaxy Watch charger cables and docks for you to choose from.
Best Replacement Samsung Galaxy Watch Charger Cables & Docks: Take your pick
If you're the proud owner of a Samsung Galaxy Watch, you know it's one of the best Android smartwatches out there. It's a few years old now, but it's still alive and kicking. As time goes on, you'll need to replace or buy new accessories. There are many ways to go about charging your watch. If you only need a cable, the Disscool Samsung Galaxy Watch Replacement USB Charging Cable is a good option. It can be easily connected to a wall adapter, car adapter, or computer.
You may not realize it, but we end up spending an obscene amount of money on charging accessories over the years. If you want a one-and-done option that can charge all of your devices at the same time, you may prefer the Yootech Samsung Galaxy Watch 3-in-1 Wireless Charging Station. It's expensive, but it can charge all of your essential devices individually or at the same time.
Whether you need a replacement Samsung Galaxy Watch charger cable or you want to change up your charging method entirely — there are some good options out there that will keep your watch charged at all times.
Courtney Lynch is a freelance writer at Android Central. She's obsessed with all things health, fitness, and music. At any given time, she can be found checking out the latest and greatest gadgets while simultaneously petting her dog and sipping iced coffee.
Android Central Newsletter
Get the best of Android Central in in your inbox, every day!
Thank you for signing up to Android Central. You will receive a verification email shortly.
There was a problem. Please refresh the page and try again.