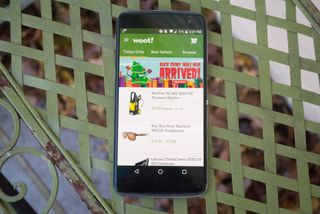 Whether it's looking for holiday gifts, or picking up something for yourself getting a deal on the things you buy is easier than you think. There are plenty of awesome apps that say they can deliver you great deals, but not all apps are of the same caliber. If you've ever had a frustrating experience, you're probably well aware of this fact. That's why we've collected the best apps for deals, so that you can get right to finding the best bang for your buck.
eBay
Why you can trust Android Central Our expert reviewers spend hours testing and comparing products and services so you can choose the best for you. Find out more about how we test.
eBay is a household name when it comes to finding awesome deals online. They've been popular since back in the days of Beanie Babies, and with good reason too. eBay is the world's largest auction house, and of course you can buy and sell used items. Rather than sending you to manufacturers, sellers on eBay are as varied as people themselves are. But you can also buy brand new products, often at huge discounts.
The app is very well designed, and easy to use which is a good thing, because there are a lot of moving parts within eBay. You can easily search, watch a particular listing, message with other eBay users, see your purchases, and plenty more as well. You can start using eBay without having logged in, but in order to use any of the features you will need to log in or create an account. There are thousands upon thousands of items to search through, and you can find just about anything here for the right price.
Woot
If you're looking for a deal app that is simple, and easy to use, then Woot may be right up your alley. It delivers you deals every day, along with best sellers, and then allows you to browse current deals by category. While you can sign up for an account with Woot, it isn't actually necessary to complete your purchases.
Woot's deals are all over the place. From clothing, to wine, to towels and comforters. They've even got short-term Flash deals that are available in beta right now. While not having an individual search function might be frustrating for some users, the categories are set up broadly enough that you should be able to find what you are looking for. You also have the option when browsing deals to organize them by price, discount and even by the newest deal.
Flipp
Coupons are often the easiest way to ensure that you get a good deal on the things you buy the most. While coupons can save you a bundle, many people don't use them on a regular basis. After all, who has the time to go rummaging to find the one coupon you need through dozens of different advertisements? That's where Flipp comes in. They deliver coupons from all of the stores closest to you, so that you always have access to the coupon you need.
While you will still need to search through them to find the relevant coupon, having everything in one place digitally makes things much easier on you. Flipp pulls coupon information from major retailers like Lowe's and GameStop by using your zip code. You can save your favorite coupons so that they're ready when you need them, search for specific items, or just browse by category. They even have the coupons from flyers that are only available for specific sales.
Flipp is busting at the seams with some great features that just keep making things easier for you. Inside of a flyer, if you tap on an item you want to save it will clip that specific coupon and add it to your shopping list. If a flyer is only available for certain locations, the app will tell you as much when you open the flyer.
The shopping list feature lets you take a look at the coupons you have clipped, nearby stores, and lets you build your shopping list in general. It does an absolutely excellent job of helping you to find deals, along with making sure you have the coupon to get the most bang out of your buck.
Ebates
The idea of getting money back just for shopping by using an app seems a bit ludicrous. That's exactly what the deal is with Ebates though. You find the store that you were planning on making a purchase from, and navigate there from within the Ebates app. When you make a purchase, you'll get a percentage in cash back. Different stores have different deals with Ebates and you may see anything from 1% to 10% in cash back rewards.
Previously, you could only get these deals if you purchased the item you were looking for online. However, if you link your credit card to the app, you can now also access these deals at 22 brick and mortar stores. When you open up a particular retailer from inside the Ebates app, you'll also be able to access deals that are currently running.
The combination of discounts on purchases, and cash back for purchases you were already going to make are absolutely fantastic. When you have earned cash back for your purchases, it will pop up into the 'My Cash Back' section of the app. It generally appears a few days after you have completed the transaction, and once the cash is 60 days old it is eligible to be paid out. Cash back rewards are paid out on the 15th of February, May, August and November by either a paper check or by being deposited into your PayPal account.
Amazon
The giant when it comes to finding an awesome deal, with minimum difficulty, is most certainly Amazon. This company delivers more deals than you could ever possibly scroll through, which generally means you can always find a good price when you're looking for one. From running shoes to jewelry to technology, Amazon sells pretty much everything.
While you can use a computer, Amazon works perfectly well right from your phone. You can check on orders, gift cards, and even try Amazon Prime right there. Of course, if you're looking for a deal, Amazon lets you search by voice, specific item, and category, making it easier than ever to find what you are looking for. Depending on your location, you can even use Amazon Prime Fresh to get your groceries delivered directly to your door. For those of you looking to get as much done in one place as possible, Amazon ought to be your go to shopping app.
Download: Amazon Shopping (free)
Your turn
There are plenty of great apps that can cut you a serious deal in a variety of ways. Not all of them offer the same benefits, but if you're looking for an easy way to get a great deal they can definitely help you out. Do you think there is a a great app for deals that we missed? Do you have a favorite deal app? Be sure to leave us a comment below and tell us about it!
Get the Android Central Newsletter
Instant access to breaking news, the hottest reviews, great deals and helpful tips.
Jen is a staff writer who spends her time researching the products you didn't know you needed. She's also a fantasy novelist and has a serious Civ VI addiction. You can follow her on Twitter.