Best Clear Cases for Google Pixel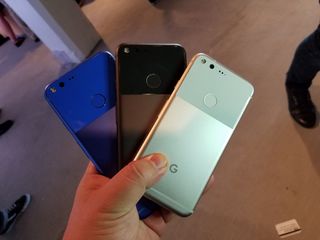 Want to show off your new Google Pixel but worried about it getting scratched up during daily use? A clear case is a great way to be able to let everyone see your shiny new phone, but most of the time they won't add a ton of protection to the phone. Some of them can add some extra grip, others are made from scratch-resistant materials, and most of them are pretty flexible and made to last for a long time.
There are a bunch of options available when it comes to clear cases for the Google Pixel, and here are some of the best.
Spigen Liquid Crystal
Why you can trust Android Central Our expert reviewers spend hours testing and comparing products and services so you can choose the best for you. Find out more about how we test.
Spigen is known for its great, yet extremely affordable, cases for various phones. That holds true with its offerings for the Google Pixel as well, and the liquid crystal clear case is definitely one of the best options out there. It offers a minimal design and great fit, so you will hardly even know it is there. It also has a beveled opening at the fingerprint sensor for easy access, and it is extremely easy to put on and remove.
The clear TPU will keep your phone scratch-free, and looking great. At just over $10, it is really hard to go wrong with using one of these.
See at Amazon (opens in new tab)
Sparin 2 Pack
Sparin does things a bit different with most of its cases and actually includes two cases with each order, so if the first one ends up getting dingy you can swap a brand new one on. The cases are made from a scratch resistant TPU material that won't add a bunch of bulk to the phone but still adds a thin layer of protection.
It offers protection to the back and four sides with its air cushioned corners to help it during a fall. You can grab the two-pack for around $6 at Amazon, which is an absolute steal.
See at Amazon (opens in new tab)
Tauri Ultra Slim
Tauri's ultra slim case for the Google Pixel is a bit more of what you would expect from a clear case than the others. It offers a very thin layer of protection to the phone, and will protect from scratches and dings, but won't likely provide any additional protection during a fall. Being super thin, odds are that you won't even realize the case is on your phone though, which is great. It is made from scratch resistant materials and has a textured interior to prevent air bubbles.
You'll have precision cutouts to allow for easy access to the buttons, ports and fingerprint sensor on your Pixel. Coming it at just under $10, this is a great option if you just want something very thin.
See at Amazon (opens in new tab)
LK Ultra
LK makes one of the slimmest options for the Google Pixel, so if you want something you will hardly notice this is the one. Being made from a high-quality TPU material, the case will also scratch resistant, shatterproof and should help in the event of a fall. With its anti-slip design this case also makes holding your Google Pixel a bit easier, and the front has raised edges so that when you put it face down the screen won't touch the surface.
Its unique design allows for easy access to all the buttons and ports without interfering with the use, and the camera lens cutout protections it from scratches and lets your flash work properly. You can pick one up for just under $10 at Amazon and it is set to begin shipping on October 17.
See at Amazon (opens in new tab)
DGlte TPU Gel
If you are looking for a clear case that adds a bit more protection than some of the others, DGlte's TPU Gel case is the way to go. The additional protection on the corners of the phone will help provide additional protection in the event of a fall. It provides great protection thanks to being made from materials that are high quality, and it has precision cutouts for your ports, the camera and more.
It has a soft and comfortable touch to it, which helps make holding the phone even more comfortable. This is a great way to protect your phone while still showing it off, and you can pick one up for just $8 now.
See at Amazon (opens in new tab)
Pleson Ultra Thin
Pleson has been making phone cases for ages, and it offers some great options when it comes to thin and clear ones. The ultra-thin transparent TPU material is flexible yet protective. With its precision cutouts, it is super easy to put on and take off, so you can swap it out with something that adds more protection if you need it at any time. The case has raised edges on the front so if you place the phone face down the screen will be raised off the surface and it won't scratch.
The TPU material will stay fingerprint-free and you won't see any bubbles on the back glass thanks to a dotted pattern on the inside of the case. At under $10, this is a great option that provides protection and keeps the bulk to a minimum.
See at Amazon (opens in new tab)
Your favorite?
Do you have a favorite not listed here? Be sure to drop a link with a brief description as to why you prefer it!
Get the Android Central Newsletter
Instant access to breaking news, the hottest reviews, great deals and helpful tips.
Jared started off writing about mobile phones back when BlackBerry ruled the market, and Windows Mobile was kinda cool. Now, with a family, mortgage and other responsibilities he has no choice but to look for the best deals, and he's here to share them with you.
Ugh, I hate it when clear TPU cases start to yellow. Is there an Incipio Beetle case for the Pixel yet? Actually, as long as the case prevents screen contact with surfaces, the protection will be fine. One of the things that HTC does well is making internals that can take a hit.

I agree about the yellowing!

https://www.androidcentral.com/e?link=https2F2Ft%2F... they do list it on there site... coming soon...

All translucent TPU cases have a color shift over time, it's just fuglier on clear ones... Even smoke colored ones turn amber-ish, my last red one just became duller and it wasn't as obvious until I saw it next to a newer one. I imagine the solid colored ones do better but I haven't used one as long as the translucent ones (from Diztronic, Cruzerlite, etc).

I had a blue Evecase with kickstand that did not shift much, but the purple one for my wife turned a dark purple that almost looks brown from some angles. She broke the kickstand, so I gave her the kickstand off of mine, then someone broke the hinge part as well. She still uses it though, which is good since it's been dropped a dozen times. Thanks for reminding me to try and order those again ;)

This is more simply a list of cases. No one knows which is the best.

Good point, and it would be nice to have someone do a hands-on and see how they fit and protect. I was a case-o-holic back when my wife and I got our M8's, wound up with close to a dozen cases. Some have inherent flaws, like the very expensive Seidio kickstand case which launches your phone to the floor when you hold it by the sides and press the power button. I still use it because it has an awesome metal kickstand and a self-healing surface, but I'm EXTRA careful!

Actually ordered the Sparin 2 pack yesterday. Should be here Wednesday. Figured since no one knows which cases will be the best, what with the phone not being released yet, the 2 pack for 5.99 seemed best bang for buck option.

Did you get them? How do you like it?

Are any of these cases not TPU? I just want a rigid plastic clear case not a soft flexible case!

Google is selling its own rigid clear case -- https://www.androidcentral.com/e?link=https2F2F... Pricey, but maybe it'll be nice?

I bought two of Google's cases for the Nexus 5 and both were wildly overpriced. I'd never buy another case from Google.

What is with Google? Not only are they overpricing their phones, but they seriously want to sell a clear plastic case for $30? No wonder the letter F comes before G, because F*** Google.

Some of these articles by AC lately make me question them. This is extremely misleading. Im also really skeptical of these "Should you upgrade from X phone" articles I see from AC and other sites.

They're making statements about products that as far as I and anyone else can tell, have not been tested yet because people don't have these devices in their hands.

Clicks for ads = more money

Ordered 2 DGlte's TPU Gel cases late last week and received them over the weekend. Now waiting for the phones to arrive.

Because Google is paying them a s*** - ton to promote their overpriced garbage.

Overpriced, still bought it.

I think I want a case with (well made) button bumps rather than cutouts this time around... Buttons can feel just as tactile if the inside of the button covering on the case is properly designed and actually has an inward facing bump as well (so it feels stiff when pushed in and not mushy). I've been using a nice Cruzerlite case on my Nexus 5 for the better part of three years, I like the circuit/droid design, the red color (tho it dulled after two years and I swapped it), and the matte feel... Glossy TPU is actually grippier btw (more surface area) but it gets more gross (oily, prints, etc). The cutouts on that Cruzerlite case have always bothered me, they're well cut but still have a slightly rough feel on the edges and angling my finger in or just mashing it straight across the cutout feels off... Never bothered me enough to stop using it but the covered buttons on the plain black Diztronic case I've got feel far far better. I think Cruzer actually features covered buttons on recent cases, Diztronic's gone back and forth on it, I actually emailed with Diztronic's owner at one point to talk about the inner bump which I thought helped with convered buttons (and I first spotted on random eBay cases with older phones). Then again, with a print reader and knock knock I'll probably be pressing the power button far less so whatever. :p Any thoughts on red for a silver phone? Heh...

At least replacing a clear TPU case is cheap when it does yellow.

And they ARE easy to slip on and off. I still keep my yellowed case to use if I'm working on the car or something.

The last 3 make the phone look far uglier than it already is XD

What color is the phone in the last picture for the Pleson Ultra Thin case? It looks like the metal is very silver, but it has a black glass.

I wouldn't use a clear case, have to cover up the ugly back of the Pixel phones, not show them off.

Perhaps they look better in person (like the 6P did), but I have to agree it's not their best side, lol. I can almost see HTC trying to get them to go a different route, and Google saying "Nah, we want it to look like THIS!" as they hold out a napkin drawing. That was one thing that lots of HTC phones had in common (except for the A9), and that was they had a nice looking back. Even when I had the original One Mini, I would get all kinds of stares, with one waiter almost dropping his tray as he loudly asked "What phone is THAT?!!".
I remember being at a meeting with a bunch of VIP's, including the company president, and I was there as a technical adviser for a big decision. Everyone was doing things on their phones before the meeting started (mostly iPhone 6's), and I pulled out my M8, put it silent mode, and placed it face down on the boardroom table. Then I look up and no less than five people are staring at my phone. Never been ashamed of my HTC's, but I don't think the Pixel would get the same response.

What about screen protectors? I'd like a tempered glass protector but I've never had a phone with slight curves on the edges. Is it even possible? The Pixel has curved edges right?

The Pixel has rounded edges on the glass, and screen protectors for this type usually cover just the flat portion.

4 of those cases are exactly the same just with different branding. If you look at the photos they even have the same photos (specifically the one showing the micro dots) I ordered two of them from above. Different brands, different packaging but same exact case

Why does AC feel the need to always pimp ***** Amazon cases? This time for a phone that is still a ways off from getting into the wild.

Becuase of Amazon's Affiliate Program. They will earn referral monetization for each one sold.

There is a clear speck case for the pixel and pixel xl

That's the one I don't like! No grip at all. Phone flew out of my hands and hit the concrete just from taking it out of my back pocket. These clear cases are waay too slippery unless they offer some kind of grip which many of them do not

Had something similar happen with my experience with Speck clear case as well. Returned it same day.

Isn't the phone by HTC? I think they should make a similar case like the dot view. Although,many did complain about it, I think it worked well and fulfilled it's purpose of protecting too.

The Dot View case was cool (I still have one in the package), but I think Google wants people thinking it's a Google only phone, and the Dot View case is pretty much a recognizable HTC exclusive.

Tech21 has a nice clear case for the Pixel, too (Evo Check). My daughter lovers hers (on her 6s). Lists at like $40, though. Speigel also gas a high quality (presumed) clear case.

just an fyi...using the tech 21 now....nice case, but the power button is really hard to press

So, I bought the Tech21 the other day...and you're right. I like the grip, the look, the protection (I hope), but those buttons are stiff! MAY consider a second case down the line, but this will work, and I snagged it for $30.

I hope they soon get one out that doesn't completely destroy the beauty of this phone!

I am torn between these clear cases. Can someone help sort it out (I have my ideas beside them)
Unless there is one that most of you highly recommend, in which case I would get that, otherwise I will get a less expensive one because I don't wear the clear ones often Spigen - Liquid Crystal (the same as most tpu, may yellow) Spigen - Ultra Hybrid (read nothing but good things about it ) Tech21 - White/Clear (but I hear that Tech21 adds too much width) iBeek - However the iBeek seems the same but cheaper https://www.amazon.com/gp/product/B01LZBXLQJ/ref=ox_sc_act_title_1?ie=UT... Google OEM Case

I bought the Tech21 white/clear first while waiting on the Spigen. Great case but def adds too much chunk to the phone.

Use Caseology Waterfall for my iPhone 7+ and now pixel xl.

Why is the Spigen ultra hybrid not on this list? I've had one of these on my Pixel since I got it. Feels great in the hand and it should never yellow.

I have the Spigen clear on my Pixel XL, combined with a skin from Skinit.com. Beautiful. Btw, I've never noticed any yellowing with my clear cases in the past. /shrug

Do you have a pic. Is it like SlickWrap you put it on the phone then in the case. Or do you put right on the the case like the Ringke advertises? Ty

At this point in the game we should be way past the point of needing protective crap for our phones. Come on folks, make the screens scratch proof already.

Let me know when they can do this for house windows, because in this day and age if house windows can still get scratched, wtf makes you think glass for phones are any better?