Best cheap VPN services in 2023
You can get good protection with a cheap VPN. Here are some of our favorites.
You don't have to go broke each month or pay a huge upfront cost to get one of the best VPN services—some of the best are actually pretty cheap. For less than the price of a cup of coffee per month, you can protect yourself online and keep yourself safe from hackers and other threats. To get the best deal on some of these you'll need to sign up for an annual subscription or prepay for a few years at once, but at the prices they are listed for, it's well worth it.
We've been testing VPN services for over a decade, and we do it several times a year to make sure we're on top of any changes. We don't go easy on these services because we want to make sure we're recommending the most secure, fastest, and easiest for you to use.
There are countless affordable VPN services, but we've rounded up all the best cheap VPNs in one place to make it easier for you. Here are our favorites, and the best you'll find right now, starting with the top three cheap VPN services.
Our favorite cheap VPNs in 2023
You may have heard the old saying, "You get what you pay for." When it comes to the best and most secure VPNs, that isn't actually true. Here are several of the best VPNs that consistently rank high on our VPN guides that also happen to be affordable.
Best cheap VPN overall
Surfshark VPN is based in the British Virgin Islands, which means it isn't subject to the Five Eyes Alliance. This ensures your personal information, online movements, and browser history isn't logged or shared with anyone. This VPN provider uses AES-256 encryption, the highest and most secure level, to prevent DNS leaks. You have the option to Double Hop. This feature sends your online data through two servers in order to double encrypt it so it's impossible to read if a cybercriminals somehow gets a hold of it. We did notice that sometimes on Windows machines the kill switch would enable without notifying us that the VPN connection had dropped. We didn't see any data leaks, but this issue happened more than once. We'll keep an eye on it to see if it becomes a bigger problem over time.
Don't let the cute name fool you, Surfshark is ready to compete with all the other providers head-to-head. With over 3,200 servers spread across 143 different locations, including 100 different countries, there are very few places you can't connect. Surfshark also doesn't place limits on how many devices you can have connected at the same time.
▶ Try Surfshark VPN risk-free for 30 days
Surfshark stripped out the extra fluff in its apps to make them super easy to understand and navigate. The apps work with both desktop and mobile. In fact, Surfshark is one of the best Android VPNs. It also works with iOS, routers, and game consoles. They are all super easy to use and we recommend them for anyone who wants an easy user experience, including beginners.
Surfshark is the fastest VPN we tested. During testing we saw the average connection speed when using the WireGuard protocol was around 550 Mbps. Surfshark reached a top speed of 960 Mbps and did it often. At this speed, Surfshark supports online gaming, tv streaming, and P2P transfers. We don't recommend using Surfshark for torrents if you do this often. This is because Surfshark, while fast, doesn't dedicate a lot of resources to torrenting tools and configuration. If you need a good torrenting VPN, we recommend either NordVPN or Private Internet Access (PIA).
When we tested tv streaming unblocking, Surfshark surprised us with the number of services it accessed. To start with, we were able to watch Netflix in most regions. We also tapped into our Amazon, Disney, and Hulu accounts. the Player was also unblocked. Surfshark works with streaming devices, like Apple TV and Roku, so you can watch your favorite shows on the big screen.
Surfshark is one of the most affordable options out there, but that doesn't mean you are making big sacrifices. It comes with a 30-day money-back guarantee, allowing you enough time to try it out and see whether it's the VPN service for you or not.
Best cheap mobile VPN
Private Internet Access, or PIA, is based in the United States. Typically this would require the VPN to keep logs on its users since the US is part of the Five Eyes Alliance. However, PIA has adamantly refused to keep logs and has proven its loyalty twice in court. This means you can trust that PIA will never log anything you do online, period.
Your online data is secured with AES 256-bit encryption. This level is the same that is used by militaries and banks to protect their sensitive information. As your information is routed through one of its 20,000 secured servers, your data is not only encrypted but your device is assigned a new IP address. This further hides you from online trackers and allows you to access geo-restricted content including tv streaming services.
▶ Try Private Internet Access risk-free for 30 days
This VPN client works on so many different types of devices. Its mobile apps aren't stripped away from the cool features and tools included with its desktop apps. For example, you can create a favorite list of servers and customize tools for torrenting. Private Internet Access has an impressive Chrome extension that blocks cookies, and it works on routers to protect your privacy on all devices connected to it. Unlike Surfshark which gives you unlimited simultaneous connections, PIA limits it to 10, but this is a lot more than VPNs typically give you.
Every one of PIA's servers is configured to support P2P transfers or torrenting. You can use both split-tunneling and port-forwarding during the torrent process to help increase transfer speeds and narrow down the files or applications you want sent through the VPN while others are left alone.
For tv streaming, we were able to unblock several services including Netflix, Amazon Prime, and Disney Plus. PIA also gave us access to our Hulu and BBC iPlayer accounts. For UK and Australian users, Private Internet Access unblocks both C4 and 9Now.
The apps themselves are uncluttered and look professional. However, they are anything but simple to use. PIA is one of the most configurable VPN services that need a lot of setup in order for you to complete certain tasks. Customization is a VPN pro's dream, but if you're not tech-savvy, you'll get lost and overwhelmed quickly. If you're new to using a VPN, we recommend CyberGhost as a good starting client.
Best cheap VPN with antivirus
It may not be the absolute cheapest option, but NordVPN includes so many extra security tools and is one of the most secure VPNs that its overall value is unmatched. It starts at $3.49 per month if you sign up for its 2-year subscription but look at all the benefits you get with this VPN.
To begin with, NordVPN adds antivirus and ad blockers as standard features. These cut down on your risk of accidentally downloading a malicious file or visiting a website known for hiding threats. You also get a built-in password manager to help high your online credentials making banking, shopping, and checking emails safer.
▶ Try NordVPN and get a 30-day money-back guarantee
NordVPN encrypts your data as it passes through one of its over 5,600 servers. This encrypts it using the highest and most secure level. After passing it through a server, NordVPN automatically sends it through a second server to double-encrypt your information. There is no way for anyone to trace your online history back to you. The company also offers a kill switch. We tested both the kill switch and the overall security of this VPN and didn't detect any DNS leaks. We put a lot of pressure on it to make it break, but NordVPN held firm.
If you need a VPN to watch your favorite Netflix shows while traveling, NordVPN is the one to get. It unblocked every Netflix region for us, so we could watch our favorite shows. NordVPN is also able to unblock Amazon Prime, Hulu, Disney Plus, and BBC iPlayer. It doesn't have servers in a lot of countries, only 60 compared to Surfshark's 100 and ExpressVPN's 94. But this is good enough to unblock a lot of geo-restricted content worldwide. Back in 2018 one of the NordVPN servers was compromised, but the company has beefed up security measures to ensure it can't happen again. We haven't seen any issues with NordVPN's security over the last 5 years.
One cool feature of NordVPN is its interactive map. This gives you a visual of where the servers are located so you can choose the best one. You can allow the app to connect you automatically to the fastest and closest one to you, or open the list of server locations separate from the map. There is a lot of detail in this app that causes it to be overwhelming, especially for new users. It does have great support options including easy-to-follow articles on its website and live agents available for chat 24/7.
NordVPN is one of the best-known VPN brands that exist today and offers a bunch of key features, balancing well its overall price with the level of security and the number of features you get. Its best deal is the 2-year subscription which comes with a 30-day money-back guarantee should you find it isn't quite the provider that works best for you or your devices.
Best of the rest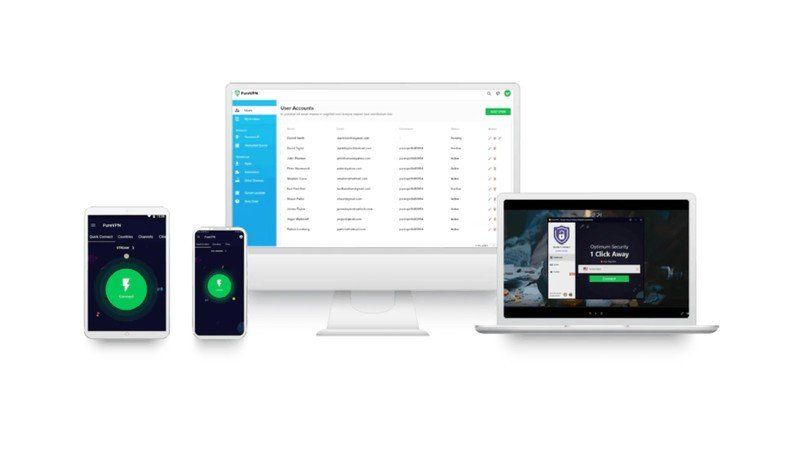 PureVPN is on our guide because it is the cheapest. Its best price averages out to only $1.33 per month, but you do have to commit for 5 years to get this deal. You can use PureVPN on a month-to-month basis. This package is only $10.95 per month and is the cheapest month-to-month VPN.
While it isn't our favorite VPN, PurVPN does come with enough tools and features to make it worth considering. To begin with, you can connect 10 devices to this VPN at the same time. It works with both Windows and Mac computers and on Android and iOS mobile devices. There are browser extensions for Chrome and Firefox, and you can set this VPN up on Android TV, Amazon Fire, and Kodi.
▶ Try PureVPN for 31 days risk-free
PureVPN has strong encryption with solid leak protection. We tested the kill switch and were happy to see that it quickly turns on when the VPN connection is lost and stays strong to prevent data leaks while the connection is re-established. PureVPN supports torrenting and includes split tunneling.
We were surprised during our tv streaming unblocking tests what PureVPN was able to access. Netflix wasn't a problem, and neither were Amazon Prime and Hulu. We were also able to watch our BBC iPlayer account and YouTube.
These few perks are great for a basic VPN, but PureVPN doesn't have much more going for it. For example, it has very slow connection speeds compared to other VPNs. This is in part because it doesn't offer the WireGuard protocol. WireGuard tends to be the fastest when it comes to speed, but without it, PureVPN finds itself near the bottom of the list of competitors. It also has a privacy policy that isn't the best in our book.
PureVPN promises to never share your information with anyone, but that doesn't stop it from collecting information that other VPN services don't touch. To begin with, PureVPN logs when you connect to its VPN, your ISP, and the specific location where the server is located that you tap into. It also logs how many connections you make and the overall total bandwidth you use. This information isn't able to track or prove what you do online, but it does make us uncomfortable that it is collected. PureVPN has had its no-log policy audited, and while there are claims that it passed, the official report has never been released for the public to view.
We can say with certainly that PureVPN is the cheapest VPN service, but it isn't the best. We saw that it does well in protecting against DNS leaks and allows up to 10 simultaneous connections. It's good for streaming some tv channels, but it doesn't offer much for torrenting, gaming, or other tasks. PureVPN has a 7-day trial for $1 and a 31-day money-back guarantee to allow you to try it out without risk before fully committing to using its service.