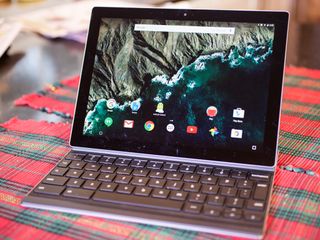 Google's Pixel C is a versatile and powerful tablet with a large, amazing display. And as such, you'll want to protect your investment by slipping it into some kind of case or sleeve. Here are the ones we like.
IVSO Ultra-Slim Pixel C Case
If you're looking for a case for your Pixel C backed by a lifetime warranty, the IVSO Ultra-Slim case may be for you.
Made with a synthetic leather exterior and a soft microfiber interior, this case is perfect for protecting your Pixel C from scratches, dust, and light drops.
It's also slim and lightweight — it won't bulk up your device — and it comes in five colors: black, blue, green, red, and white. You're sure to find one that you like.
Its magnetic closure is easy to open and close and keeps your tablet securely in place. It also has a stand so that you can prop it up to watch videos or, if you purchased the keyboard, type in comfort.
See at Amazon (opens in new tab)
Pixel C Folio Keyboard
OK, this technically isn't a case. It's a keyboard. OK, it's a keyboard case. It's a keyboard case that can protect your Pixel C while not in use. The case itself is made of full-grain leather. And while it's closed, the keyboard will charge itself, so you don't have to worry about it ever dying on you.
If you're also interested in getting a keyboard for your tablet, the Pixel C Folio Keyboard provides a good value.
See at the Google Store (opens in new tab)
Vostrostone KuGi Pixel C Case
Vostrostone's KuGi Pixel C Case is as protective as it is nice to look at.
It's made with a synthetic leather exterior and a microfiber interior, so that your Pixel C is protected from scratches inside and out. Additionally, it comes in five colors — black, blue, green, red, and white — pick the one that you like best.
The front cover folds in an Origami style so that it can double as a stand. Be aware, however, that the Pixel C keyboard will not fit in this case together with the Pixel C itself.
If you don't use the Pixel C keyboard and you want an attractive, yet protective case, the KuGi Pixel C case may be for you.
See at Amazon (opens in new tab)
Waterfield Designs Pixel C Sleeve Case
There are no cases for tech quite as beautiful and well-made as those by Waterfield Designs. Its iteration for the Pixel C is no exception.
Protecting your Pixel C from drops, dust, and scratches, this case is composed of neoprene padding sheathed in either ballistic nylon with perforated nylon trim or tan waxed canvas with grizzly leather trim. It can be used alone as a sleeve or placed inside another bag.
It comes with either a simple or a suspension strap and can be worn vertically or horizontally — the choice is yours.
In addition, it features an angled back pocket where you can store papers, pens, or even your phone.
If you're looking for an attractive, well-made case for your Pixel C, you can't go wrong with this one.
ProCase Google Pixel C Sleeve Case
Available in black, brown, and red, the ProCase Pixel C Sleeve is made of a synthetic leather outer and a microfiber interior. It's slim and lightweight, yet offers good protection from scratches and dust.
Fitted with a magnetic closure, you won't have to fumble around trying to open or close it, yet your tablet will remain safely inside once it's locked in. There's also an opening for the charging port, so you don't have to take your Pixel C out to charge it.
It has a back pocket, too, for storing other things, such as paper, business cards, or other tech. More importantly, it has enough space inside to fit the Pixel C Keyboard.
If you're looking for a cheaper, elegant option for protecting your Pixel C and accessories, look no further than ProCase.
See at Amazon (opens in new tab)
I bought a Pixel C case from YEHOLDING that looks exactly like the IVSO case. Same price, too. I see a lot of reviews from the IVSO case that the magnets cause problems while the case is flipped open, and I can attest to minor problems with the YEHOLDING case: about 3 out of 5 times when I flip the cover open and fold it under the Pixel C, a bluetooth prompt appears asking me if I want to enable "the keyboard". Well, there's no keyboard, it's just the magnets in the case cover spoofing the Pixel C, I guess! It's great with auto-wake and sleep, but the prompt is annoying. It's too bad I haven't seen a third-party case yet that doesn't have some kind of magnet/cover problem. Here's the YEHOLDING case on Amazon: https://www.amazon.com/gp/product/B01ABUU85U?tag=hawk-future-20&ascsubta...

Try the moko case. Their initial batch also had magnet issues, but they corrected the problem. I've used mine for 2 months and have had zero magnet issues. Posted via the Android Central App

The google magnetic keyboard is the best keyboard ever.

I would like one with a very adjustable display angle so it works for wherever I am using it.

And 7 months after launch, there still isn't a thin tpu case. Posted via the Android Central App

I wish they made one that was thin TPU that had the bottom cut out to where it would still attach to the magnetic keyboard. And also one that would cover the bottom of the metal keyboard so I didnt have to worry so much about it getting scratched up.

I can personally vouch for the procase sleeve, it's of a quality much higher than its price tag. The brown one is lovely. No actual case for me, too proud of how pretty the Pixel is to cover it up. Posted via the Android Central App

Just release a dammed ChromeOS tablet already.

The Google Folio Keyboard has been out of stock for a few months.

I have had the Pixel C with Magnetic Keyboard attachment since release. I bought the following sleeve designed for the Samsung Galaxy Tab 10". After a short break-in period, this is by far the best sleeve for this device (with keyboard). Both fit in the sleeve and it's perfect for carrying. It also doubles as a decent lap board (place under the device while using). In other words, on a plane this sleeve can easily sit under the device without bothering the use. My two cents at least... Synthetic Leather Tablet Sleeve for Samsung Galaxy Tab 3 7.0, Tab 4 7.0 by Dockem - Slim, Simple, Professional Sleeve with Microfiber Felt Lining (Dark Brown) https://www.amazon.com/dp/B00IDF2JV2/ref=cm_sw_r_cp_apa_PbCxybZTSNKR0?ta...
Android Central Newsletter
Get the best of Android Central in in your inbox, every day!
Thank you for signing up to Android Central. You will receive a verification email shortly.
There was a problem. Please refresh the page and try again.