Best Cases for the OnePlus 5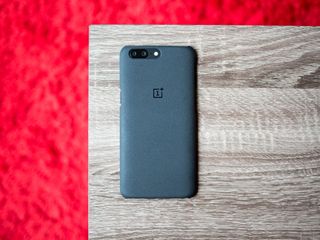 After only a few months on the market, the OnePlus 5 has a sequel, but that doesn't mean it's still not worth protecting if you have one.
If you're hoping to keep your OnePlus 5 in immaculate condition, your best bet is a quality case. Thankfully, both OnePlus itself and a number of well-known accessory makers have made cases available for the "flagship killer," so let's take a look.
OnePlus protective cases
Why you can trust Android Central Our expert reviewers spend hours testing and comparing products and services so you can choose the best for you. Find out more about how we test.
Assuming you bought your phone through the OnePlus website, you would have seen some of what it has to offer for OnePlus 5. As expected, you can buy some pretty cool style swap covers, which are shell cases designed by OnePlus, available in Sandstone, Ebony Wood, Carbon Fiber, and Rosewood finishes.
These are super slim cases that add little bulk to your phone, offering just enough around back to level off the camera bump. The wood cases are backed with a layer of Kevlar, the Karbon is all Kevlar, and the Sandstone case is made of reliable PC plastic. They come in at $20 for Sandstone, and $25 for the wood varieties.
Check out the OnePlus accessories page (opens in new tab) to find some cases that are bundled with earbuds, screen protectors, and more.
See at OnePlus (opens in new tab)
Otterbox Achiever Case
OnePlus is also offering an Otterbox case through its website. If you know your phone needs a bit of added protection from yourself, the rugged two-piece design here will fit the bill. And at $30, it's actually cheaper than getting it from Amazon (opens in new tab), and it won't break the bank too badly.
It's actually got a pretty unique construction from other Otterbox cases, with stylish cutouts on the PC shell around the bottom. This look really shines with the red and black color option, with the black TPU cutting through the red shell for a nice effect. For a slim yet rugged case from a trusted brand, you can't go wrong with this Otterbox case for the OnePlus 5.
See at OnePlus (opens in new tab)
Spigen Ultra Hybrid
if you're looking for a slim clear case for your OnePlus 5, you should consider the Spigen Ultra Hybrid. Spigen is one of the accessory brands we've come to trust as no matter how slim they manage to make their cases they still manage to offer good protection.
With the Ultra Hybrid, you get Spigen's Air Cushion technology in the corner which helps to reinforce the case where it needs it most. There are precise cutouts around the ports and
Get yours for just $13!
See at Amazon (opens in new tab)
Poetic Nubuck Credit Card Case
We expect cases to keep our phone protected, but it's also nice when they can provide additional functionality, too. Check out the Poetic Nubuck case, which includes a card slot on the back for holding two cards — perhaps a credit card and your photo ID.
You'll be able to quickly access your cards with the pull tab design. This case is made of a high-quality TPU shell that keeps your phone protected along with a synthetic leather backing over the card slot that combine to offer a unique look for your OnePlus 5.
Despite the card slot, the Poetic Nubuck is still a fairly slim case and also affordable at just $10.
See at Amazon (opens in new tab)
SUPCASE Unicord Beetle Pro Case
Searching for something a little more on the rugged side? The Unicorn Beetle Pro provides front and back protection for your OnePlus 5, which also includes a durable swivel holster for quick-draw access at your side.
On the front, Supcase has included a built-in plastic screen protector that's surrounded by a thick rim to keep the display raised from flat surfaces. The case itself utilizes a shock-absorbent TPU and durable polycarbonate to protect your phone from harsh impacts.
The Unicorn Beetle Pro's rugged design is great for enhancing grip, too, with plenty of texture on each side of the case. This protective bundle is only $18 and available from Amazon.
See at Amazon (opens in new tab)
Orzly FlexiCase
If you're looking for a simple case to keep your OnePlus 5 protected, Orzly has got you covered. Their FlexiCase is made from flexible TPU material and is available in clear and black versions.
It's a really simple design, with the clear case offering that "barely there" look and feel. There are precise cutouts around the dual camera and flash setup, the alert slider, and the USB-C charging ports, while the power and volume buttons are covered but accessible. It's a great option if you're looking for a cheap, basic case for just $7.
See at Amazon (opens in new tab)
We want to hear from you!
What case are you rocking? Let us know in the comments below!
Updated November 2017: Added new options from Spigen, Supcase, and Poetic, and also updated the links and pricing for the other options on our list.
Marc Lagace was an Apps and Games Editor at Android Central between 2016 and 2020. You can reach out to him on Twitter [@spacelagace.
Of course, you can't actually buy some of these! Got a FlexiCase on order and just managed to get one of the official "Karbon" cases on eBay for £20 delivered (yay!). Hopefully they'll do, but I'll probably end up with 2 or 3 more. Worth noting that only the sandstone case is $20, the rest are $25. Sure it's probably not gonna break the bank, but it's a thing.

Good note. Will update the article to reflect.

Blatant knock off and yet... I wouldn't mind a case like that for my own phone. Only thing I dislike about Spigen's rugged armor case is that it says Spigen on it. One way to bypass that problem.

I quite like my Karbon Bumper case. Yes, they are also not in stock but a good safe choice if you are looking to get great cases from OnePlus itself.

Yeah I'm a fan of it for my OP5. I still prefer the more minimalistic ones (or none at all), but this one feels nice, is still think, and offers pretty good protection.

Waiting for a good transparent TPU case. None seem to be available anywhere. Hate having an unprotected phone.

From what I can tell its not available yet. Says "In Stock" but with a delivery of like July 20... That doesn't sound in stock to me...

That's true as I mentioned above, but it's the same story for all of them. The FlexiCase shows as available June 30th in a few places in the UK, so try shopping around... If you want a clear case right now, I believe you're out of luck.

Yeah, slim pickings right now. Spigen is usually my go-to for good clear cases (Used them for my HTC M8 and 10). They've tweeted there's for the OP5 won't be out til mid/late July. Guess OP5 didn't share the design with 3rd parties so people would buy their cases at launch. I probably would have if they'd had a clear one available.

Have a google search on "TUDIA Carbon Fiber Design Lightweight [TAMM] TPU Bumper Shock Absorption Cover for OnePlus 5" Personal experience: happy about this one! Previously had one from Spigen for previous phone.

Karbon Bumper pour OnePlus 5 -- Bad Design
The side power on button protrudes a lot, any friction ignites the telephone and is very annoying. When you put the phone in your pocket or in any bag and accidentally touch the button, turn on the phone. It is definitely a bad design that makes the protective cover almost useless.
I have tried to return the product and I have been told that I had to return it without opening, totally absurd, since the problem is only detectable when you test the product. Therefore, I do not recommend anyone to buy OnePlus OEM accessories store if they are not completely sure of their functionality, since once opened they will not be able to return them. Bad return policy, next time I will buy at another more reasonable store with returns. 30 dollars thrown away.

I got a cheap one off eBay, it's probably one of the nicest cases I've ever had. Lol I wasn't expecting to like a $5 case so much.

Will these fit the Oneplus 5T that's coming out?

saw a pic of both the 5 and 5t next to each other, looks like the 5t is bigger.

I have tried several cases but my favourite is the Spigen Rugged Armor. It is smart, grippy, adds very little weight or bulk and provides a reasonable degree of protection. There is also a ridge around the screen so if you place it face down, the screen is raised from the table or other surface it is on
Android Central Newsletter
Thank you for signing up to Android Central. You will receive a verification email shortly.
There was a problem. Please refresh the page and try again.