Best Battery Cases for Google Pixel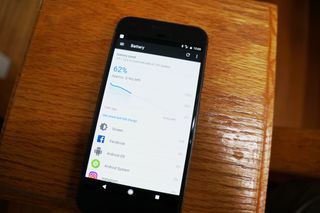 The Google Pixel has been out for a while now, and you might be finding its 2,770mAh battery struggling to make it through a full day of usage without needing a charge.
Battery cases are one option to consider, if you're alright with the added bulk. While your options are quite limited, here are the best we've found, which include options for both the Pixel and Pixel XL!
Mophie Juice Pack for the Pixel XL
Why you can trust Android Central Our expert reviewers spend hours testing and comparing products and services so you can choose the best for you. Find out more about how we test.
We were waiting for Mophie to release a charging case for Google's latest smartphones and they finally delivered with with the Mophie Juice Pack — available for the Pixel XL only.
The Juice Pack includes a 2,950 mAh battery that will add at least 60% more battery capacity as a back up for the Pixel XL's already ample 3,450 mAh battery. It also adds a key feature missing on the Google Pixel for some — wireless charging. Mophie says their case will work with Qi technology, and other wireless services, letting you charge both your phone and the case without dealing with the hassle of wires. For those times you do plug your phone in, pass-through fast charge technology via USB-C lets you charge up your Pixel XL first before recharging the case battery.
Like Modern Dad says in his review, this thing is a big honking case that's going to make your phone thicker, longer, and heavier — to be expected with any battery. But if you're keep for a great battery case that supports both wireless and fast-charging (and are willing to pay $100 for the privilege), get yours today for the Pixel XL.
ALCLAP Portable Charger Case
This case from ALCLAP offers a 4,000mAh lithium-ion battery to power your 5-inch Pixel, with a look and feel that's as slim as you can make a case like this. ALCLAP offers dual charging capabilities, meaning you'll be able to plug your case in at night and wake up to a full battery on your phone and the case.
Simply press the button on the back of the case to start the charging and you'll get many hours of extra usage from your phone when you'd otherwise be stuck plugging into a wall. This case also adds about a half-inch of bulk, but will also keep your phone protected from drops, and also accommodates a screen protector for full protection. This case regularly sells for $130 but you can get it for $60 from Amazon.
ALCLAP also offers a 5,000 mAh battery case for the larger Pixel XL (opens in new tab).
See at Amazon (opens in new tab)
ZeroLemon Google Pixel Charger Case
This gargantuan battery case for the standard Google Pixel includes a massive 6,500 mAh battery and some... shall we say unique design decisions, with an archway of sorts on the back for access to the fingerprint scanner.
As you'd expect, packing a battery this big into a case means completely changes the dimensions of your sleek Google-designed phone. This case will make your phone nearly an inch thick and also adds an extra inch to the height of your device — but you've probably made peace with that fact if you're in the market for a battery case. If maximum battery capacity is your aim, you simply won't find a bigger battery case for the Pixel than this offering from ZeroLemon.
Zero Lemon also offers an appropriately larger 8,000 mAh battery case for the Pixel XL (opens in new tab) if that's what you're after.
See at Amazon (opens in new tab)
Update June 2017: Added Mophie's offering for the Pixel XL, added the ZeroLemon case for the Pixel, and removed the products no longer available on Amazon.
Marc Lagace was an Apps and Games Editor at Android Central between 2016 and 2020. You can reach out to him on Twitter [@spacelagace.
You could just say, here is THE case, it is available under these 4 names.

Calling them "the best" is misleading too, as it implies the author has actually tried any of them. A more accurate title for the article would be "here are some battery cases you can find with a cursory search on Amazon but I've attached my referral code to the links."

Same case, just upsized. Same idiotic name game BS. Just do an Amazon search using any of these many names and put an XL on the end.

Are there any actual differences between them? That's what I actually want to know since every list of points seemed to mostly be that they're all basically identical in features and price.

Likely not. It isn't uncommon to see cases and other accessories created by one company that are licensed out to other companies to put their branding on. That's what appears to be going on here. Same case, just branded and sold by different companies.

I just want to know who on earth needs more battery on a Pixel?? This is hands down the best phone I've ever had. Even using it all day at work, I still have plenty of juice to make it until bedtime. The majority of days, I'm at 30+% when I start charging for the night. Many days I'm sitting at 40+%...

I agree. Haven't had my XL run out of juice yet. But, it's nice to know there's a battery case out there just in case I plan a weekend camping trip or something.
Android Central Newsletter
Thank you for signing up to Android Central. You will receive a verification email shortly.
There was a problem. Please refresh the page and try again.