Best apps to turn your Huawei MediaPad tablet into a laptop replacement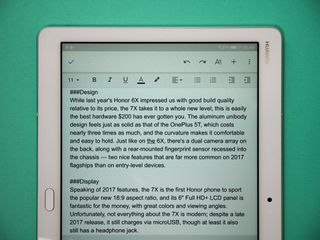 The idea of replacing your laptop with a good Android tablet has always been a fever dream, but with a Bluetooth keyboard and the right apps, it could actually be possible for the right kind of person. Here are a few great apps for the Huawei MediaPad that could help you leave your laptop behind.
See at Amazon (opens in new tab)
Best writing app: Google Docs
It's hard to beat Google's own writing app. Google Docs is a free and powerful writing app that syncs to the cloud to automatically save your progress as you write. There are plenty of useful tools for formatting, and Docs even has collaborative features to write with someone else remotely.
Best of all, it's able to open and export Microsoft Word documents, making it a versatile service for college students, businesses, or just about anyone else who needs a word processor.
Download: Google Docs (opens in new tab)
Best photo-editing app: Snapseed
Snapseed has long been one of the most popular mobile photo editing apps, and for good reason. Its gesture-based controls make it easy to quickly edit photos, and when it comes time to do some more involved edits, Snapseed offers professional features like tone curves, perspective shifts, and a healing tool.
Snapseed can even handle RAW photos, meaning you don't have to wait until you're at your computer with Lightroom to edit those unprocessed shots from your Galaxy S8 or LG V30.
Download: Snapseed (opens in new tab)
Best video-editing app: Quik
This is a pretty easy choice, since there just aren't many video editing apps on Android in the first place. Quik by GoPro uses the videos and photos you've already taken to create montages, highlight reels, or pretty much any kind of video you'd want to produce on the go.
You can set Quik to automatically sync your video clips to music with Smart Cuts, or dive in and handle the cuts yourself. You're also able to import media from your Google Photos library, even if that media isn't already stored locally on the MediaPad.
Download: Quik (opens in new tab)
Show off split-screen
The MediaPad M3 Lite 10 has a large 10.1-inch display, and there are plenty of ways to make good use of that screen real estate. I've always particularly enjoyed running Google Maps and a social network like Twitter to the side, and when I'm writing I usually have my note-taking app and Chrome open simultaneously for research and references.
Of course, if you're in the middle of an important conversation with a friend while you're watching a YouTube video or shopping on Amazon, you can always run Hangouts or Slack in a small window to the side.
See at Amazon (opens in new tab)
Read more: 5 reasons why you should consider the Huawei MediaPad M3 Lite 10 as your next tablet
Hayato was a product reviewer and video editor for Android Central.
Isn't this simply applicable with any tablet running nougat or a Samsung Tablet post ice-cream sandwich (I believe they had splitscreen then)?

My aren't you a negative Nancy
Android Central Newsletter
Get the best of Android Central in in your inbox, every day!
Thank you for signing up to Android Central. You will receive a verification email shortly.
There was a problem. Please refresh the page and try again.