Best document scanning apps for Android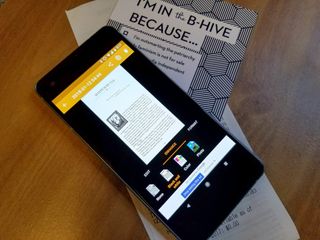 As our technology becomes more and more integrated with the world around us, it becomes easy to forget that many important documents are still printed out on paper. Being able to easily scan and save your lease, receipts, or other important paperwork can ensure that you never lose a document again. Of course, there are tons of apps out there, so we've done the hard work for you and narrowed that list down to just a few suggestions.
These are our picks for the best document scanning apps on Android.
Adobe Scan
Why you can trust Android Central Our expert reviewers spend hours testing and comparing products and services so you can choose the best for you. Find out more about how we test.
If you are already familiar with Adobe, then seeing this app on our list should make your eyes light up. While you can sign in like usual with Google or Facebook, you can also use your Adobe ID and it supports exporting documents to your Adobe account. The app is free and full of features that make it easy to scan your documents even if they aren't in the best shape ever.
Adobe Scan will automatically detect a document once you have the app open, and you can scan and save several documents in a batch to be edited and saved together. As far as features go you have access to a drag and drop cropping tool that lets you adjust what is saved, edit the color of the document, reorder documents in a batch and even reorient documents so they all face the same way.
Download: Adobe Scan(Free) (opens in new tab)
Office Lens
If you use Windows, then having an app that talks easily to OneDrive always makes things easier, and Office Lens is Microsoft's offering of a document scanning app. It's built to easily snap a photo of what you need and then save directly to OneNote or OneDrive.
Office Lens is really made to just snap a photo and quickly crop it, and it isn't really overflowing with options. It does scale photos taken from weird angles, and it has a few different modes depending on what you're scanning. This is a great option for anyone who is using Microsoft ecosystem to keep track of everything and is very simple and easy to use due to it's simplicity.
Download: Office Lens(Free) (opens in new tab)
Genius Scan
If having a clean and intuitive UI that gives you access to a few features without going overboard is what you're after, then it's Genius Scan that you should take a look at. The one flaw with Genius Scan is that to get access to the full sharing capabilities, you'll need to pony up $4.95 for a premium subscription.
If being able to fine tune everything about your scanned documents is the way you want to go, Genius Scan is an excellent option. You can separate documents into folders, name each document or folder, and even tag documents. This means you can have taxes from multiple years in different folders that can still be found by searching through your tagging system.
Download: Genius Scan(Free) (opens in new tab)
CamScanner
CamScanner delivers a gorgeous and intuitive UI and some serious features for fine tuning each scanned document that you save. To get access to everything it offers, you will need to look into a subscription, but most users will be able to easily get by with the free version.
When you scan a document, you can reorient and crop the image as you'd expect, but it's the editing features that make CamScanner shine. You've got five or six versions of the scanned document to choose from, including modes that lighten up the paper that was scanned to make it easier to read. You can also personally adjust the balance if you're trying to get everything to look perfect. Once you've saved documents, you can tag them, store them in folders, and share them with friends. You're also able to mark scanned documents and attach notes, which makes this a great app for students studying on the go!
Download: CamScanner(Free) (opens in new tab)
Do you use a document scanner or do you like to keep paper documents around?
Let us know in the comments below!
Android Central Newsletter
Get instant access to breaking news, the hottest reviews, great deals and helpful tips
Jen is a staff writer who spends her time researching the products you didn't know you needed. She's also a fantasy novelist and has a serious Civ VI addiction. You can follow her on Twitter.
I use Dropbox. I already use Dropbox for other things so it makes things very seamless.

One Drive has a scanning option built in. Better than all of the above IMO.

Yep - I swear by Office Lens in OneDrive. It just makes sense to scan then manage the file all in one place.

Google Drive also has a built in scanner. Useful if you already store your files in GDrive.

Your link to CamScanner goes to a different app. Please fix.

I've used camscanner for years. Works fantastic.

I use Scanbot. Simple, syncs to Google Drive, and the interface works.

Gray scale scanning is a must which of these apps does that?

Not sure about these apps listed in the article, but TinyScanner Pro does grayscale in addition to color and black and white with adjustable contrast ratios on the fly.

Office Lens will OCR your document and save it to OneNote, PDF or Word. This means you can scan things all day long and then then later you can search and find what you're looking for. In a meeting with a hand-out I do a quick scan with Office Lens and pull it up in OneNote so I can take notes on my Surface. It's a smooth process that doesn't require importing or pasting. Simplicity is important! Office Lens also allows you to scan multiple pages into a single PDF, which not all Apps offer. You can also scan business cards and have them save as contacts. Office Lens is so much more than a way to "snap a photo and quickly crop it" – and as far as options go, it's full of them! Yes, you need to be tied into the MS ecosystem, but that ecosystem is nice!

The card scanning works brilliantly, catching name, title, phone, company.
I just wish they'd save files with sortable days formats such as 2018 01 16.

Genius scan made my work life sooo much easier

Evernote also has an excellent document scanning feature. It automatically recognizes most documents (as documents), trims and sizes them (squares them up) and will even do some OCR. Unfortunately, on Android, it only saves them to a PNG file type. On iPhones, I understand it will save it as a PDF as well. I have also been using CamScanner for a couple of years. It saves by default to a PDF which is very convenient when I need to email a document to someone or transfer it to another application such an accounting application.

As a Rocketbook user I mostly use the companion app to scan what I write or draw. My backup scanner is Microsoft's Office Lens.

Try VueScan. It's really good!

Google Drive has a scanner that just works.

I've been using CamScanner for years, and earlier today did a comparison with Genius Scan. I found CamScanner's default cropping borders to be much better than Genius Scan when the page color was close to the background color. Regarding Genius Scan - you mention the possibility of a $4.95 subscription fee. Subscriptions involve a recurring charge - how does it make sense to omit the period of the subscription?
Android Central Newsletter
Get instant access to breaking news, the hottest reviews, great deals and helpful tips
Thank you for signing up to Android Central. You will receive a verification email shortly.
There was a problem. Please refresh the page and try again.