Best Amazon Prime Day Sonos deals 2022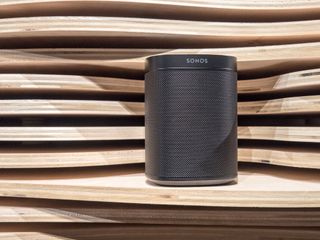 (Image credit: Android Central)
If you're a fan of buying new gadgets at great prices, Prime Day is one of the most exciting times for deals of the year. The two-day event taking place this summer is jam-packed with endless savings for just about everything you can imagine, including the Sonos speakers.
We're big fans of Sonos here at Android Central, as the speakers are among the most impressive and versatile money can buy. The only problem with Sonos speakers, however, is that they tend to be a bit pricey. During Amazon Prime Day, this isn't an issue. Sonos hardware usually sees big discounts during this shopping event, and we've rounded up the best ones below. Check 'em out!
If you've been looking to get into the Sonos ecosystem for a while but haven't been able to justify the cost, Prime Day is exactly what you've been waiting for. With generous savings and discounts, this is the time to finally pull the trigger.
Today's best Sonos deals
Why you can trust Android Central Our expert reviewers spend hours testing and comparing products and services so you can choose the best for you. Find out more about how we test.
The above deals are the ones we think are the most noteworthy, but if you want more information about them or are looking for additional sales to take advantage, keep on reading below!
Best Amazon Prime Day Sonos Speaker Deals
Sonos speakers are broken up into two distinct camps — traditional speakers and ones designed for a home theater. To kick things off, we're going to be looking at the former of those two things. "Normal" Sonos speakers are a great way to dip your toes into the water. You can place them in just about any room, and whether you buy one or a couple, you're in store for a fantastic experience.
Best Amazon Prime Day Sonos Home Theater Deals
Moving away from speakers, it's time to take a look at Sonos products designed for your home theater. From soundbars, subwoofers, and complete surround sound sets, Sonos has you covered no matter what your home theater ambitions are.
Sonos Price Tracking
Swipe to scroll horizontally
Sonos makes truly great hardware, but if you're trying to shop on a budget, a lot of the speakers can be out of reach throughout most of the year. Sonos occasionally offers discounts throughout the year, but if you really want to save big, you need to wait for an event like Prime Day.
With all the weirdness surrounding the year 2020, last year's Amazon Prime Day didn't even offer any deals on Sonos speakers, though we're hoping that's remedied in 2021. While nothing has been confirmed as of yet, we'll be sure to keep you posted as we learn more.
It's certainly not a bad idea to keep an eye on Amazon throughout this Prime Day to make sure you don't miss any sales, but if you'd rather keep things simple, feel free to bookmark this page and just check on it throughout the two-day shopping event. We'll have a constant eye on Amazon the entire time, and as new sales come and go, we'll update this page accordingly to keep you in the loop.
Prime Day 2021 Sonos deals I'm most excited about
Although we don't know of any Sonos Prime Day deals just yet, that's not to say you should ignore the company's speakers for now. Buying a Sonos is a good decision all year-round.
If you want to experience high-quality Sonos audio while spending as little as possible, you can't go wrong with the Sonos One SL. It delivers the same exact audio quality found in the more expensive Sonos One, which is to say that it sounds amazing. A single One SL sounds great on its own, but where things get really magical is when you pair two together for stereo sound.
Another great speaker to check out is the Sonos Beam. This is the soundbar I've had in front of my TV for a about two years now, and it continues to impress me. For being as compact and affordable as it is, the Beam's audio is outstanding.
What were the best Prime Day 2020 Sonos deals?
Unfortunately there weren't any Sonos speaker deals for Prime Day 2020, though Prime Day 2019 gave us two noteworthy Sonos deals. The first one that comes to mind is the Sonos One, which saw an instant discount of $20. That's not very impressive on its own, but Amazon made things even better by throwing in a $50 gift card with your purchase.
The Sonos Beam saw generous savings of its own, getting a $40 instant discount on top of two $50 Amazon gift cards — resulting in total savings of $140.
What's the best Sonos speaker to get?
There are quite a few Sonos speakers on the market these days, and if you're new to the brand, it can make deciding what to get a bit challenging. If you need some help, here are a few pointers to keep in mind.
As a starting ground, the Sonos One is probably the best route you can go. It's relatively affordable, compact, and can be used in a multitude of ways. Want to use it as a standalone smart speaker with Google Assistant or Alexa? Check. Want to use two of them for stereo sound in your office? You can do that, too. Want to pick up a few of them for great sound in every room? Go on ahead.
The Sonos Move isn't a speaker that everyone needs, but if you value being able to take high-quality sound wherever you want, it's the only speaker in the Sonos lineup that allows you to do that. Battery life is very good, the USB-C charging is convenient, and the IP56 rating means you're protected against dust and water.
Finally, when it comes to upgrading your home theater, the Sonos Beam is an easy recommendation. It's not as fully-featured as the more expensive Sonos Arc, but it strikes a phenomenal balance of delivering high-end features and sound at a price most people can get behind.
Are Sonos speakers easy to use?
Yes! Of all the smart speakers out there, Sonos ones definitely tend to be some of the easiest to set up and use. The free Sonos mobile app guides you through the entire set up process, and once you're done, it's a one-stop-shop for managing all of your music and podcast playback. Even as you start filling your home with multiple Sonos speakers, you can control all of them in that single app. It's pretty great.
Sonos One vs. Sonos One SL
If you're trying to decide between the Sonos One and Sonos One SL, your decision is actually a lot easier than you might think. Both speakers have the exact same design, sound quality, and features. The one and only difference is that the Sonos One has built-in microphones for Alexa and Google Assistant commands, whereas the Sonos One SL does not. In other words, if you don't care about having voice commands on your Sonos speaker, you can save a few bucks and just get the SL model.
Sonos Beam vs. Sonos Arc
On the home theater side of things, the Sonos Beam and Sonos Arc have a bit more separating them. For the vast majority of people, the Beam is likely the best fit. It's smaller, more affordable, and still sounds fantastic for movies, YouTube videos, or music. Audio enthusiasts will appreciate the even better audio quality and Dolby Atmos support of the Sonos Arc, but you'll need to decide if those things are worth the added size and — more importantly — price.
Get the Android Central Newsletter
Instant access to breaking news, the hottest reviews, great deals and helpful tips.
Joe Maring was a Senior Editor for Android Central between 2017 and 2021. You can reach him on Twitter at @JoeMaring1.