Best Alternatives to Google Pixel Buds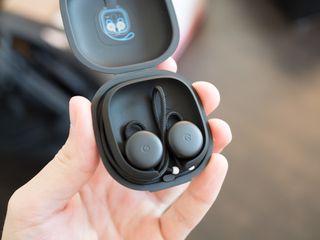 Google's first stab at wireless headphones is a mixed bag of good ideas and middling execution. There are a lot of things to like about the Pixel Buds, but at $159 they're relatively expensive, and many elements of the design, from the case to the fit inside the ears, is inconsistent.
Thankfully, there are plenty of alternatives to the Pixel Buds. But before we get to the specific options, we're going to talk about the two dominant styles. The first is similar to the Pixel Buds themselves: earbuds tethered by a cord, usually meant to wrap around the back of the neck; then there's truly wireless, similar to the Samsung IconX and Apple AirPods, where both earbuds are independent.
There are advantages and disadvantages to both of these designs.
You can use Pixel Buds without a Pixel phone, but should you?
Truly wireless headphones
Separate wireless earbuds are generally easier to manipulate since there's no cord getting in the way and, in some cases, weighing down the headphone portion.
They tend to have shorter battery life, and can be bulky, since all of the "tech" is inside the earbud itself.
They often have charging cases, which means carrying an extra object around.
On the flip side, those cases often have an additional battery of their own, giving the headphones extra uptime.
'Connected' wireless headphones
Headphones like the Pixel Buds have a cable that connects the two earbuds together. This prevents individual pieces from getting lost.
Many of them have batteries built into the cord itself, so they're charged via a Micro-USB port on the device itself. Nothing extra to carry around.
Some of them are made of flexible, rubberized, water-resistant material, making them ideal for workouts.
Others are true neckbuds and have additional technology inside the cord, including active noise cancellation.
With a cable or cord between the earbuds, there's often room for a microphone and controls.
Why you shouldn't (or should) buy the Pixel Buds
Why you can trust Android Central Our expert reviewers spend hours testing and comparing products and services so you can choose the best for you. Find out more about how we test.
Here's the thing: the Pixel Buds aren't bad, but in my opinion, they consist of a bunch of really good ideas executed poorly. From the oddly-shaped earbuds themselves that make it difficult to get a good placement (nevermind a seal, which is intentionally not possible) to the finicky gesture system that is far too sensitive to the bulky case that's hard to fit in a pocket, the Pixel Buds just aren't ready for prime time.
In my time with the headphones, I enjoyed the fact that they read notifications, and can be easily used to access Google Assistant. I think the famed translation feature is, while a great idea, executed poorly, and doesn't add anything to the experience of using Google Translate. And while they can sound good, I was forced to crank the volume while walking outside because so much ambient sound leaks in.
My takeaway from the Pixel Buds is that they add instead of remove friction from one's life. I spent so much time getting them to merely sit properly in my ears, or cursing at the too-sensitive gesture area, that I rarely just got to enjoy the headphones themselves.
That said, I think the Pixel Buds look pretty good, and they are an exciting addition to the growing category of wireless "smart" headphones. If you're interested in buying them, go right ahead: they cost $159 and you could certainly do worse.
If you don't want the Pixel Buds, here are our favorite alternatives.
Truly wireless headphones
Samsung Gear IconX 2018
It took Samsung over two years to release an update to its first truly wireless earbud, but we're glad they did. While they don't sound much better than they did two years ago (which is just OK but not as good as the ones below), everything else about the standalone earbuds has been improved. Battery life, in particular, has been boosted to around five hours, and the included charging case triples that amount. The best part? Unlike any other case on this list, the IconX charges with USB-C.
At $199 these aren't cheap, and the included fitness features may not be enough to entice someone over the cheaper and better-sounding Jaybirds. Still, Samsung has released a homerun update here, and at its current $50 discount these are a must-buy.
Zolo Liberty & Liberty+
Anker's home and portable entertainment brand, Zolo, has only been around for a short time, but the company's off to a great start with the Liberty and Liberty+ wireless earbuds. Available for $100 and $150 respectively, there's only a slight difference in the sound quality of the more expensive buds. The rest of the price gaps comes in the form of Bluetooth 5.0 support in the Plus (Liberty supports Bluetooth 4.2) and a larger battery, offering 48-hours in the case compared to 24-hours in the cheaper model.
While we haven't tried the Liberty+, we've been impressed with the sound coming out of the Liberty, with clear mids, deep bass, and smooth highs. They're also quite comfortable to wear for long periods and are IPX5 sweat-proof, which is perfect for workouts. There's also a microphone embedded in the right earpiece, with support for smart assistants like Google Assistant.
Apple AirPods
Yes, they're meant for iPhones and all that, but the AirPods are among the best truly wireless headphones available today — as long as their shape fits in your ears.
Even without the easy pairing of the W1 chip, AirPods work with every Android phone out there today, and they sound pretty good, though they lack the kind of thumping bass you would get from larger drivers or more specialized in-ear monitors.
After nearly a year with the AirPods, I can safely say that their best feature is their comfort: you can wear them for hours without even realizing they're there. And when it's time for charging, they slip into the white dental floss-looking case you'll either love or hate.
At $159, not everyone will see their value, but if you've got an iPhone-wielding friend with a pair of AirPods, give them a try before dismissing them.
Jaybird RUN
Aimed primarily at runners and other athletes, Jaybird's entry into the truly wireless headphone category hasn't been smooth — early software was extremely buggy and dropped connections — but after an update, these buds are good to go. With some of the best sound in the category, Jaybird RUN earbuds are meant to be big and bulky, but somehow they fit in my ear perfectly.
Like all Jaybird products, the RUN comes with a number of ear tips and wings to ensure the perfect fit, and like their X3 counterparts, they are fully water- and sweatproof. There are also controls on the right earbud to answer calls and initiate Google Assistant.
At $180, these are pricey, but they haven't fallen out of my ears on a run yet, and they sound great.
See at Jaybird
Bose Sound Sport Free
For $240, you get a lot of sound with Bose's truly wireless version of its popular Sound Sport Free earbuds. The advantage here is that, like the Jaybirds, they're meant for exercise, and are equipped with sweat-proofing and a rugged design. But they sound better than any of the other earbuds on this list thanks to incredibly comfortable tips (a Bose specialty) and large drivers to push that sound.
Also like then Jaybirds, there's a separate charging case with two additional charges totaling 24-hours of uptime, and Bose promises software updates to fix intermittent sync issues.
B&O Beoplay E8
The cream of the crop in this category, B&O's entry into the truly wireless category is all about luxury — and you'll pay for it. For $299 you get buttery smooth sound, an amazingly comfortable fit in the ear, and a leather charging case.
Touch controls make pausing songs and accepting calls easy, and a quick gesture turns on the monitor feature, using the onboard microphones to temporarily let in the outside world for a quick conversation or to catch an announcement.
Because the E8s are slightly smaller than others on this list, making for a more comfortable, lightweight feel in the ear, battery life of four hours doesn't quite top the competition, but the charging case adds an additional eight hours. These are the earbuds for true wireless audiophiles — if that's a real thing yet.
'Connected' wireless headphones
Jaybird X3
Jaybird finds its way twice onto this list for good reason: it makes great sport headphones. That said, the X3s sound so good that they don't need to be used while sweating up a storm. In fact, if you spend the time to find a great fit for them (like the RUN earbuds, they come with a multitude of tips and wings), they can sound incredible. And there's a set of buttons and a microphone on the cord for easy controls.
At just over $125, they're affordable and easy to set up. The included snap-on charger is an improvement over the previous generation, and they last around eight hours before needing to be topped up. Owned by Logitech, Jaybird also has one of the best customer support reputations in the game, so if anything goes wrong with these waterproof headphones, they'll be easily replaced.
Fitbit Flyer
Fitbit's entry into the wireless headphone space is pretty much flawless: incredible sound quality, excellent battery life, and plenty of plug and wing options to find the perfect fit.
Like the company's Ionic smartwatch, the design will not be to everyone's tastes — the jewel-like outer shell takes some getting used to — but there's a consistency to Fitbit's products that's rewarding if you invest in them.
The Flyer has slightly shorter battery life than the Jaybirds, but they're easily charged via Micro-USB, and there are no additional dongles needed — a port opens up to reveal the port. At $130, these are a great alternative to the X3s and the Pixel Buds alike, even if exercise isn't a huge part of the equation.
Bose Sound Sport Wireless
The OG neckbud success story, Bose is in the game for good reason. At $150 (and occasionally on sale for less), the Sound Sport Wireless sound better than the truly wireless equivalents, have a narrower form factor and a longer-lasting battery.
Like all other Bose products, an easy-going sound profile is key here, and the included tips are very, very comfortable for longer listening periods. Along with Bluetooth, there's NFC pairing here, too, if your Android phone supports it, along with in-line controls and sweat resistance during workouts.
Shure SE215
Shure has a fantastic reputation for noise-isolating headphones (well, headphones in general, actually) and the SE215s, at $150, are a great combination of wireless convenience and Shure's superb sound quality.
What sets these apart is the design: not only does the cord go around the back of the neck, but the earbud cord is designed to wrap around the back of the ear to prevent gravity from doing its thing. That means less adjusting and more listening — for up to eight hours.
While the SE215s don't have active noise cancellation, they're designed to get a tight fit inside the ear, ensuring passive isolation to facilitate concentration and focus. Among the interesting features here, too, are the ability to connect to up to four devices at once and dynamic source switching depending on proximity.
Sennheiser CX 7.00BT
Sennheiser's latest addition to its wireless headphone lineup is a pair of outstanding-sounding neckbuds. These aren't the type of neckbuds that merely wrap a piece of fabric around one's neck, but a true set with necklace hardware that sits on the base of the neck with retractable cords extending outwards to the ears.
Like all Sennheiser products, these sound amazing and thanks to the additional room in the base, affords up to 10 hours of playback on a single charge. At $150, these are an affordable way to get excellent audio and easy to reach controls with all-day comfort, since the earbuds can just float.
Your picks?
Of course, everyone is going to have their own version of this list, but these are among the best alternatives to the Pixel Buds, and we'll be updating it regularly with more picks as we try them.
Get the Android Central Newsletter
Instant access to breaking news, the hottest reviews, great deals and helpful tips.
Daniel Bader was a former Android Central Editor-in-Chief and Executive Editor for iMore and Windows Central.