Best accessories for ASUS ZenWatch 2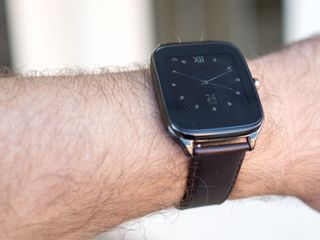 Whether you're looking for different watch bands to wear with your ASUS ZenWatch 2, or you want a screen protector for that sweet AMOLED display, these are the accessories we recommend for you.
Barton Quick Release Watch Bands
Barton Quick Release Watch Bands are well-liked by customers for their comfort, how easy they are to put on and take off, and their versatility.
Since these watch bands fit any watch that takes either an 18mm or a 22mm watch band, you will have no trouble getting them to fit your ASUS ZenWatch 2. They come in a number of different colors, too, so you can find the perfect one to match your wardrobe.
Made of silicone rubber with a textured interior, they are comfortable to wear all day and are waterproof and washable, so that you can clean them after a long day to get rid of accumulated sweat (and the stink).
If you're looking for a colorful replacement watch band for your ZenWatch 2 that's comfortable to wear, look no further than Barton Watch Bands.
See at Amazon (opens in new tab)
Caddy Bay Collection Watch Band Display Case
If you love wearing a different watch band with your ZenWatch 2 every day, you'll need a case to store all of your watch bands when you're not using them.
The Caddy Bay Collection Watch Band Display Case is an attractive case made with a dark walnut wood finish and a soft interior that holds 12 watch bands in two layers of six.
Customers love how well this case protects the watch bands from scratches, and how easy the first layer is to take in and out. Likewise, they praise the fact that the case comes with a notch in the center of the lip that makes it easy to open and close
If you're looking for an attractive display case to store your additional ZenWatch 2 watch bands, this may be the one for you.
See at Amazon (opens in new tab)
Armorsuit Military Shield screen protector
The Armorsuit Military Shield 2 pack screen protector is great for protecting that nice AMOLED display from scratches.
Made of a self-healing material that's similar to what is used in military aircraft, this screen protector is very thin and clear — it protects without marring the aesthetics of your watch or interfering with the function of its touchscreen.
Customers praise Armorsuit for making a screen protector that's easy to install and that works well. One customer said that they couldn't even tell they had a screen protector on their ZenWatch 2 at all.
If you wear your ZenWatch 2 every day, you'll need a screen protector, and this one is a good choice for you.
See at Amazon (opens in new tab)
Artifex Charging Dock Stand for ZenWatch 2
The Artifex Charging Dock Stand for ZenWatch 2 makes charging your watch a simple affair while doubling as an attractive and sleek display stand. Customer reviews are positive for both function and form.
Made in the United States of America fresh off a 3D printer, this stand has rubber feet so that it stays where you put it and a magnetic top that keeps your ZenWatch 2 securely on the charging elements. The top is also Microsuede for preventing scratches.
If you're looking for a charging stand for your ZenWatch 2 that's attractive and works well, give the Artifex Charging Dock Stand a try.
See at Etsy (opens in new tab)
GGI Spring Bar Tool Set
Although the ZenWatch 2 comes with quick release watch bands, if you want to use third-party bands that aren't quick release, the GGI Spring Bar Tool Set can make the process easy and painless. Even with quick release watch bands, this tool can still make the process easier.
Made with nickel-plated brass, this tool has two ends: one has a large fork while the other has a small fork on one side and a push-pin on the other side. The small fork is good for bracelets while the larger one is good for spring bars.
If you're looking for an inexpensive tool to help you quickly put on and remove the watch bands from your ZenWatch 2, this one could work well for you.
See at Amazon (opens in new tab)
What do you think?
We've told you our picks for great ZenWatch 2 accessories, but what about you? Tell us all about what you're using with your awesome ASUS smartwatch in the comments below.
I'm normally for screen protectors on phones, and I bought the Zenwatch 2 when it came out to check out Android Wear at a low price point with newer hardware such as the speaker (great value, love the watch for what it is). One of my biggest holdups to getting Android Wear was how durable the screen would be, especially since they're not particularly slim devices, and I'm very rough with my hands. Having worn the watch daily for the past 9 months with the intention of not changing my habits to see just how it fared without babying it, I've smacked and scraped that screen against all kinds of hard surfaces, and there's not a single scratch visible to my naked eye under close examination (haven't checked under magnification). I'm not saying you should never buy a screen protector, but rather that Gorilla Glass 3 is some tough stuff. I probably would've even ripped a screen protector off at least once they way I've been treating it. I might consider it on a pricier device, but as I mentioned, the Zenwatch 2 has been my test of seeing how well a modern computer-like device would fare against the abuse of being attached to my wrist, and it has passed with flying colors. I'm definitely jumping on the next hardware revision of Android Wear.

The charging dock is by far the best thing for a ZenWatch 2. The major complaint I have on this otherwise wonderful device is the charging. They went from a full cradle on the ZenWatch 1, to a magnetic cord for the 2. I could never get the cord to line up right, and when I did, I would set the watch down (only on its face, making it worthless) and I would lose the connection. It is very fickle to say the least... terrible and almost makes the watch completely worthless would be more accurate. HOWEVER, enter the charging cradle. I put the cord in it, that came with the watch... and the cradle hold the watch in exactly the perfect position. I hit the spot, in the dark, nearly every time. The watch stays face up, in case you use it as a clock bed side, or on an office desk. The watch just needs to be face up, and even close to the right spot, and the magnet on the connection pulls it into place. Perfect.

I want to get this watch so bad but i'm waiting to the new releases of android wear

I'm in the same boat! I've been THIS close to buying it but then I start thinking about the possibility of a ZenWatch 3. So frustrating. Yes, I know, 1st world problems... Posted via the Android Central App

I was thinking about the possibility of a Zenwatch 3 about a month ago before I bought my Zenwatch 2. This is really a great watch at a great price. I got my watch for $100 on Swappa.com. I will get the Zenwatch 3 for sure when it comes out.

I have the OG ZenWatch and I am looking for a replacement wristband, since the one I am using is cracked from accumulated sweat from owning it for over a year. Hopefully these bands work on the OG ZenWatch also. Posted From my Verizon Galaxy Note Edge via the Android Central App... And Don't Eat The Yellow Snow!
Android Central Newsletter
Get the best of Android Central in in your inbox, every day!
Thank you for signing up to Android Central. You will receive a verification email shortly.
There was a problem. Please refresh the page and try again.