Best accessories for ASUS ZenWatch 2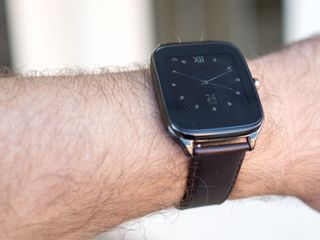 Whether you're looking for different watch bands to wear with your ASUS ZenWatch 2, or you want a screen protector for that sweet AMOLED display, these are the accessories we recommend for you.
Barton Quick Release Watch Bands
Why you can trust Android Central Our expert reviewers spend hours testing and comparing products and services so you can choose the best for you. Find out more about how we test.
Barton Quick Release Watch Bands are well-liked by customers for their comfort, how easy they are to put on and take off, and their versatility.
Since these watch bands fit any watch that takes either an 18mm or a 22mm watch band, you will have no trouble getting them to fit your ASUS ZenWatch 2. They come in a number of different colors, too, so you can find the perfect one to match your wardrobe.
Made of silicone rubber with a textured interior, they are comfortable to wear all day and are waterproof and washable, so that you can clean them after a long day to get rid of accumulated sweat (and the stink).
If you're looking for a colorful replacement watch band for your ZenWatch 2 that's comfortable to wear, look no further than Barton Watch Bands.
Caddy Bay Collection Watch Band Display Case
If you love wearing a different watch band with your ZenWatch 2 every day, you'll need a case to store all of your watch bands when you're not using them.
The Caddy Bay Collection Watch Band Display Case is an attractive case made with a dark walnut wood finish and a soft interior that holds 12 watch bands in two layers of six.
Customers love how well this case protects the watch bands from scratches, and how easy the first layer is to take in and out. Likewise, they praise the fact that the case comes with a notch in the center of the lip that makes it easy to open and close
If you're looking for an attractive display case to store your additional ZenWatch 2 watch bands, this may be the one for you.
Armorsuit Military Shield screen protector
The Armorsuit Military Shield 2 pack screen protector is great for protecting that nice AMOLED display from scratches.
Made of a self-healing material that's similar to what is used in military aircraft, this screen protector is very thin and clear — it protects without marring the aesthetics of your watch or interfering with the function of its touchscreen.
Customers praise Armorsuit for making a screen protector that's easy to install and that works well. One customer said that they couldn't even tell they had a screen protector on their ZenWatch 2 at all.
If you wear your ZenWatch 2 every day, you'll need a screen protector, and this one is a good choice for you.
Artifex Charging Dock Stand for ZenWatch 2
The Artifex Charging Dock Stand for ZenWatch 2 makes charging your watch a simple affair while doubling as an attractive and sleek display stand. Customer reviews are positive for both function and form.
Made in the United States of America fresh off a 3D printer, this stand has rubber feet so that it stays where you put it and a magnetic top that keeps your ZenWatch 2 securely on the charging elements. The top is also Microsuede for preventing scratches.
If you're looking for a charging stand for your ZenWatch 2 that's attractive and works well, give the Artifex Charging Dock Stand a try.
GGI Spring Bar Tool Set
Although the ZenWatch 2 comes with quick release watch bands, if you want to use third-party bands that aren't quick release, the GGI Spring Bar Tool Set can make the process easy and painless. Even with quick release watch bands, this tool can still make the process easier.
Made with nickel-plated brass, this tool has two ends: one has a large fork while the other has a small fork on one side and a push-pin on the other side. The small fork is good for bracelets while the larger one is good for spring bars.
If you're looking for an inexpensive tool to help you quickly put on and remove the watch bands from your ZenWatch 2, this one could work well for you.
What do you think?
We've told you our picks for great ZenWatch 2 accessories, but what about you? Tell us all about what you're using with your awesome ASUS smartwatch in the comments below.
Get the Android Central Newsletter
Instant access to breaking news, the hottest reviews, great deals and helpful tips.