Back up your stuff! How to make sure you never lose your important data again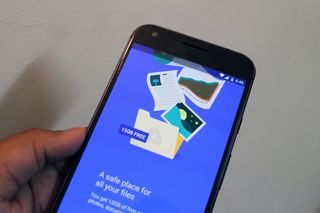 (Image credit: Android Central)
Losing your stuff sucks. Fielding phone calls from family and friends who've lost stuff is even worse. That's why you should take the time this year to get everything you need backed up and secure.
And even if your stuff is backed up, either to a physical disk or somewhere in the cloud, use the time you're spending with friends and family to help them back up their most precious digital data — or you'll inevitably be getting that 3 a.m. call you've been dreading for years.
Send it to the cloud
The best way to make sure your stuff is backed up is to send it to the cloud. If you use an Android phone, you may already have an account with Google Drive, and just by signing up for a Google account you get 15GB of storage to play around with. If you use collaboration services like Google Docs or Sheets, those files are already saved to Drive. Google makes things (scarily) simple in that regard.
But if you want to avoid Google, there are plenty of other places to store your stuff. We really like the speed and ease of Dropbox, and it's available everywhere, from Android to Mac to your favorite browser.
If you've got a lot of stuff and don't necessarily need constant access to it — say a huge movie, music, or archival document collection — we love Backblaze, and think it's the best option for most people. Best of all, it's really cheap for the amount of storage you get.
And finally, if you want to avoid the cloud altogether, we'd recommend getting a NAS and buying a couple of 2TB hard drives. Synology makes a great, easy-to-set-up solution that can automatically back up your computer on a regular basis and make the files available through the cloud — even outside your home network — on your Android phone.
Photos and music
We've got documents taken care of, but music and movies are incredibly important, too. Of course, you can store both in any of the above solutions, but I'd recommend moving to the cloud for both. In particular, Spotify and Google Photos are my picks for the best places to store and access music.
Let's start with Spotify. You can go with a number of its competitors, including the Google-owned Play Music, but Spotify doesn't limit the number of device authorizations per year, and it allows you to download songs, albums, and playlists for offline playback when you don't have a signal. You don't need to own music to hear it because Spotify has over 30 million songs, and anything you'd want to listen to is on there.
And then there's Google Photos. You have to be using Google Photos — it's so good. Not only does it come preloaded on practically every Android phone — only a problem when the app is bad, which in this case it isn't — but Google offers free high-quality uploads for life. Yeah, yeah, Google gets your photos but Photos is amazing: it sorts photos by person and location; it performs magical optimizations to make them look better; and when you want to go for the manual touch, the editing features are incredible. Finally, if you want to store the full-sized version of a photo or video you can, too: you just need to pay for Google's extra storage, which isn't particularly expensive.
Passwords
You are using a password manager, right? These days, with the number of online services for which we have to remember login information, there's no excuse not to be using a great password manager. Personally, I love 1Password, but you can't go wrong with Enpass, Dashlane or LastPass — they all have awesome Android apps and are multi-platform for when you need to connect remotely.
Backing up passwords is probably the most important thing you'll do for your mental health. While some of the services offer local or manually-controlled cloud backups, 1Password takes all the hassle out of the procedure by doubling down on security and storing them in the cloud. It's a lot safer than it sounds, and it's a hell of a lot more convenient, too.
The best password managers for Android
Launchers and themes
If you use an Android phone or tablet, chances are you're using a third-party launcher, or at least some app that requires a bit of customization. If you want to bring everything over to a new phone when you upgrade, try Action Launcher or Nova Launcher; both have excellent remote backup solutions that allow you to restore any and all settings to a new phone. You'll need Google Drive or Dropbox to store the backup file, but you've already done that, right? RIGHT?!
How to back up your Android launcher (and why you should)
Do the right thing this year
Take advantage of the downtime this holiday season to make sure that, if you were to lose your phone or laptop (heaven forbid) you won't lose the important documents, photos, videos, music files and anything else you value. These days, there's no excuse not to have a full-spectrum backup solution!
Daniel Bader was a former Android Central Editor-in-Chief and Executive Editor for iMore and Windows Central.
I will never remove my ad-blocker. I may remove this app though

I love Keepass for a password manager

Yes Keepass is a great password manager, especially "Keepass 2 for Android" in playstore.
What sets it apart is the built-in keyboard, which is used to autofill passwords, user name, etc., but the features go way beyond just that. Anyone who knows about infosec, know that Clipboard is dangerous to use because it's world readable by every app on your device. Keepass gets past that.
You can use it just locally or sync to a cloud provider, which your info is encrypted before upload. Keepass is open source, freeware. As are the many extensions or apps. Available for most platforms. And, there is no company to sell your user data via analytics. Or go out of business and sell you off to the highest bidder. Something to think about.

Unfortunately we need a "full-spectrum backup solution" using just about every tool in existence because Google doesn't provide one.

best way to back up files with one app is foldersync pro app links to various cloud storage and you can back up every file from device to cloud you have various ways to do this you can sync folders one way from device to cloud or from cloud to device or 2 way sync so everytime a file is edited on cloud or device foldersync will update that file and folder for you immediately or by time once you have foldersync pro set up all you do is leave it to do the rest in background

Looks like it also blocks punctuation from being used.

i normally back up to a NAS, anything really important is backed up to a USB key and hidden outside, i do not use cloudy storage really. I do have drop box account and have a couple of documents on there, but they are encrypted.
i do not really use my phone for much anyway, the photos that are left on it are not that important.

For a few years now, I use a cloud storage to keep my files safe. My cloud storage provider pCloud is offering me automatic upload of my pictures and videos from my mobile devices, mounted virtual drive for my PC, access to my files at any time anywhere. The most important thing is that pCloud offer client side encryption of my files so I am sure they are safe up in the clouds!

If you want a password manager that is no creepy, try Encryptr. And it's totally free.

Root the phone and use Titanium backup. Done.
Android Central Newsletter
Thank you for signing up to Android Central. You will receive a verification email shortly.
There was a problem. Please refresh the page and try again.