How to back up your Android launcher, and why you should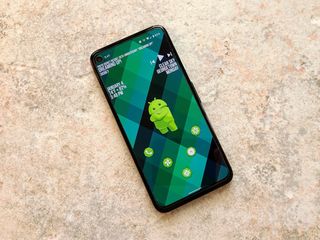 (Image credit: Ara Wagoner / Android Central)
We've all been there. You get a shiny new Android phone and want it to feel familiar, like the one you just replaced. But all your icons look different, everything's in a different place and your widgets are all gone. If you use a third-party launcher, it's possible to quickly get right back to where you were before — just back up your launcher and restore it!
There are thousands of different launchers out there as part of Android awesome theming ecosystem, and most of the good ones have a way to back up and restore them across devices. Most follow the same general steps, so we'll include the steps for each of the Best Android Launchers.
Why you should back up your launcher and a quick word about widgets
There are a few reasons to regularly back up your launcher — ensuring you don't lose your setup if your phone is destroyed or lost and having a safe restore point if you screw up the configuration somehow — but most of us only back up our launcher when we're in the process of setting up a new phone so that we don't have to set everything up from scratch again.
While backup/restore functionality is a pretty standard feature among third-party launchers, the launcher that came with your phone likely does not. Some manufacturers like Samsung allow you to transfer over your One UI home screen setup from your old phone to your new one when you're using Smart Switch, but they're the exception, not the rule.
If you're using the built-in launcher and want to back it up, your best bet is to use the import function in either Nova Launcher or Action Launcher. This will let you ease into the world of third-party launchers as well as let you back your home screen up for transfer to a new phone.
A word about widgets
Android widgets are kind of a hot mess and we're hopeful that they'll get the overhaul they deserve in Android 12. Until then, though, widgets aren't able to be properly backed up the way your app icons, layout, and wallpaper are.
Some launchers will back up the location and app source of your widget, and other launchers just don't back them up at all. In either event, you'll have to re-create the widget on your new phone. It's not the launcher's fault, it's Google's.
Backing up Smart Launcher 5
Long-press a blank space on your home screen until a menu appears.
Swipe up or tap Show all settings.
Tap Backup.
Tap Create new.
Enter a name for your backup.
Tap Continue.
Long-press the new backup until a menu appears.
Tap Send.
Tap OK to acknowledge the privacy warning.
Tap the app or contact you want to upload your backup to.
Backing up Nova Launcher
Long-press a blank space on your home screen until a menu appears.
Tap Settings.
Tap Backup & import settings.
Tap Backup.
Enter a name for your backup.
Tap Device storage.
Tap Share in the dropdown menu.
Tap OK.
Tap the app or contact you want to upload your backup to.
Backing up Action Launcher
Long-press a blank space on your home screen until a menu appears.
Tap Home settings.
Scroll down and tap Import & backup.
Tap Backup.
Tap Storage app.
Enter a name for your backup.
Tap Save.
Select the folder you want and tap Save.
You can also set up regular backups in this menu, and once you import your setup on your new phone in this same menu, I highly suggest you do so. Automatic backups are great and I wish more launchers had them!!
Backing up Microsoft Launcher
Long-press a blank space on your home screen until a menu appears.
Tap Launcher settings.
Tap Back up and restore.
Tap Back up Microsoft Launcher.
Tap Backup to local storage.
Tap Backup to cloud storage from the dropdown menu.
Tap Back up.
You can deselect portions of the launcher you want to not backup, but you probably shouldn't.
Tap Back up now.
Microsoft Launcher backs up to Microsoft OneDrive rather than Google Drive, so just be aware of that.
Backing up Niagara Launcher
Niagara Launcher technically uses auto-backup via Android's cloud backup system, but it can be hit or miss at times. Hopefully, there will be a method for manual backups in the future, but given how few features there are in Niagara's stripped-down layout, it's not too hard to get it back up and running on a new phone.
Backing up Lawnchair
Long-press a blank space on your home screen until a menu appears.
Tap Home Settings.
Tap Back Up & Restore.
Tap Create.
Enter a name for your backup.
Tap Custom.
Tap the checkmark in the bottom right corner.
Select the folder you want and tap Save.
Back it up early and often
As mentioned previously, one major reason to back up your launcher setting and home screen theme is so that you don't have to start from scratch should your phone be shattered beyond usability or stolen. While I wish all launchers had automatic backups like Action Launcher, at least backing up your launcher manually only takes a few seconds, and most launchers will let you back it up straight to the cloud.
Android Central Newsletter
Get instant access to breaking news, the hottest reviews, great deals and helpful tips
Ara Wagoner was a staff writer at Android Central. She themes phones and pokes YouTube Music with a stick. When she's not writing about cases, Chromebooks, or customization, she's wandering around Walt Disney World. If you see her without headphones, RUN. You can follow her on Twitter at @arawagco.
I wish the widget thing would be easier, but like you say, at least you have the place holder. Also, beware of restoring a backup from a phone into a tablet or you'll end up with the same layout but with a blown up grid size, having to re-adjust grid sizes and placements for non-tablet apps (like Phone or system apps). Oh, and wallpapers aren't included with your backups :(

It depends, actually. I have wallpapers get restored sometimes. Posted via the Android Central App

Mmm... I wonder on what. Granted, I've only used Nova's backups and so far only in 3 phones and a tablet, but every time I have to re-download my wallpapers. No biggie, I still keep them in Drive but an added step for me.

I just switched back to Nova Prime from Action 3. One thing I love about these launchers is that they can restore your setup from the previous launcher. No more fiddling around endlessly for that setup, though you may have to do some adjustments. Posted via the Android Central App

What happens if you don't have all the apps installed? Does the Launcher have holes in the set up when you restore from the backup?

Nova and Action will have holes. Google Now Launcher will have placeholders telling you to go download the app. Posted via the Android Central App

I use Nova Launcher on my phone and on my tablet. I backup almost every week, not because I buy a new phone so often, but because I tend to play around with the layout of my homescreen every now and then, and I like being able to go back to my previous layout without a hassle. Posted via the Android Central App

Life wouldn't be the same without android launchers and Emulators. Posted via the Android Central App

I can understand the need to backup, it's good feature to have, however, strangely I quite enjoy the process of setting them up from scratch, they might not be exactly how I left them but there's always the chance you find a nice new widget or a different way of doing things in the process

pfff...homescreens...mine consists of a dock with the few icons I do need and a TOTALLY bare screen otherwise. I don't need a ton of icons cluttering things up. my app drawer is a flick away. pretty simple, really.

Ha! This is _exactly_ what I do. I get the impression there aren't many of us though... :P

Love the backup feature in Nova..if your not rooted it's the next best thing. Posted via Serenity

I need to get back to backing up my Nova. Unlocked Marshmallow Nexus 6 on Verizon. I'm a happy guy.

Smart Launcher Pro makes it as easy as anybody. Lets you name backups, stores a copy to a backup folder, and lets you send a copy to the cloud, to an SD card, or via email. Restores widgets with a tap (yes, you have to do settings on widgets). Posted via the Android Central App

Catching up on stuff I hadn't had time to read. Thanks for the reminder. I made some changes this week and hadn't backed them up. Also lost a whole folder before that because it wasn't backed up.

I use the CM launcher ... the only launcher i have ever used !!! Posted via the Android Central App

I love the BlackBerry launcher bit alas no backup function! I'm hoping with the short cut keys (52 of em ) on the KEYone I can follow the minimalist approach and only have dock visible and maybe a couple of widgets on another screen.

But wait.. I probably won't be able to back up my 52 shortcuts in all likelihood! Damn!

this is why i like pixel/Google now launcher.
No need for manual backup and it restores automatically

What is it, with Google, always reinventing the wheel?
How old is Google launcher?
Not old and it will be killed off soon?
They're silly.

Silly question: is there a way to back up the default launcher in my Galaxy S5? Probably not.

Most first-party launchers don't have backup functions, sadly. You can import your current backup into a number of launchers that you can take to new phones, though!

Yeah, that's what I figured. Silly Samsung.

So the LG G6 and S8's native launcher's don't have a backup feature? I'm planning to get the G6 and use Arrow and this is a really good reason to not use the stock launcher if true.

Some manufacturers allow you to import your layout from your old phone when you use their device migration tool to go between two of their phones, but for the most part, no, they don't let you back up their launchers.

Good stuff, I have a few Nova launcher backups

I don't get this hysteria around leaving the Google Now Launcher like it's a sinking ship.

Well, it's being unpublished from Google Play meaning that once it is, when you go to a new phone you'll have to use something else.

I was using GNL from day one on my 5x but thought might as well try Nova prime given that status of GNL. It's easy to get overwhelmed with all of Nova's features but it's certainly impressive and an easy backup function.

I backup my arrow launcher every time I make changes. It means if I have to reinstall I have the latest version backed up. Takes seconds and saves hours.

I have everything stock and each time I've gotten a new phone and set it up all my icons and my wallpapers appear on my new phone just as they were on the old one.
Android Central Newsletter
Get instant access to breaking news, the hottest reviews, great deals and helpful tips
Thank you for signing up to Android Central. You will receive a verification email shortly.
There was a problem. Please refresh the page and try again.