Ask AC: Can I use a Qualcomm Quick Charger with my Nexus 6P or 5X?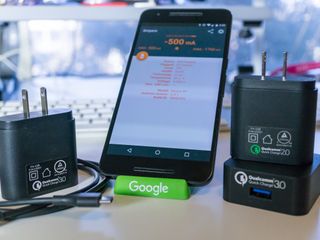 (Image credit: Jerry Hildenbrand / Android Central)
We get this question a lot. "Is it OK to use my Quick Charge 2.0/3.0 charger with my new Nexus 6P or Nexus 5X?" I completely understand why we get the question, and am happy to see people asking. With several different methods of rapid charging, new USB connectors, new USB standards (that nobody is fully using because they aren't finished) and cables that can burn up phones and laptops, asking questions is a good idea. Nobody likes it when things go boom. Except this guy.
The short answer — as long as you're using a good cable, your phone will charge. It will charge slower than it does with the included Nexus charger, but it doesn't get too hot or catch on fire or pop the circuit breaker when you plug it in. But that's a boring answer and doesn't let me sit at my desk and play with things. Let's take a closer look.
Warning
Don't use one of those USB plug-in power meters if you want to try this at home. They are a passthrough device with their own circuitry and may not be able to handle the higher load and may not be able to correctly pass it through. I love my little meter (opens in new tab), at least as much as I can love a meter (which is a lot more than you think — my meter's name is Charlene, Sir!). But until someone you trust says you can use a particular one with no issues, don't use one on any USB-C equipment.
Also — the whole shitty-cable thing. There are a lot of cables out there. Some are good. Some aren't. I'll just say you should only ever use a cable that comes from the people who made your phone and have more lawyers than me. You can buy a USB-C to USB-C cable (opens in new tab) or a USB-A to USB-C cable (opens in new tab) from Google. I'll take the easy way out and say that's what you should do. If you do something differently, do some Internet reading to find out which cables are good according to whoever.
For some examples of how much juice flows from the charger to your phone, I used the Ampere app (opens in new tab). It's not going to be perfect down to the single milliamp, but it does read the data supplied by the charging circuitry inside your phone. For what we're doing, it's plenty good enough. And it's fun to try and beat your high score.
Reference
On the left, you see the Ampere screen when my Nexus 6P is sitting idle. The important number is the -320 mA you see in orange. My phone, doing the normal things I have in the background, settles in somewhere around -320 if I let it sit still for 15 seconds or so. That means it's pulling 320 mA of power from the battery. That number can jump around a little, but -320 is a good average spot to use with my phone. You need to install the Ampere app and watch your phone for a few minutes to see your "sweet spot."
On the right is the Ampere screen when my 6P (with an 80 percent charge so it's not cheating and quick-charging) is plugged into the Nexus charger and cable that came with it. It's a USB-C to USB-C cable, and a Huawei branded USB-C quick-charger. After a few seconds, it settles in around 2,120 mA on the Ampere screen. When you factor in the 320 mA my phone uses (remember, that's just an average) you see that the Nexus USB-C quick charger is pushing out about 2,440 mA to the battery. The way Ampere works means you need to factor in how much juice your phone is using to get the total. And remember — this probably isn't a true milliamp reading like you would get if you tore things apart and used a multimeter. But it's close enough for our purposes. So — the Nexus charger and cable puts out about 2,440 mA while it's charging on my Nexus 6P with about 80 percent battery left.
Qualcomm Quick Chargers
From left: Aukey PA-U28 USB Turbo Charger, Tronsmart WC1T 3.0 Qualcomm Certified Charger, Aukey PA-U28 USB Turbo Charger (old QC 2.0 version)
The Aukey PA-U28 USB Turbo Charger

(opens in new tab)

: This is a certified Qualcomm Quick Charge 3.0 charger that is very popular — I have both the new and the old 2.0 model. It works extremely well charging QC 2.0 phones, will work with QC 3.0 phones and is pretty cheap. A lot of people have this charger and want to use it with their Nexus 6P or 5X. And you can, with no problem. Using the USB-A to USB-C cable from Google, it puts out 1,430 mA (1,110 plus 320) on average according to the Ampere app. More importantly, your phone or the charger itself doesn't get hot and nobody dies at the end. It just charges slower than the Nexus charger.
The Tronsmart WC1T 3.0 Qualcomm Certified Charger

(opens in new tab)

: Another popular pick that's Qualcomm Quick Charge 3.0 certified. This charger works great with phones like the Droid Turbo or any other QC 2.0 model, and will work with QC 3.0 phones when they arrive. Using the USB-A to USB-C cable from Google, it pushes 1,230 mA to your battery as measured by the Ampere app. Again — no overheating or sparks. It works fine, though it will charge a bit slower than the Huawei USB-C quick charger that came with my 6P. It's also going to charge a little slower than the Aukey charger, but not enough to worry about. You can't get "quick charging" unless you're using the right quick-charger for your phone.
The old version of the Aukey PA-U28 USB Turbo Charger: This is the Qualcomm Quick Charge 2.0 version of the Aukey USB Turbo Charger that I had in my laptop bag. You probably can't buy it any longer, but I figure a good many people have one and might want to use it. And I am having fun. It sends 1,250 mA to my Nexus 6P battery per the Ampere app, using that same USB-A to USB-C cable from Google. Again — this isn't nearly as much as a proper quick charger built for the 6P, but it charges just fine and nothing dangerous happens.
What? You lost me. Nerd.
That's OK! There are several different ways we can measure how much electricity goes from the wall to your phone battery. I'm using the Ampere app (it reads data from the charging circuit as it reports it to the system) which uses milliamps (mA) as a measurement. More milliamps = a faster charge. A lower milliamp output means your phone will charge slower.
The Nexus charger was built to quick charge the 6P and 5X as well as fill the battery after the quick-charge cycle is done, but other certified quick-chargers (Qualcomm, Samsung, Motorola etc.) aren't. But they can still charge your new Nexus without bad things happening. We'll see more companies building USB-C compatible quick chargers in 2016. If you are looking to buy a second one, but still have the charger from your last phone (or already bought a QC 3.0 charger), you can wait until we see who offers what.
Just be sure to use the right cable, and shy away from anything you don't know is 100 percent compliant.
Senior Editor — Google Ecosystem
Jerry is an amateur woodworker and struggling shade tree mechanic. There's nothing he can't take apart, but many things he can't reassemble. You'll find him writing and speaking his loud opinion on Android Central and occasionally on Twitter.
Nice phone. Posted via the Android Central App

What's the definitive answer... "Quick charging my phone will shorten the life of the battery" True or false? As of now, I assume it does and therefore, use a 2.0 charger sparingly. I say 2.0 because I have an older flagship

There is no definitive answer for rapid-charging li/po batteries like the ones in phones just yet. I'm going to go out on a limb and say it's similar to rapid-charging NiMH cells — as long as you're not charging in an environment that's too hot or too cold, and don't overcharge, there's not enough difference for a consumer to care about. So yeah, it probably affects battery longevity, but chances are not enough that you'll ever notice as long as you're following manufacturer recommendations. Having said that, I always just plug my phones in at night and let them run all night with whatever charger i have laying around. Never noticed any difference between using fast chargers and regular chargers.

I do the same at night. I pamper my batteries- don't let them get below 30%, stay between 50-80 most all the time, pull when charged to ~95%, avoid the 2.0 if I can. I'm not gonna lie, having an embedded battery drives me a little crazy. If I had a removable battery, I'd quick charge every time and switch it every 9 months or so. Then again, I usually go through 4-5 phones a year, or more. At least that's been my pattern until recently. Posted via the Android Central App

I can change my battery with opening some screws , always QuickChargeing when Flexing :) via LG Flex2 with BlackBerry VKB

I have an m8, which is hard to work on Posted via the Android Central App

why even worry about it if you change phones that often? even if you switch every 2 years the affect on battery isn't noticeable. i hear where you're coming from though, I'm equally as obsessed with battery. since my Nexus 4 I send em in usually around the 18 month mark for a new battery. I used to keep my phones for 2-3 years (business and personal) but with phones plateauing nowadays, I'll keep em for 3 years and spend my money elsewhere, unless some must have feature hits. Anyway, for anyone that doesn't have a replaceable battery, and keeps there phones closer to 3 years (which I suspect more people will going forward) the $100 to swap batteries is a good investment.

I could die using the m8. Lmao. I'm a fan for sure. Maybe I should pay for a new battery... Nope. Let's go HTC!! M10 gonna blow doors off Sammy and LG. And they're gonna make the next nexus and I might buy that... Posted via the Android Central App

yeah this is definitely a make or break year for them. all things being equal, I'll go for Sense. The M10 would go nice with my 6p and I don't think I'd have a problem making them both last awhile. I'd definitely be interested in the Nexus, but I can't imagine trading mine in so early, and one of the things that makes HTC great is Sense. It'll be tough to top what Huawei did, and other than Force Touch I can't imagine any features so significant it'd be worthy of an upgrade after just 12 months. And the people that bashed the M10 renders is hysterical. They say it looks just like a Samsung, then they praise the S7 (which is worthy of the accolades). I just don't get why an original design, in 2016 is so important. A nice design is a nice design, and if somebody likes the Samsung aesthetics, how can they not like the M10 render? And it's all black, no branding ... what is there possibly not to like? I don't know when it happened, but not to long ago Android fans used to make fun of iPhone fans for being pretentious and overly concerned about image and looks. I was never part of that crowd, but it's amazing how so many Android fans abandon a great phone for what they perceive to be a slight imperfection. And 9/10 it's on the back of the phone that gets covered anyway. Then they go and buy an ugly screen protector with the most rugged case available, only to complain 5 months later cause their phone hasn't been updated! Anyway, HTC will really have to f up for the m10 not to replace my s4. And I have a feeling those crybabies whining about boomsound will be pleasantly surprised ... as for the people complaining it's not original enough, they're hopeless. let em enjoy their iron man cases, glass phones and cracked displays!

Yeah it is make or break, I agree. Unlike a lot of people, I actually think HTC has the space to be successful with the m10, if its the right device. If the camera is good and they market correctly, they can steer the ship back in the right direction. I'm 90% sure I'll get the m10, blindly, but there's a chance the g5 could be my next phone, too. Posted via the Android Central App

Agree 100 percent with everything you just said. Posted via the Android Central App

Me too. Just checked with a reliable shop and they charge me 45 euros to change the battery, in some months I will be doing it. No need to upgrade, to be honest, I still love my m8, especially since the Marshmallow update.

I do not pamper my batteries. Quick charge all the time. My droid turbo and my Moto pure show no signs of damage. Turbo is almost 2 yrs old and gets used everyday as does my pure. According to Qualcomm and Moto it does not damage your battery. Posted via the Android Central App

That's great to hear Posted via the Android Central App

True, but the Turbo has an awesome battery already (at least my son's does) and he is always in his phone streaming something!!

Why do u even care about battery life if you're going thru 4-5 phones a year, lol. That's like 2 1/2 - 3 months a phone, nowhere near enough time to put a dent in a battery Posted via the Android Central App

I finally decided to keep and use daily my m8. I haven't switched recently, and will likely keep this until the fall, or longer. Posted via the Android Central App

If it causes more heat then we can be pretty certain it shortens the lifespan.

Tell Charlene I said hi. Posted via Nexus 6P

Good to know. Though I'm more curious about external batteries for that would work well with the 6P. Currently looking at the RAVPower QC 3.0 that has a Type-C port. Any chance you'd be able to look into that?

I have the 21k mAh and it works great. Bought it on Amazon for $55 a couple months ago.

Any good 2.0 phone chargers that have a built-in micro usb cord? Government requirement that the cord not be detachable...

Probably not yet Posted via the Android Central App

Isn't the -320 mA drain on idle shown in the article quite high...? With my tweaked and under volted kernel on my LG G2 I regularly only burn -10mA... http://i.imgur.com/OTVdOU3.png

Not high at all
http://imgur.com/JhxcRpl

Anybody else use tenergy QC 2.0 or anything by them? Posted via the Android Central App

Does Charlene have a younger sister?

O_o Posted via the Android Central App

Im using a lg v10 and its usually 340 on idle, the lowest was 180 and the highest was 1065 so far Posted via the Android Central App

Nice advice. Thanks Jerry. Posted via the Android Central App

I use this meter and if you cut the shared power solder jumper it will handle the higher voltage. Quickcharge actually uses less current due to the higher voltage. http://friedcircuits.us/46

Solid article Jerry. Once again you ply the depths for the info so we don't have to. As for Charlene.... "THIS IS MY NEXUS, THERE ARE MANY LIKE IT BUT THIS ONE IS MINE!" Posted via the Android Central App

I just love how my phone can be on 30% and then full in 30 minutes. Posted via the Android Central App

I wonder how people will view that comment in 5yrs as battery and charging will continue to get better. I wonder if illiterate people get the full effect of alphabet soup

I think I read that wireless charging is not compatible with USB-C. Is that true or was I day dreaming? The Nexus 6P has USB-C and it appears it does not have wireless charging.

Wha? If it's wireless what difference does the cord type make?

@daleg You were definitely day dreaming. USB-C has nothing to do with wireless charging, unless you're taking about a USB-C wireless charger, in which case compatibility/interoperability would be inherent.

Any testing or suggestions on vehicle dc chargers? I've had this old aukey for a while and wonder about getting a newer qc? 3hr commute and I'm ABC... Old:
https://www.amazon.com/gp/aw/d/B00LJK4HE0/ref=ya_aw_od_pi?ie=UTF8&psc=1&... Thanks

I've noticed this. While using one of those Samsung Quick chargers from an s6, I've noticed that the phone will say "Charging Rapidly" but the estimated time to full is always lower by 30 minutes (give or take) compared to plugging it in with C to C. Granted it's not a QC quick charger, but I'm assuming the tech behind it would be similar. Posted from my beloved Nexus 5X :)

No thanks. I'm good with my original type c charger from huawei.

My understanding of Qualcomm quick charging is that it doesn't rely on amperage, it uses different voltages. Looking at the output specifications of my Motorola 2.0 quick charger reads...
Standard: 5V / 1.67A (8W) TurboPower: 9V / 1.67A (15W) TurboPower: 12V / 1.2A (15W) So this indicates that under quick charging the charger puts out a higher voltage with lower amperage and standard charging is a lower voltage with higher amperage.

Right. But you also need a Qualcomm certified device to get those higher voltages. The BlackBerry priv in the picture above is a QC 2.0 certified phone — it's charging at 9.07 volts. When you use a Qualcomm QC 2.0 or 3.0 charger on a phone that's not Qualcomm QC certified, the nominal 5 volts is all you should ever get.

I have a couple of older non-Quickcharge car chargers that were sold as iPad compatible, both of which charge my Nexus 5x at around 2100, similar to what an iPad charges at if I'm not mistaken. Not as fast as the included LG charger, but better than the ones in this article, and cheaper.

A good objective take on the subject but something is missing. QC2.0 and 3.0 can utilize either 5, 9 or 12 volt modes depending on the battery state. USB C only uses 5 volt usb. QC will draw lower amperage in the higher voltage modes (read the output rating label on your QC charger). I think some testing charge times from 0 to 100 percent with both QC and USB C chargers would be a more accurate way to see the difference. Knowing what I know, I think we will find that QC may perform faster from 0 to 60% as that is when it is operating at the higher voltages. Bear in mind that USB C can deliver up to 3 amps at 5 volts, so the difference really might be minor. To the point of the article, either charger is fine as long as long as they are both well made. Cheap chargers peak and sag and destroy batteries, stay away from those. The processor in your device is what is actually controlling all the charging. All the more reason to make sure you have a good one that can communicate properly and do what the processor asks of it.

Nice to meet you, Charlene.

I bought a few 3 packs of the old BlackBerry Playbook chargers for $10/pack. Using a Benson approved micro-USB to USB-C adapter on them I get ~1400mA with my 6P. I am surprised its higher than the much newer QC chargers..

I need a good charger replacement for my G3. Any suggestion? Anyone?

What does everyone use on a car charger for the Nexus 6P?

What about the reverse of using a Nexus 6P Fast Charger with a QC 2.0 phone/device?
Android Central Newsletter
Get the best of Android Central in in your inbox, every day!
Thank you for signing up to Android Central. You will receive a verification email shortly.
There was a problem. Please refresh the page and try again.