Android Oreo rollout resumes for Galaxy S8/S8+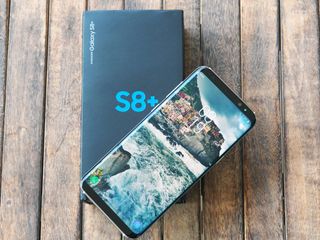 (Image credit: Android Central)
Android Oreo's availability for the Galaxy S8 has been, problematic. Samsung didn't start issuing a public update until February 8 (more than five months after Oreo's release), and then on February 14 it was stopped due to instances of phones randomly rebooting after upgrading to the new software.
Thankfully, users are now reporting that Samsung has finally resumed Oreo's rollout. The new firmware version numbers are G950FXXU1CRB7 and G955XXU1CRB7, and if you already downloaded the first Oreo update earlier this month, the new software should weight in at a little more than 530MB.
Similar to last time, this update is being made available in Germany and will then expand to more countries over the coming days and weeks.
If you've got a Galaxy S8, have you received Oreo on your phone yet?
Joe Maring was a Senior Editor for Android Central between 2017 and 2021. You can reach him on Twitter at @JoeMaring1.
Yay I'll have the update weeks before I get the S9+ lol

My carrier (Claro in Dominican Republic) never upgrades a phone until several months after the new model has been released. Guess they think people won't upgrade to a new phone if their old one is on the same Android version of the new model. So I'm guessing that I'll get Oreo sometime mid June.

Pretty sad the s9 series will be released before the update to Oreo on the s8 series. Their updates suck, big time!

Now its back on the cards again does it mean we could get it through the Samsung update tool before it is available in other countries over the air or is the tool country specific also....???....

Luckily I have AT&T so I will not have to learn about anything above 7.0...

Christ, this is taking an age isn't it. I went with Samsung for the first time with the S8+ after the Pixel screen fiasco and while it is a great phone in many ways Samsung's updates are glacial and I've been more disappointed with the pathetic security updates. I'm three months behind. Ok perhaps I should have taken Samsung's reputation into consideration, but I didn't think it would be this bad...

That suck here on west coast us im up to jan on sec. Updates and have ben great maybe a month off at most

Do you want it right or fast?

Both, excuse maker, as they should be providing after you purchase their flagship product.

Who is your carrier. I have the January patch on my S7's through T-Mobile

We have an optimist here🙃

This is exactly why I went with a Pixel this time around. My wife has the S8+ on Verizon--no love yet.

Thank you for being a guinea pig

Keep slinging those excuses, fanboy.

Couldn't care less. As long as security updates are fairly on time. And so far we're (Note8/verizon) as always a month behind but, at least, I get them.

My AT&T version of the S8 plus is on the December 1, 2017 security patch, so your doing alright if you have January 2018.

Yesterday spoken, today February security update downloaded.

Now, when can we expect to have this for the Note8? Hopefully, before Note9 availability!

I'll have Android P on my Pixel 2 XL before you Samsung guys see Oreo. Lmao.

And you'll get all the bugs....

That's sweet, prolific and full of Samboy excuses.

Sad isn't it. That's why I won't buy another Samsung. However, I need microSD so I don't know where I'm going next.

Oh boy....LG v20 should be hopefully getting one soon....better be..smh

The S8 is a nice phone with a beautiful design and display but slow updates and Sammy bloat and my love of stock Android are why I'll go with a Pixel as my next phone (currently using an midrange Chinese Oukitel K6 on 7.1.1) still I was extremely tempted by the Note 8 which I adore the design and prefer over the S8.

Do Beta testers get an actual update? Been wondering that for weeks now.

Me too. Anyone in UK had any luck with the update. I haven't been able to use Android pay for months.

When is LG going start to rolling out Android Oreo to it's 2017 phones.😎

Maybe after the V40 is released! Yikes!

🤣 Curious what the expectations are for the Oreo install base prior to Android P launch this fall? Would Vegas bookies put the over / under as high as 25%? Latest numbers reveal Android 8.0 is on 0.8% of Android devices, and 8.1 is on 0.3%.... six months after the Oreo release! Some how.... Lol.. the world has not ended even though 99% of Android users are not using Oreo. https://developer.android.com/about/dashboards/index.html

Lol 😂, Samsung SUCKS at updates, intentionally, and the best part is all the Samsung court jesters with the lame excuses and responses.

Lol... Another Pixel user obsessed on having the latest submenu operating system tweaks, and accepts lousy hardware.

Got the S8 on release, it's my first Android Samsung. I will never buy another Samsung phone. All the crap they put on the phone, plus the slow updates (especially on verizon) have ruined the experience.

Updates are less relavent these days. The S8 is fine, as is.

Pay cash for a unlocked for and take it anywhere you want you only have minimal crap from samsung to put up with. No bloatware from major carriers which actually slow the phone down and take of space on memory.

S8+ on Verizon. I have Dec security update on 7.0 . The security is important, 8.0 not so much, but 8 months is too slow. My wife's Note 8 got the Feb security update last night and she is on 7.1.
Kind of ridiculous of Samsung to treat customers so indifferently.

My guess is that Sammy considers the clambering for updates not as bad as the uproar of not doing it right. They can take the slings and arrows of the few rather than the catapults from the masses.

Not sure what the reason is but I suspect 90% of Samsung owners don't know what version they are on and 10% really don't care.

S8+ AT&T, so I'm stuck on Nougat - probably till mid summer. Still miss my Note 4 with Marshmallow.

Just got Oreo on my S8+ ..Im on T-MOBILE US 👍🏼
Android Central Newsletter
Get the best of Android Central in in your inbox, every day!
Thank you for signing up to Android Central. You will receive a verification email shortly.
There was a problem. Please refresh the page and try again.