Android 4.0.2 for the Samsung Galaxy Nexus rolling out again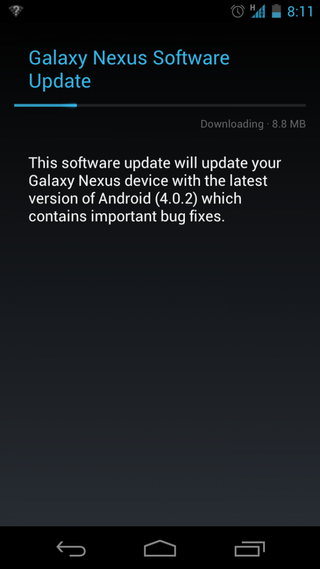 Mmmm. Can you taste that (almost) fresh new version of Ice Cream Sandwich? It appears as though Android 4.0.2 is rolling out to the GSM versions of the Samsung Galaxy Nexus again via an OTA update, so if you were one of the unlucky ones who have yet to receive it now may be your time. Weighing in at only 8.8MB it is pretty obvious that this is just a few bug fixes, but hey who doesn't enjoy a nice update for their device. If you haven't been notified of the update be sure to head into your settings and check manually for the update. Be sure to hop in the forums and let us know how it works out for you, and what you changes you notice.
A big thanks from Phil goes out to Seth Weintraub!
Jared started off writing about mobile phones back when BlackBerry ruled the market, and Windows Mobile was kinda cool. Now, with a family, mortgage and other responsibilities he has no choice but to look for the best deals, and he's here to share them with you.
Great, now how about all the rest of the nexus line

The Galaxy Nexus is the only Nexus that matters!

n i need my nexus s update...

The Nexus S won't be getting the update because Samsung blows.

u must be confused with the galaxy s

Yeah right....like HTC is so much better lol Google picked samsung over HTC for a reason, you know. They obviously didn't like something about the company if they decided to go with another company to make their flagship.

i need it so bad... been waiting for weeks... jeez

why are they downgrading??? SNS got 4.0.3 in December, now it's 4.0.2??? What's up, google?? Why are you downgrading instead of just patching the full 4.0.3 and calling it 4.0.4???

The LTE version is on 4.0.3. The GSM version (which is what is being referenced here) is on 4.0.1, and is getting the update to 4.0.2. The VZW Galaxy Nexus is not being downgraded, only the GSM version is getting this update.

The Nexus S (i9020T) has 4.0.3 The Verizon Galaxy Nexus has 4.0.2 Most GSM Galaxy Nexus phones have updated to 4.0.2 The GSM Galaxy Nexus (the phones getting this update) shipped with 4.0.1 The Nexus S 4G has 2.3.7 The other GSM Nexus S variants have 2.3.6 Remember, the Nexus S 4G is a "special" partner phone, as it's the only phone to have Google Wallet, and the only Nexus to have limited MMS capability in Google Voice because Google is working with Sprint on both those projects. I expect an update soon, with a new version bump (4.0.4) I just had to sit and verify the latest versions of each for a different project, so I figured I'd chime in.

Whoops, gotcha. My mistake. In any case, I knew it wasn't a downgrade, at least! ;)

I have a verizon nexus and im running 4.0.2.

Such confusing and we thought the nexus line was pure

4.02? Lolz [IMG]http://i300.photobucket.com/albums/nn10/thefastlane425/Screenshot_2012-0...

This is most likely just a late 4.0.2 update to a non-yakju GSM galaxy nexus. remember, builds other than mysid and yakju are updated by samsung and not google so it is entirely possible for a samsung updated galaxy nexus to be receiving a late update. You can tell because the update notification fills the entire screen. official google updates are just the little pop-up window notification.

https://market.android.com/details?id=de.cbruegg.officialupdate there is a way on XDA to even switch to Yakju :http://forum.xda-developers.com/showthread.php?t=1391881

My coworker has a yakju GSM GNex.. He has been stuck on 4.0.1 since he got it. We just tried checking for an update with no luck. His Nexus S has been on 4.0.3 for a few weeks to make this all the more frustrating.

No joy for me on my Galaxy Nexus either. Running on Bell in Canada. Still reporting 4.0.1 as the latest version. EDIT: I just grabbed that GN update checker from the market and I'm on yakjuux which is not updated by google.

So you guys have a nexus and are still waiting for old ass ota updates? Dang...

I wouldn't call it old. IT is at most a few weeks since release, and OTA updates are always rolled out in stages. That and you can't compare 4.0.2 and 4.0.3 as 4.0.3 is released only for the Nexus S.

Something else interesting is this update file is slightly larger than the "old" 4.0.2 update, by around 100KB.

"but hey who doesn't enjoy a nice update for their device" Gee, oh, that would be EVERYONE WHO DOESNT HAVE A GSM GALAXY NEXUS... Last I checked that was around 30 million of us. Let's hope those "important bugfixes" aren't anything that anyone actually needs on their phone.

My transformer prime is running 4.0.3. If I remember correctly this happened with gingerbread as well, nexus s was running 2.3.1 and other devices started getting 2.4.1. They incremented the version of other devices to for no apparent reason other.

I have the yakju build (updated by google) and still no update available just wondering how long its going to take fo get 4.0.2 let alone 4.0.3 is anyone else with yakju build still on 4.0.1

Got 4.02 update this morning here in Germany on the Galaxy Nexus I bought outright, not from a carrier. Glad to see updates coming through so fast after the phone is released. I was so sick of carriers and manufacturers getting in the way of things before. I remember how T-Mobile cancelled the YouTube app on the HTC HD2 I bought from them. Actually had HTC take it off the phone so that it wouldn't compete so well with the iPhone which they had an exclusive on back then. HTC was totally open about it. Never again - Nexus all the way!

This 4.0.2 build, as far as I can tell, is for the Galaxy Nexus GSM Phones that have the "yakju" digital fingerprint (which is the fingerprint Google directly updates) Most of the people I know that have other Galaxy Nexus Phones have "yakjuxw". Samsung is sometimes a pain when it comes to updating, even if it is directly from Google, Samsung decides when the official update goes out to the phones they handle updates on. If you can't wait for the update you can flash a new image with the "yakju" digital fingerprint so you get them immediately when Google releases them. Make sure the Bootloader is unlocked (Doesn't have to be rooted) and Drivers are installed properly. http://forum.xda-developers.com/showthread.php?t=1391881 Follow the instructions in the thread that starts "for a noob with a Windows box, do this:" Member: rubiconjp Your Data will be Wiped!! Back Up Everything. I recommended this because now any update Google releases is immediately available to You and You don't have to wait on Samsung to release the already Google Released update.

I just got the 4.02 update this morning (I'm in Sydney Australia). One of the first things I noticed is that live wallpapers are now much smoother (even the Seasons Zen HD runs much better). Has anyone else noticed this?

my gsm nexus s version is still on 2.3.4,i have not gotten the OTA update,why ???
Android Central Newsletter
Get the best of Android Central in in your inbox, every day!
Thank you for signing up to Android Central. You will receive a verification email shortly.
There was a problem. Please refresh the page and try again.