Android 4.0 finally hits European Motorola RAZR and RAZR MAXX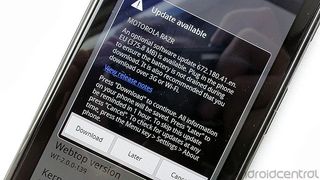 After what seems like an eternity, Motorola RAZR and RAZR MAXX owners in Europe are finally receiving their Android 4.0 Ice Cream Sandwich OTA. Following a successful soak test, the build being pushed out is version 672.180.41. The download weighs a whopping 375.8MB, so you'll probably want to leave this one to Wifi rather than HSPA. As both RAZR and MAXX run the same firmware, the update file is also identical
Once the update is applied, RAZR owners can look forward to a redesigned UI based upon the Android 4.x design language, as well as new lock screen enhancements and much improved performance. We tore down the RAZR ICS firmware when it first landed on Verizon's version, the Droid RAZR, in June, so check out our hands-on article for more info on what's changed.
Anyone seeing ICS on their GSM RAZR this afternoon? Hit the comments and let us know.
Android Central Newsletter
Get instant access to breaking news, the hottest reviews, great deals and helpful tips
Alex was with Android Central for over a decade, producing written and video content for the site, and served as global Executive Editor from 2016 to 2022.
I'm totally amazed that the GSM version came after the CDMA version since the GSM version was leaked much earlier.

Finally it is here! Downloading now... Pretty big file 375.8mb. Will take it for a spin after installing it and will report on it later. Now when is JellyBean going to be released for it? lol

Don't do it. My wife's RAZR is a POS after the upgrade. Motorola needs to work on it a bit longer. Some of the issues it had before and fixed are back. It's slow and bugs galore.

So you don't recommend the update? She got this exact update? I am in the downloading phase... not yet installed it. If its gonna be buggy i am not really interested in it. My phone is running pretty stable and nice right now, No Problems. What kind of issues is the phone facing, if you don't mind me asking. I do not want to get stuck on an update that will not be worthwhile. Thanks

I recommend you doing a clear reinstall, there might be an app that is causing the problem, that should solve your problems it solved mine when i installed ics over GB

Ok so now.... can anyone who has downloaded and installed this same exact update on their EU razr please give me a little report on it. I have downloaded the file but i am now skeptical about installing it. I don't really want a problem after the update, and i definitely do not want to do a clear re-install of this update. I want to just update my phone and whatever app doesn't work just gets deleted or updated to the ICS version and i go from there. I surely don't want disappearing signal, No wifi, freezing, restarts, and excessive power drains. No sense in updating to something i was patiently waiting for if all it is going to be is a problem. So any experiences from users will be appreciated.

Didn't Motorola push this update last month ? Or that update was exculsive to Germany ? 375.8MB only ? I was expecting a bigger size , my Atrix's Gingerbread update was a 380MB

Unfortunately not in all of Europe yet... From what I read in xda and their FB page, the rollout has started for UK, Romania and Slovenia so far. Nothing yet in Greece :(

Don't worry, Greece probably is in the 2nd patch ...
Motorola usually release their updates within a week or two (emae wise)

I hope someone can help me please. I have a factory unlocked motorola razr xt910 bought in the uk running gingerbread 2.3.6. Last week, I got a notification from motorola on the handset that ICS 4.04 was available to download and install. Great i thought and did a factory reset to give the update a clean install. After resetting the phone, the update is no longer available rather, it's not being pushed to the phone. Keeps saying my phone is up to date even though i'm still on gingerbread 2.3.6. I called motorola uk who are puzzled as to why the update would no longer show after a reset. They tried to push the update to my phone but it won't come through. Motorola have no idea what to do and niether do I. Can anyone help me please? Thank you :)
Android Central Newsletter
Get instant access to breaking news, the hottest reviews, great deals and helpful tips
Thank you for signing up to Android Central. You will receive a verification email shortly.
There was a problem. Please refresh the page and try again.