Android 3.1 update for Acer Iconia Tab A500 leaks out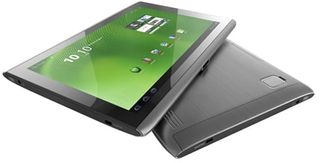 If you're the proud owner of an Acer Iconia Tab A500 then you're no doubt waiting for Android 3.1 to be rolled out -- which should be coming in July. However, if you're a risk taker you can grab the recently leaked version of Android 3.1 for the Iconia Tab and take it for a spin.
The reports thus far state that the leak is leaps and bounds better then version it shipped with but like all things, your mileage will vary. You can hit the source links below for the full details and the download link if you're looking to give a shot. Make sure you follow the instructions for the best results.
Android Central Newsletter
Get instant access to breaking news, the hottest reviews, great deals and helpful tips
So almost every single manufacturer of Honeycomb tablets that have modified the Ui have beaten Motorola and the 3.1 update for European Xooms? We've been waiting all this time so they could add SD support. I'm utterly disappointed in Motorola. Well done Acer, Asus and Samaung. Impressed with your swift updates.

They've also unlocked the bootloader and ported numerous custom ROMs over to it - the last remaining hurdle to placing the Iconia as a serious Android 10.1 tablet contender, imho. The full USB port on the tab itself makes it really standout. As far as benchmarks, I'm overclocked to 1600mhz with an ASUS based 3.1 ROM and got a 116 linpack score and 4500 quadrant (I know quadrant isn't all that great, but still). It runs silky smooth, no lag, flash/browser loads instantly, everything I want Honeycomb to be.

Be sure you read the ENTIRE 28 page (and growing) XDA thread on this leak before you rush in. The authenticity of this leak is questioned, and it came from mainland China. (Acer is an Taiwanese company).
LOTS of people are having problems with this leaked version. Perhaps because they don't know what they are doing, but also because it has been hacked and re-hacked and was probably an early experimental build in the first place. People are losing Gmail apps and all sorts of things. The fact that Acer delayed the release to the 5th from the previously announced 23rd suggests they had more work to do.

The "your mileage will vary" thing is getting tiresome.

Seeing that the Iconia has a full USB port on the side, can you connect a portable 2.5 inch hdd to it and play movies, music etc?

Though I haven't done this yet.. You can connect an external hard drive to the Iconia and it will see it.. Provided that the drive is formatted FAT.. Not to mention the music/movies needs to be in a format that the Tablet can read. I have connect a Flash USB Drive and it saw it just fine.

Yes. There's an app in the market specifically for the Iconia called "USB Mount All" that will allow you to attach both NTFS and FAT32 formatted drives. My 1TB external HDD works wonderfully. :)

Or you could us Drive Mount for free!

Does it have to be rooted in order to work? If it does is there another program that will do it without rooting?

It,s been 5 days on the roll out and my unit hasn't picked up why? I don't trust just any other website for this major upgrade ( not done properly it can screw up) my tablet. Anyone knows how to force download?
Android Central Newsletter
Get instant access to breaking news, the hottest reviews, great deals and helpful tips
Thank you for signing up to Android Central. You will receive a verification email shortly.
There was a problem. Please refresh the page and try again.