The Amazon Fire TV Stick is only $25 at Best Buy today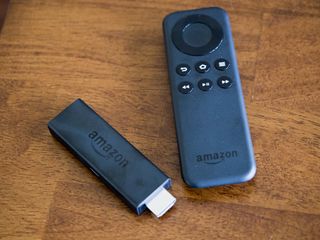 Best Buy is offering a one-day savings on the Amazon Fire TV Stick, dropping the price of this streaming accessory to only $24.99. The streaming media accessory usually retails for $39, but Best Buy has placed it as a Deal of the Day, along with a $15 savings. The Fire TV Stick comes with its own remote and you can download an app to control it easily, allowing you to switch between a variety of streaming platforms, like Hulu Plus, HBO Go, and others to watch your favorite show with ease.
If you have been looking to add a streaming media player to your collection, be sure to check out this deal from Best Buy. The deal is good for today only, so you won't want to wait too long before making the purchase.
Buy the Amazon Fire TV Stick from Best Buy for $24.99 (opens in new tab)
Thanks for the tip, Brian!
Jared started off writing about mobile phones back when BlackBerry ruled the market, and Windows Mobile was kinda cool. Now, with a family, mortgage and other responsibilities he has no choice but to look for the best deals, and he's here to share them with you.
I literally ordered one at full price yesterday from amazon. LOL

It should have a 30 day return window.

Call amazon today during business hours and ask them to pricematch. If they don't then ask them to cancel order and order from best buy. Posted via the Android Central App

meh i bought chromecast with $10 giftcard. way better deal than this. but you can price match

So you think 29.99 you paid out of pocket for a chrome cast and a 10 gift card is a better deal then a fire stick for 24.99 that has 50% more processing power and 2x the memory and 4x the storage of Chromecast? Not to mention the fire stick comes with a remote and can run independently of your tablet or phone. Lol wow... Posted via the Android Central App

Ha. Look at the nerds obsessed with stats in a product where its lost importance.

+1 Posted via the Android Central App

+1 Posted via the Android Central App

Look you made some new friends that +1 ed you. A guy with a transformer as his icon and another with a cartoon character holding a phone. They want to make you king nerd lol. This fire stick sold-out online at best buy sears and kmart in no time so it looks like some people were still interested in it. Still available for in store pickup in some places though... Posted via the Android Central App

I for one think the Chromecast sucks. I really like the Roku 3 and Fire TV Stick. Asus Zenphone 2 (4GB RAM)

even with 2x memory 50% more processing power its freezes many time. I used it for a while and later sold it because of bad experience

Same here, but I replaced it with a FireTV and all is good. The stick just does not have the power to do what I want. The TV however does. I can do what i need to do with the FireTV and it rocks. I have no need for a Chromecast or a Stick. But I am glad there are options. I may need something like those two in the future.

damn I just ordered on last week, this is great deal, get it and load up Kodi with a few addons and you have one heck of a device.

So this is why Best Buy was trying to get me to buy the Fire Stick this past Saturday. Still, $29.99 is an okay deal for Chromecast. Besides most of my stuff is bought through Google. LG G2
GSIII
Galaxy Note 4
(The Sprint Lover)

Thanks for posting my tip AC! The $25 price for this device matches amazon prime day Sale price a few weeks ago which sold out in a few hours. Great price for this device that can run independent of your phone or tablet and comes with a remote. I am grabbing 4 to give as gifts as I already already have the fire tv set top box and a fire stick and couldn't be happier with them. Posted via the Android Central App

Using your phone as a remote is the best thing about Chromecast. You can watch videos and queue up others at the same time.

No choice but to use your phone as a remote is the main reason I dislike the Chromecast. Asus Zenphone 2 (4GB RAM)

You can use your phone as a remote with the Fire as well, if you want.

One word: Kodi You will thank me later.

Ha, that's why I got mine today. :) I've passed up several sales on this before, but I saw someone mention that Kodi works well on it (which I just used recently for the first time and became a believer), so I decided to pull the trigger, and I will be using it in an older non-smart HDTV. :)

Terrible product. I had this thing for 3 months. It is the slowest thing I have ever used. It would freeze daily and had to be rebooted multiple times a day. I will forever stick with roku after trying all the wanna be streaming players. Posted via the Android Central App

Toss in a Fire Phone and I might be interested ;)

bplink +1! besides you can load KODI on the fire stick... If you don't know you better ask somebody!!! And you will never need anything else.... Oh yeah in this world numbers do matter especially if you are Commenting on $ Get outta nutball! Posted via the Android Central App

:) Posted via the Android Central App

I bought one back when they were initially offered for $20. It's great with Amazon content, but it'll sometimes struggle with Netflix. Video will pause while the audio keeps going. Then the video rapidly catches up. Doesn't happen all the time, but it gets annoying. Thinking about replacing it with another Roku 3. My current Roku 3 runs everything very well, regardless of the app.

FWIW, I haven't had any Netflix issues on mine. Plex, OTOH..... -- LG Access LTE

Love, love, love my FireTV Stick with Kodi sideloaded! -- LG Access LTE

Hey guys... How do you suffer load kodi on the fire stick please. Is it the Aff Media Center app? Thanks. Posted via the Android Central App

I meant side load... LoL Posted via the Android Central App

The information you want can be found on Kodi's website. -- RCA Voyager

TRY THIS TO REVIEW http://tvboxfire.blogspot.com/

Great article. For those who live outside US like me, you can access Netflix, Hulu and similar media stations on your Amazon Fire TV by using UnoTelly or similar tools.
Android Central Newsletter
Thank you for signing up to Android Central. You will receive a verification email shortly.
There was a problem. Please refresh the page and try again.