The Amazon Echo Input is the logical successor to the Chromecast Audio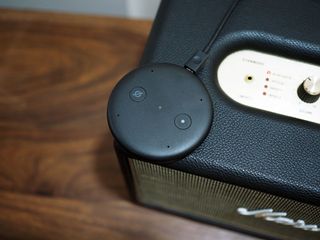 The Chromecast is arguably one of Google's best products to date. The dongle made it incredibly easy for those looking to connect their older TVs to the internet, and the low price tag ensured it was accessible to everyone. The Chromecast Audio did the same for stereo systems, bringing multi-room audio and internet connectivity without the need to overhaul existing gear.
But what sold the Chromecast Audio for me was the seamless integration with streaming services. I have a lot of older audio gear in my house that's either limited to Bluetooth or analog connectors, and the Chromecast Audio instantly turned those legacy products into smart speakers. All I had to do was connect the audio gear to a Chromecast Audio via the bundled 3.5mm jack, go through the initial configuration, and select my streaming service of choice to cast music to that designated speaker.
Setting up a Chromecast Audio took under five minutes from start to finish, and once configured, it just worked. This level of simplicity is what made the Chromecast line so popular over the years. That's why it was so surprising when Google announced that it was ending sales of the Chromecast Audio at the end of last year. Unlike the regular Chromecast — which is now in its third generation — the Chromecast Audio didn't receive any updates, and it's possible the dongle may not have sold as many units as its TV counterpart.
But if you're looking to upgrade your older audio gear, there's now a new alternative. Amazon started sales of the Echo Input just as Google was pulling the Chromecast Audio off shelves, and the timing couldn't have been better. The Echo Input serves the same purpose as a Chromecast Audio, but it offers Bluetooth connectivity and Alexa integration.
It's no coincidence that the Echo Input costs $35 (opens in new tab), the same price as the Chromecast Audio. Amazon is essentially pitting the Echo Input as a successor to the Chromecast Audio, and after using it for over a month, it's easy to see why. Setting up an Echo Input is just as easy as a Chromecast — you'll have to connect it to a speaker via an aux cable or Bluetooth and pair it to your home Wi-Fi network. The Bluetooth integration is an added bonus that makes the Echo Input stand out.
The device itself has a similar hockey puck form factor as the Chromecast Audio, but with a larger footprint due to the four mic array located at the top. The differentiating feature with the Echo Input is Alexa integration, with the dongle turning any old speaker into an Echo device. You'll be able to ask Alexa for weather updates, control smart home products, set reminders, get news and score updates, and generally interact with the virtual assistant as you would on any other Echo device.
The fact that you can do this on your existing audio gear shows just how determined Amazon is at getting Alexa into every corner of your house, and Google clearly missed out an opportunity to do the same with Chromecast. With I/O under three months away, it is entirely possible we'll see Google debut an Assistant-enabled version of Chromecast Audio to take on the Echo Input.
Until then, however, if you're looking for an easy way to upgrade your home audio, Amazon has you covered.
See at Amazon (opens in new tab)
Get the Android Central Newsletter
Instant access to breaking news, the hottest reviews, great deals and helpful tips.
Harish Jonnalagadda is a Senior Editor overseeing Asia at Android Central. He leads the site's coverage of Chinese phone brands, contributing to reviews, features, and buying guides. He also writes about storage servers, audio products, and the semiconductor industry. Contact him on Twitter at @chunkynerd.
The big thing I like about my Chromecast Audio is the ability to cast audio to my dumb speakers. I don't see the article mentioning if this is possible with the Echo Input. If all this does is add Alexa voice capabilities to an existing speaker, I don't see a need for it in my house.

$20 today on Amazon! (Feb 13)

It was £19 a couple of weeks ago here in the UK, which is why I thought I would give it a try.

i thought it would be, that is why I got one, but it is not, for a start the audio output signal on the chromecast is higher than the Echo input, even at full volume the Input just don't have it.
The second thing is there is no microphone on the chromecast audio, it does one thing and it does it well. I am as surprised as anyone that google is doing away with the chromecast audio, it is a great little device, sure I could have got bluetooth thingy for my hi-fi, but Blue-tooth audio quality is fine for a little speaker, but awful for even a midi system in sound quality, the other thing is your phone, tablet or what ever you are using needs to be connected to the streaming service all the time. i also got myself a video chromecast, but I hardly use that, the Audio one is used hell of a lot, so when I heard
that google was taking it off sale, I thought I would try the Echo input, as I do use amazon music these days in instead of spotify, but nope, the input is not a patch on the chromcast.

I believe it has an audio output for receivers.

You are better off with an Echo Dot than an Echo Input and you can typically find them cheaper. Other than their size there is no advantage that I can see.

I think there are so many options currently available for Chromecast Built-In in speakers, amplifiers and AV receivers that it kind of makes sense to discontinue the Chromecast Audio dongle. Most folks that would have wanted the dongle most likely have already bought one and so the demand for an add-on device has probably dwindled. I don't know if this Amazon thing can sync to multiple devices like Chromecast Audio can, but that is one of the most brilliant features of Chromecast Audio. I have a NAD integrated amp, a Sony ES receiver, an LG Smart Display, an outdoor WiFi speaker & 4 different indoor Sony WiFi speakers with all of these devices having Chromecast Built-In. I also have 3 Chromecast Audio dongles setup on powered speakers in other rooms in our home and I can group and play audio simultaneously throughout our home as I choose. In some of the rooms I paired Google Home Mini's with some of the Chromecast Audio devices so that depending where I am at the time of a request for audio Google Assistant will automatically start playback in the room where the request was made unless I ask it to play to a different room or specific group of speakers. With the necessary input, adding in the Home mini with the Chromecast Audio dongle allowed converting any dumb speaker setup to a smart speaker. I can't quite see how Amazon can compare to Chromecast Audio. Chromecast Audio can also playback hi-res audio at 192kHz/24bit. They sound great with albums I've bought off of the HDTracks, Acoustic Sounds and High Def Tape Transfers sites. A friend of mine has some sort of Amazon/Alexa puck that they struggle to get to work but when it does the audio sounds horrible. Even my little Google Home mini sounds better than that Amazon puck. I enjoy my Amazon Prime membership but based off of hearing that Amazon speaker I have low expectations for Amazon actually building a device that sounds as good as anything with Chromecast Audio.

Alvester you make the point that everyone else misses in your 4th paragraph. There is NOTHING that I know of out there that comes close to the price of the Chromecast Audio w/ the SPDIF adapter cable when streaming digitally to a DAC! Yes, you could go the Pie route (won't that look nice) and it's definitely entry level quality, but it's worlds better that the DAC in the unit itself and blows the hell out of the DAC in the Echo or Echo Input. For that reason alone it's a shame they quit making it!

Google made such a good product that there's no need to upgrade for the foreseeable future. Everyone who wants one likely already got one. The sales probably took a hit.. I have 3 audios paired into a group for my entire house. Plus a waterproof Brookstone speaker w/cca integration for backyard.. I did need to upgrade my home network to a mesh for it to work flawlessly, prior it had its hiccups. I have one Echo in kitchen. Honestly it's just meh, it sounds good. It serves it purpose I suppose. I would not buy these other products from Amazon however.

Is this post promoted by amazon? The similarities between the echo input and the chromecast audio mostly stop at the headphone jack.

It's rarely mentioned, but Chromecast Audio (CCA) features an optical (Toslink) digital output that allows bit-perfect streaming (up to 96Khz/24-bit) to a Digital-To-Analog Converter (DAC) of your choice. To say the CCA is no longer needed because other devices can do the same things is factually incorrect; almost no other device, regardless of cost, offers both Google Cast capability and a high resolution digital output compatible with most DACs. The Cambridge Audio CXN V2 network streamer is the only other device that I can think of that can do the same thing, but that device is $900, not $35 (or $15). I use my CCA and an Android app called Hi-Fi Cast to (bit-perfectly) stream standard and hi-res audio files served by my DLNA music server to my high-quality DAC, which in turn feeds my high-end stereo system. The beauty of Chromecast Audio is that I can also stream using other apps and services (Tidal, Spotify, Amazon Music, or a ton of other apps) in addition to music files, all feeding my DAC. Nothing else can do the same for even close to the same amount of money. I know my use case isn't common, but for me this is the big differentiator that makes the CCA unique, and getting rid of it, Google is making a big mistake. That said, If Google adds an optical output to the Google Home Mini or standard Chromecast and allows digital PCM signals to come through bit-perfectly (up to 96KHz/24-bit), I would be satisfied with that as an equivalent replacement.