The Chromecast Audio is being discontinued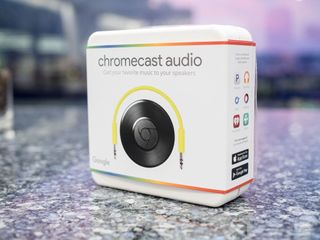 Chromecast Audio, Google's little dongle that turned dumb speakers into Chromecast targets, is officially being laid to rest.
Recently on the r/Chromecast subreddit, someone from the United Kingdom reported that a Chromecast Audio they ordered back in Christmas had been canceled. According to a support representative from Google that got in contact with them, the order was canceled as a result of the Chromecast Audio being discontinued.
Echoing what that customer support rep said, a Google spokesperson gave the following statement to 9to5Google:
If you've been following Google's hardware efforts, this likely doesn't come as much of a surprise.
The regular Chromecast and Chromecast Ultra still serve as great video streaming products, but when it comes to audio, the main focus is now on Google Assistant-powered devices like the Google Home and Home Mini.
For people that do have higher-end audio systems and don't feel like buying new speakers just to have the Google Assistant, I wouldn't be entirely surprised to see Google launch something like the Echo Input (opens in new tab) this year that turns older speakers into both a Chromecast target and outfits them with the Google Assistant, too.
In any case, if you want to pick up a Chromecast Audio before it's gone for good, B&H still has it in stock at a discounted price of just $15.
See at B&H (opens in new tab)
Get the Android Central Newsletter
Instant access to breaking news, the hottest reviews, great deals and helpful tips.
Joe Maring was a Senior Editor for Android Central between 2017 and 2021. You can reach him on Twitter at @JoeMaring1.
It's funny because this was the device I desperately wanted for the longest time-- a way to get my existing speakers to wirelessly play my Google Music collection. But by the time it came out, the Echo had already filled that need. But it is nice to live in an age where wireless music on your current stereo can be yours for under $30.

Glad I picked up my 4th one in the black friday sales, I have all I need now. Hopefully the next gen home mini will feature audio out, that would be perfect.

Home Mini already features audio out via Bluetooth. https://www.google.com/amp/s/www.androidcentral.com/how-use-bluetooth-pa...

sorry, but you don't understand how people are using CCA's. Nobody wants crap sound quality which is what you're getting over BT compared to a wired option and even a digital output. Nobody needs cabinet of Mini's connected to distribution amps that are out of site or even AV systems that are out of site. The point was you could bury these and use them as a Sonos type replacement. You do that with a Mini you need a BT adapter to your amp which is just dumb. If you use a video chromecast you need to extract the audio from the HDMI which requires another device which is a royal pain in the ass, especially if you have a bunch of zones going. You could still have Mini's in the actual zones, but the CCA is generally buried somewhere so having a speaker and mic attached just doesn't make sense.

But using a CCA means that it's not a 'wired option' at all because you're still 'casting'. I agree BT is low quality and should only be used in noisy environments like a running car or with speakers that don't matter like the mono Google Home, but to say BT is lower quality than chromecasting isn't saying much especially if the source is from a streaming service like Pandora, so using a BT adapter on a stereo system instead of a CCA isn't that 'dumb'.
The best quality would be to have a USB flash drive with music in WAV format connected directly to the sound system like I do sometimes on my Visio sound bar.

Yes all those things matter, like audio source and all that, but CCA still supports higher quality than Bluetooth. Also, audio quality aside this means I can't do multi room audio anymore. I have two CCAs now but can't really expand on it anymore I guess.

Maybe you should look at the way chromecast works. The chromecast is more or less taking the place of your computer or phone for that matter and is streaming, so the audio itself is not really going through the same sort of system that blue-tooth audio is.
.
The quality hitting the chomecoast will be the same as what is hitting your computer/phone. I think the chromecast audio is a great device and is cheaper than the Google mini.

Exactly. When streaming from Spotify, one can basically pick any sound zone they want from any location in the house. For those of us that have full home audio systems that is priceless. The larger the house the more useful that ability becomes. Especially when you can do the exact save with video. This pretty much assures that luxury homes will continue to be filled with Apple-based AV systems. If Google was smart they would make an even better (better converters), rack version of the Chromecast audio under the Nest division. They're often pretty clueless.

But maybe people do not want google assistant listening to them all the time. Also, as been said below, Bluetooth quality is not that good.

There is no microphone in CCA

I know, I was on about Google trying to push people towards their Google assistants to replace the chromecast audio.

You can use this device with a streaming service and a component audio system/powered speaker. Do need a GA.

I have a high end AVR system and I don't have to do anything because I have one of the many AVR receivers with Cast Built-in.

Not a solution for twenty zones.

I have to say I am glad I have the ones I have. I have some outdoor speakers on the patio, connected to an amp inside. No head unit, all I need is streaming music out there. I don't need another google assistant in that room (already have a Nvidia shield TV in that room and a google home in that room to serve that potential need) and the speakers aren't in the same room as the feed to them originates (outside vs inside) so the chromecast audio was great for that. I also use one in a room with a google home mini that I need to send music to the other dumb speakers in the room. The chromecast audio is the perfect solution for so many things. Shame to see it go, hopefully they do come up with something that gives some of those same - making dumb speakers streaming targets- functionality

Thanks for letting us know. I ordered one from B&H.

I have a chormecast audio, it is a great device, I think it is a silly idea to discontinue it, not everyone wants a smart assistant thing just to play music.>
i also have a video chromecast, but used it a couple of times since i had it around 3 years ago. the audio one i use most days.

This is a prime example of why I went away from Google to Amazon. Got burned by the Nexus Player and their lack of support for it.

There's no alternative for this on amazon so you went nowhere.

I went with Fire TV. I didn't say anything about having the chromecast audio. I said I had the Nexus player. Google's lack of support for it is what led me to going with Fire TV which led to going with Echo over Google Home.

Google supported nexus player with updates for several years after they stopped making it. Not sure what product was supported better. As far asCCA is concerned I have 2 and just ordered a third, I use optical connections to high quality digital receivers. It's a shame that Google didn't even try and market this product because there isn't a better bang for the buck for a person with a collection of high quality "dumb" audio equipment.

What about Echo input does the same job as this?

That is true. the Echo input is an Echo without a speaker, different thing.

I suspect that sales aren't that strong and the market is shrinking, in which case they probably should cancel it. I'm the only person I know with one, but that's obviously not a representative sample. It could also be an indicator that the next Google Home Mini will have an audio port, which would enable it to do both functions for about the same price as a Chromecast Audio. If you don't want it to be a voice assistant, then you can just mute the microphone. I envision a future in which Google sells a device that combines a Wifi mesh router, Google Home, Nest Protect, and Nest Temperature Sensor. I'd be shocked if they're not already working on it.

You're the only person you know that has one because you are the only enlightened person in your group. Time for better friends :)

I do not know anyone else with one either, or a video version, The mini is more expensive than the Chromecast audio.

Surprising. I really love my 3 chromecast audios for adding my soundbars to my cast groups.. whole house audio is a few phone taps away and my soundbars are the main speakers on the different floors of my house. Might pick up one more for future use.

I only use my CCA with my SONOS Play:5 to rig Google Assistant to SONOS. Hopefully I won't need mine in the not to distant future, but until then, you'll pry it out of my cold, dead hands.

I just order two for $30 last week.l from the Google Store.

i was thinking of getting another, just in case, but it could just be sitting here for years not used as mine may last for years.

Luckily I was able to reserve and pick one up at my local BestBuy $20+tax!

I have several of these and they work great. I do understand the decision to discontinue. But if you have dumb speakers or receivers, pick one up while you can!

Hopefully they do replace it with something like the echo input. The CCA was one of their best products. I have like 4 of them spread throughout my house

I just came off the phone with a Google support person. Regarding Chromecast Audio beeing replaced with a new product he told me: "I am not allowed to confirm this". However after speaking a little longer he told me he the CA will be replaced with "something" better. Now that could be alot of different products but as I asked I was after something that would work for my multi room ceiling mounted speaker setup. So I am positively excited about what could come next. (If interested in travel to Norway or Spain check out my website at:> www seljenes no).