Amazon Echo can now get news from CNN, NPR and Discovery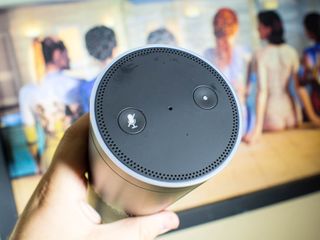 Amazon continually updates its Echo speaker, bringing improvements and new features to make it more useful, and this week, improvements focus on news. Users can now add even more sources to the Echo's Flash Briefing feature through the Settings section of the Alexa app. New sources include CNN, Bloomberg, NPR, Discovery News, ESPN Radio, and The Economist.
A couple of new skills have also been highlighted this week. RhymeZone is a rhyming dictionary that you can speak to. You can ask questions like "Alexa, what rhymes with stare?" and get a rhyming word in reply. You can also ask about baby names, getting answers about popular names in particular years. New skills can be added from the Skills section of the Alexa app.
You can, of course, pick up the Echo directly from Amazon, while the Alexa app is available for download on the Google play Store (opens in new tab)
See at Amazon (opens in new tab)
Since Amazon opened Echo to developers we're now getting weekly updates. Just keeps getting better. Posted via the Android Central App

I have to admit I just sort of wrote off the Echo when it came out. But the continued addition of cool features and all the positive user reviews here and elsewhere has me thinking I should pull the trigger and get one.

NPR radio ? Didn't even know that was still on the air. Watching paint dry would be more entertaining............I need to pick me up one of these.........anyone that own one ? What are the perks Posted via the Android Central App

If you have connected devices in your home (lights, TV, thermostat, etc.) the Echo is awesome. Just say, "Alexa, turn on the light" and let there be light. I also love being able to ask her random questions without having to dig my phone out, unlock it, go into google now, say "Ok google", etc. I just ask, "What year was President Obama born?" and she answers. Or one of my new favorites, "What time does Walgreen's close" and she tells me the answer for my local Walgreens. My wife also hooked her phone up to it (through IFTTT) so she can say, "Alexa, trigger find my phone" and then her phone starts ringing. Priceless.

NPR has been an available news source for the Echo for awhile. I've had mine for over 6 months and that is one of the major reasons I bought it, we'll ands it's integration with the rest of my home automation hardware. Posted via the Android Central App

I was only mildly interested in the Echo, still not really my cup of tea, but it is pretty impressive how often they update it

I don't get it, I asked Alexa what is the distance of the 3 point line in the NBA and she didn't know. Posted via the Android Central App

A little late to the party but cool Posted via the Android Central App

Why are all these great features and services always available in USA and never in my country?! :(

When did npr start doing news? Last I listened to them it was almost all biased commentary or editorial. I just want news with as little bias as I can get. Cnn is slightly better but lost credibility with the treyvon Martin crap they pulled. Is there a way to tell it which news sources you want to use?
Android Central Newsletter
Get the best of Android Central in in your inbox, every day!
Thank you for signing up to Android Central. You will receive a verification email shortly.
There was a problem. Please refresh the page and try again.