All-new Affirm app aims to be an alternative to traditional credit cards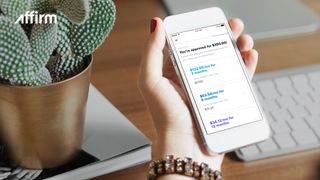 Credit cards are both awesome and terrible at the same time. They can be crazy helpful for big purchases that you need to make, but between hidden fees, outdated mobile apps, and plenty more, credit cards can often be a pain to use. PayPal co-founder Max Levchin launched Affirm in 2012 for handing out loans for online purchases, and today Affirm is launching its completely overhauled app with the goal of offering people a unique alternative for credit in the modern world.
When you hop into the Affirm app, getting started with a line of credit is broken up into three easy steps. Simply type in the name of the site you'd like to shop at, the amount that your purchase will cost, and if you're approved, you'll get a few different options to choose from for how you'd like to pay off whatever item you're buying.
Affirm lets you pay off your purchase over the course of three, six, or twelve months, and once you select the plan that works for you, you'll be assigned a virtual, one-time credit card that's used for that purchase and that purchase only.
Interest rates with Affirm range between ten and thirty-percent, with the exact number depending on how much you need to pay for. Affirm needs to approve you for each individual purchase that's made with the app, and Affirm says that you'll be able to get credit loans for up to $10,000. Couple this with Affirm's partnership with over 1,000 different retailers/outlets and a sleek design for the mobile app, and you've got a really compelling alternative to credit cards that we've known for so many years.
If you want to give Affirm's new app a shot, you can download it now from the Google Play Store and App Store for Android and iOS respectively.
Android Central Newsletter
Get instant access to breaking news, the hottest reviews, great deals and helpful tips
Joe Maring was a Senior Editor for Android Central between 2017 and 2021. You can reach him on Twitter at @JoeMaring1.
So, this is obviously an ad disguised as a news story, but this is actually kind of cool. I wish PayPal would do the same thing.

One could conceivably argue that nearly every article is an ad for something. The exceptions that come to mind are security warnings and maybe OS updates. Oh, and Jerry's weekend posts.

Lol basically every article by Jerry!!

No. Jerry does lots of carrier reviews and comparisons. Although he often says things about them that aren't so nice. And often AC inserts an ad for Mint SIM (or occasionally MetroPCS).

Slick, but not sure it'd make much sense for anyone concerned about their credit score. You're getting dinged on your credit report for a one-time line of credit as opposed to simply getting a credit card and using it whenever and wherever you need it. Am I missing something? EDIT:
From their website: "When you first create an Affirm account, we perform a 'soft' credit check to help verify your identity and determine your eligibility for financing. This 'soft' credit check will not affect your credit score. If you apply for more loans with Affirm, we may perform additional 'soft' credit checks to ensure that we offer you the best financing options possible." So they approve you with a soft pull apparently.

American Express does this.. It's built into your card already, and it's interest free.

Never mind... Just read the soft pull on your credit part.

sounds like a real hassle. is this one level above a loan shark?

I used them to purchase something online for $400. Payments weren't bad and I paid everything on time. Went to use it again and now my credit isn't accepted. Not sure what they did but they must have changed the banks they use.

Payday loans (equivalent) in an app.
Just say no.
Android Central Newsletter
Get instant access to breaking news, the hottest reviews, great deals and helpful tips
Thank you for signing up to Android Central. You will receive a verification email shortly.
There was a problem. Please refresh the page and try again.