Android Pay now lets you pay with a PayPal account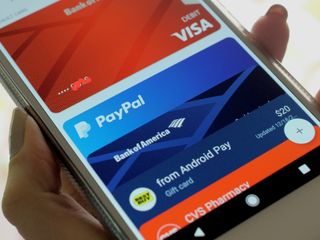 A month after it was initially announced, Android Pay finally offers official support for PayPal integration. With the latest app update, you can now file in your PayPal account with the rest of your debit, credit, and loyalty cards to use wherever NFC-enabled wireless payments are accepted.
The setup process is easy. When you're adding a new card to your virtual wallet inside the Android Pay app, tap Add other payment methods to select the PayPal option. Once it's logged in there, you'll be able to choose it as your payment method every time you fire up the app. PayPal will require that you input a "top up" amount, however, so be ready to put away about $10. You'll need your in-store PIN to set up the payment method, too.
Why would you want to use PayPal to pay for things? Well, let's say you run a business, for instance, and that's where all of your earnings go before they make it into your bank account. If you have Android Pay with your PayPal account, you can use that cash flow instantly without waiting for the other-bank transaction.
PayPal is also useful if you're traveling overseas with the family; it's great for setting up a budget pool of sorts, and with Android Pay launching in more countries, you'll be able to use that account on the fly. It's unclear if that's available at the moment, however, considering PayPal integration with Android Pay is currently limited to the U.S. If that applies to you, check out the Play Store to see if your app has been updated.
Get the Android Central Newsletter
Instant access to breaking news, the hottest reviews, great deals and helpful tips.
Florence Ion was formerly an editor and columnist at Android Central. She writes about Android-powered devices of all types and explores their usefulness in her everyday life. You can follow her on Twitter or watch her Tuesday nights on All About Android.