Acer offering up Iconia Tab 8 for $139 with $40 Best Buy gift card for the holidays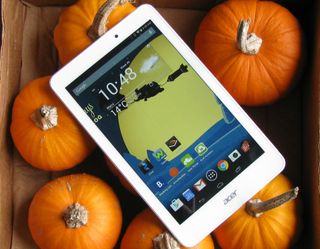 Acer and Best Buy are spreading some holiday cheer starting today with a great deal on the Iconia Tab 8. The current promotion takes the already inexpensive Tab 8 at $139 and throws in a $40 Best Buy gift card when you purchase, effectively bringing the price of the tablet down to just $100. For that price you're of course not getting barn-burning specs, but the Intel Atom-based Android 4.4 tablet with 1GB of RAM and 16GB of storage is pretty capable.
The deal is running both online (you can snag it at the source link below) and in-store from now until December 23 (while promo gift card supplies last), so you've got some time to make up your mind on this one. Even though it may be a step behind the highest-end tablets out there, at the price it's hard to beat for a holiday gift this season.
More: Best Buy (opens in new tab)
Two Gifts in One: Acer $139.99 Tablet Offered with $40 Best Buy Gift Card
New Acer tablet holiday offer kicks off with humorous campaign highlighting fitness-focused elves with extra time on their hands thanks to Acer
Dec. 14, 2014, San Jose, Calif. – Acer America today gives customers an incredible holiday deal at just the right time: the Acer Iconia Tab 8 (model A1-840-131U) with Intel Atom processor is now available at Best Buy starting at just $139.99 and comes with a free $40 Best Buy gift card. Starting today, the offer is available at Best Buy stores and online at BestBuy.com until December 23, 2014 or while the promotional gift card supplies last.(1) The Acer Iconia Tab 8 (model A1-840-131U) and $40 Best Buy gift card offer is being promoted in a unique and humorous advertising campaign featuring elves who – no longer busy making holiday toys thanks to the popularity of the Acer Iconia Tab 8 – are free to spend their time focusing on fitness to look great for the holidays. There are several versions of the video, including this 45-second spot.
The campaign is running broadly across a wide range of digital media in the United States to target families and young adults who are interested in purchasing a tablet during the holiday season. The media spend for this campaign is more than $1 million dollars and is estimated to reach 98 million consumers during its run through December 23.
Media placements will reach consumers via their computers and mobile devices, so they can take advantage of the great deal whether they are at home or on the go. The campaign includes video and banner ads on a variety of websites including news, shopping, lifestyle and enthusiast outlets. In addition, the tablet will be featured on in-store video walls and in point-of-purchase displays in Best Buy stores, as well as video and display ads on BestBuy.com. In addition, Acer America will support the campaign with social media programs.
"This campaign accomplishes something very important during the hectic holiday season – it provides our customers with an excellent deal and we hope it also gives them a laugh," said Richard Black, senior director of marketing, Acer America. "The discounted price of the Acer Iconia Tab 8 and the extra bonus of the free $40 Best Buy gift card will appeal to anyone who has been looking for an outstanding tablet at a great value."
"Intel and Acer wanted our breakthrough campaign to deliver some holiday joy and generate interest in this fantastic tablet," said Johan Koning, global account manager for Intel's partner marketing group. "We think our elves campaign really delivered."
Designed to be the ultimate device for fun, entertainment and staying in touch, the Acer Iconia Tab 8 is an Android tablet with a premium build, featuring an elegant crisp white bezel and detailed metal back cover. The Acer Iconia Tab 8 (model A1-840-131U) is powered by an Intel® Atom™ quad-core CPU delivering fluid and fast navigation through apps and websites, smooth video playback and better mobile gaming while also providing up to 7.5 hours of battery life.(2) The tablet's brilliant 8-inch HD display with IPS technology brilliantly shows video, games, photos and more in crisp and clear detail. The 16:10 screen ratio provides a better viewing area for reading e-books and browsing websites, while the thin and light design makes it comfortable for single-handed use.
Android Central Newsletter
Get instant access to breaking news, the hottest reviews, great deals and helpful tips
Andrew was an Executive Editor, U.S. at Android Central between 2012 and 2020.
After all the great suppot they gave me for my first acer 7 inch tablet, I still wouldn't touch another acer tablet. Ever again. Didn't we see a plea fron AC to not buy those $100 android tablets anyways? Posted via Android Central App

Agreed. I wouldn't touch tablet from Acer, Toshiba, or Lenovo at this point. And I would be even less likely to take a tablet from some no-name manufacturer or some rebranded Walmart junk. Abandoned hardware and stagnant OS versions will continue to plague until Google decided to really get serious about this. There is no reason, $ ones aside, for the lack of support on wi-fi tablets.

(Spec-wise) This one doesn't seem as bad as your normal $100 tablet. I can't say if this specific tablet is worth over $100 because I haven't used it or seen it in person, but it might be a good deal if someone is looking for a cheap tablet for their kids if they can use the best buy gift card.
Usually cheap tablets have less than 1gb of ram combined with a shitty processor, horrid screen resolution and hardly any internal space.
I don't know how this processor is, but it at least has 1gb of ram with 16gb of storage, and the screen resolution doesn't sound like it would be terribly bad like some of the tablets I've seen in best buy in the same price range. Posted via Android Central App

I bought an inexpensive tablet this season (for a non-techie) and considered this Acer tablet from Best Buy (before the promo), and ended up choosing the Lenovo A8 instead. The Acer certainly felt nice in hand with its metal design, and the screen was fine, but I liked the Lenovo better for an even cheaper price at the time. For an inexpensive, but still functional tab, this Acer is a decent choice. I even upgraded the floor model to KitKat at BestBuy, lol. Certainly better than the $100 no name crap sold everywhere!

Isn't this the same site that had an above-the-fold article titled "Don't Buy a Cheap Tablet on Black Friday"?

There's a huge difference in the Android tablet world between cheap (utter crap) devices and inexpensive (but still quite usable/functional) devices. I would suggest the Acer falls in the inexpensive side, not cheap. Cheap tabs are generally those sub $100 things that won't last a year. Posted via Android Central App with my Lollipop Nexus 4 on Cricket

The specs are almost, but not as good as the 2013 Google Nexus 7 made by Asus

Man i just love this !! http://wp.me/p4tyVl-U0

Man I just hate people like you! Posted via the Moto X Pure Edition

The Iconia Tab 8 has very good performance for a sub-$200 tablet. The camera sucks but very few people care about camera quality on a tablet.

I like TAB all time for my work. It's make my work easier. $40 gift card it's pretty interesting.
Android Central Newsletter
Get instant access to breaking news, the hottest reviews, great deals and helpful tips
Thank you for signing up to Android Central. You will receive a verification email shortly.
There was a problem. Please refresh the page and try again.