An $800 Galaxy S21 is impressive — except in a world with the S20 FE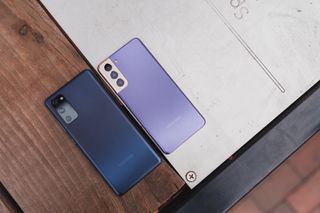 (Image credit: Hayato Huseman / Android Central)
Unless you were living under a rock last week, chances are you've heard all about Samsung's new Galaxy S21 series. The entire S21 lineup looks quite promising, offering the latest Snapdragon 888 processor from Qualcomm, a revamped design, new camera tech, etc.
Above all that, one of the biggest talking points for the Galaxy S21 is how the new phones actually cost less compared to the S20 family from last year. All three phones are $200 cheaper than their predecessors, with the S21 costing $800, the S21+ going for $1000, and the S21 Ultra coming out as the most expensive with an MSRP of $1200.
Those are really good prices considering what each phone brings to the table, and as you'd expect, that $800 Galaxy S21 is what will likely be the go-to Galaxy for a lot of people this year. It's effectively the same exact phone as the pricier S21+, has all of the flagship features you could ask for, and has a seriously competitive price. All of that makes the Galaxy S21 a home-run on paper, and while we have no doubt that it's a fantastic device in its own right, the overall package feels a bit underwhelming the minute you remember that last year's Galaxy S20 FE is still a thing.
We praised the S20 FE quite a bit last year, and even here in early 2021, it's still our number one pick as the best Android phone you can buy. It's one of those devices that sounds like it's too good to be true, because while it is technically a lesser version of the Galaxy S20+ from last year, the cuts Samsung made are incredibly minor. So long as you don't mind the plastic build, the S20 FE has everything we've come to expect from a flagship.
With the Galaxy S21, Samsung basically gave it the FE treatment without actually calling it that. It has virtually all of the same components and features as the $1000 S21+, but thanks to a plastic design, it's being sold for just $800. It's a formula that obviously worked incredibly well for the S20 FE, but the problem of the S21 is that compared to the FE, it's not that much better outside of the expected generational improvements.
To be fair, those generational improvements offered by the S21 shouldn't be scoffed at. The new Snapdragon 888 is Qualcomm's first-ever 5nm chipset, meaning you should be able to look forward to blistering fast performance. The camera package should also be a bit better, especially with the new 64MP telephoto sensor. Add that together with the revamped design and sub-6 + mmWave 5G connectivity, and there are real benefits of getting the newer S21 over the S20 FE.
Here's the thing, though. Those are all relatively small upgrades on top of what was already an excellent phone. The Snapdragon 865 in the S20 FE is still a stupidly-fast bit of tech, its cameras continue to take great photos, and being limited to sub-6 5G is hardly a con worth mentioning for 99% of people. Stacked side-by-side, the user experience offered by both phones is going to virtually indistinguishable in more ways than one.
There's also the fact that the Galaxy S20 FE is actually a better phone than the S21 in some regards. The Galaxy S21 doesn't have expandable storage at all, but on the S20 FE, you can pop in a microSD card and add up to 1TB of extra space. The S20 FE even benefits from a larger 4500 mAh battery compared to the 4000 mAh one present on the S21.
Comparing these two phones solely on specs is essentially splitting hairs, but where any of this matters is when you throw price into the mix. That $800 MSRP of the Galaxy S21 is fantastic, but considering you can regularly buy the S20 FE for just $600 these days, it's hard to justify shelling out another $200 for Samsung's latest. The added horsepower and newer cameras are great upgrades, no doubt, but given how good these two things already are on the S20 FE, it just doesn't make sense for most people to spend more for the S21.
Of course, this is a conversation that can (and will) shift a bit once Samsung starts discounting the retail price for the Galaxy S21. It's only a matter of time before that happens, and once we get to a point where you can buy the phone for $700 or $650, it'll have that appeal it's lacking right now.
Whether you wait for that day to come or decide to pick up the S20 FE this week, it's a win-win no matter how you look at it. Samsung's making really good phones for really competitive prices, and in the end, that's never something we'll complain about.
Undefeated champ
(opens in new tab)
The Samsung phone that's too good
We're thrilled to see Samsung cutting prices for the Galaxy S21 lineup, especially with the $800 baseline model. However, unless you really need the latest Snapdragon processor and upgraded cameras, the S20 FE is still the value flagship we recommend buying. The day-to-day experience is almost every bit as good, and with it often selling for just $600, it's considerably more affordable.
Joe Maring was a Senior Editor for Android Central between 2017 and 2021. You can reach him on Twitter at @JoeMaring1.
Don't forget the extra year of support and an extra letter upgrade for the S21.

I chose the 🌨️ red FE. It does everything I need it to do for my daily uses. It's extremely fast and the 120hz display is beautiful even at 1080p. The price & what's offered make it a great purchase. Plus I've had no touch screen issues or 👻 ing? For me it's a great buy!

"It has virtually all of the same components and features as the $1000 S21+, but thanks to a plastic design, it's being sold for just $800." The S21+ also has a plastic back. Feel free to have a couple more guesses...

The S21 plus has a glass back, maybe you should do a little bit more research before you try to correct somebody else 🤣

I have no idea why a glass back is a plus. Advantages of a glass back over plastic - The phone is heavier, the phone now has two sides of the phone that can crack when dropped. I have zero understanding why having a heavier phone provides a "premium feel".

Because so many of the out of touch "tech bloggers" claimed years ago that glass make a device premium, so the manufacturers went away from the much more durable material for glass.

Bring back the 'retro' world of form not being so far ahead of function. 15-20 years ago we had phones that had headphone jacks, batteries that could be swapped out by the user in about 30 seconds, changeable front and rear faceplates to accommodate style preferences and changes thereof. When you took them out of the box they didn't feel as premium as today's glass-bodied phones. Till you put them in a case (which wasn't as critical for the older phones as they could more easily sustain a fall (heck, I've seen Blackberry phones of yore pitched at a wall and still be fine)). No they weren't waterproof, but yes, you could easily live without fear of running out of juice without needing to be near an outlet or carry a bulky (relative to a replacement battery) battery pack. OEM's, for the most part, dried up their imagination on how to give us meaningful new features years ago, and since then have (mostly) been creating the perception of need for their newer features or 'must have' design evolutions.

I've spent a week with an S21 in my cart at Samsung's site. Trading in my iPhone 11 and getting the S21, with a hundred bucks worth of free accessories, and 10% cash back from Rakuten, all for $285, is really straining my will power!

I agree with the author. The FE is a much better deal. However, I'm a bit pissed because I traded in my Note 9 (thru TMO) for the FE and having to pay the remaining $200 on EIP (TMO gave me $500 for my N9). If I had waited, I could have gotten the S21 for free.

True, but you've had your FE for a while, have a larger screen than the S21, larger battery (though only time will tell whether the 21 can make up that lost 500mAh in efficiency of the newer chipset), MST, and expandable memory (I'm sure there's more, but those are just off the top of my head). Easy to look back and say 'if only I had waited,' but rest assured, there will be those who buy into the 21 now who are lamenting in the same manner when a S21 FE or something similar comes out in the Spring.

I had the red FE...I really wanted to keep it and like it...but the proximity sensor was toast! Simply did not work. Every time I removed it from my pocket the screen was on with multiple random taps being registered all over the place. Even though my screen seemed to work OK it did have the strange faults that are so well documented on various forums. Now, maybe (hopefully) all those issues have been fixed. But from my standpoint the FE is NOT the best phone in 2020, or 2021. I had been looking hard at the S21 Ultra...but WHY oh why did they have to put a CURVED screen on the ULTRA??? That alone made me stop looking. SMH

Just upgraded my S20 FE to OneUI 3.0. Touchscreen issues are fixed, proximity sensor issues are fixed, and the permanent beauty mode on the the selfie camera is gone. Seriously, I love to have the latest and greatest, but I really can't see any major faults with the FE.

Yep. I didn't have any issues before and just got the update for the FE. I like the changes.

The S21 is a lot smaller though and this is crucial to its target market. The S20 FE compares closer with the S21 Plus.

There is one problem in this compare..
The S20FE is not a competitor of the S21..
But for the S21+ Because size wise they are the same, also the battery.. Personally I wouldn't go for the FE because I also wouldn't go for the S21+. They are both just to big. So if I would buy one in would go for the S21, but yes if you are interested in the S21+... Then is a real big question is you should do that for that extra price...

S20 FE just got the One UI3.0 update here in New Mexico USA. It's running really well and all impressed with Samsung since returning back from the S7 days.

I have the unlocked model and it installed one ui 3.0 but still on December security patch.

Dear Joe, the FE weighs 190g, the Galaxy S21 170g. For 170g the S21 is the only phone on the market having such specs, with the Pixel 5 coming close second with a weaker cpu but at 151g.
I had a 190g Mate 20 before and believe me weight matters and can change the way you perceive your experience using the phone!

I'm torn here as well. I have an unlocked S20 FE running Android 11 and have been pretty happy with it but am tempted with the bumped specs of the S21 as well as the slightly smaller size. I have one in my cart as well and think I'll just get it and play with it for several days and see if it's really worth the trade. If not can always send it back.
Android Central Newsletter
Get the best of Android Central in in your inbox, every day!
Thank you for signing up to Android Central. You will receive a verification email shortly.
There was a problem. Please refresh the page and try again.