5 reasons to choose a Chrome tablet over a Chromebook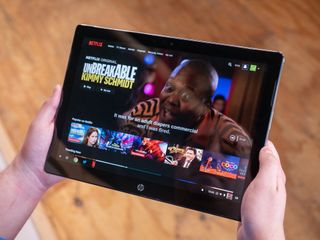 (Image credit: Android Central)
We're slowly entering a brave new world when it comes to Chromebooks. Android app support came along in 2016, making convertible Chromebooks a more enticing option. The Android app support has only gotten better since, and we're starting to see full tablets and detachable options like the HP Chromebook X2.
For many people, a Chromebook is already replacing Android tablets. Others still just want a laptop to be a laptop, and a tablet to be a tablet.
Here's why you should consider a Chrome tablet over a Chromebook!
Less weight
Simply put, if you take away half of a computer, it weighs about half as much. This is a bit nuanced since that means the processor and storage and other components needs to live on the screen side, but a tablet without a keyboard ends up being much less weight than a convertible laptop. The HP Chromebook X2 weighs 3.07 pounds as a laptop, and only 1.62 pounds as a tablet, while the Pixelbook weighs in at 2.4 pounds. That's not a huge difference on paper, but it makes a big difference when you're reading a long book or taking notes. And speaking of notes…
Easier pen use
The lower weight contributes to this, but being able to grip a solid surface instead of individual keys on the back of the tablet helps as well. If you do a whole lot of inking, you'll want a Chrome tablet to make the experience that much better.
Easier mobility
Right now the HP Chromebook X2 is the only Chrome tablet available to normal consumers — the Acer Chromebook Tab 10 is only available in educational channels — and its 12-inch screen makes it about the same size as most other Chromebooks. But other 10-inch and smaller tablets will become available, meaning the device will require less space in your bag. You'll still be able to use all the same accessories you can use on typical Chromebooks, so you can have your tablet on the go and a hub of expandability at home.
You can use it as a laptop anyway
While the Acer Chromebook Tab is 100% a tablet — it doesn't have a keyboard included like the HP model — it will still work with Bluetooth or USB keyboards. This is certainly clunkier than having a laptop with an attached keyboard, but it will work. As will your mice, webcams, microphones, and external displays. Meanwhile if you try taking the display off of a Pixelbook, it and your wallet will get very angry.
It's only going to get better
There are still a few areas that need smoothing out on the Chrome tablet experience. The interface is slowly moving to be more touch-friendly, with Android apps being able to run in split screen and access the microSD card. If you're going to use a Chrome tablet in a school or other enterprise, you'll need a physical keyboard to enroll the Chrome tablet into your administrative console.
But there's hope. A Google representative told Ars Technica that they expect to have a complete, tablet friendly UI by the end of 2018. A new Chrome version comes out every six weeks, so you'll see your tablet experience evolve very quickly over the next few months.
What are your thoughts?
Do you want your Chromebook to just be a laptop, or would you like to also use it as a tablet? Let us know down below!
Be an expert in 5 minutes
Get the latest news from Android Central, your trusted companion in the world of Android