5 reasons to choose a Chrome tablet over a Chromebook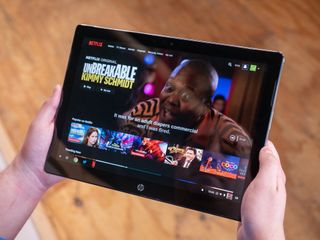 (Image credit: Android Central)
We're slowly entering a brave new world when it comes to Chromebooks. Android app support came along in 2016, making convertible Chromebooks a more enticing option. The Android app support has only gotten better since, and we're starting to see full tablets and detachable options like the HP Chromebook X2.
For many people, a Chromebook is already replacing Android tablets. Others still just want a laptop to be a laptop, and a tablet to be a tablet.
Here's why you should consider a Chrome tablet over a Chromebook!
Less weight
Simply put, if you take away half of a computer, it weighs about half as much. This is a bit nuanced since that means the processor and storage and other components needs to live on the screen side, but a tablet without a keyboard ends up being much less weight than a convertible laptop. The HP Chromebook X2 weighs 3.07 pounds as a laptop, and only 1.62 pounds as a tablet, while the Pixelbook weighs in at 2.4 pounds. That's not a huge difference on paper, but it makes a big difference when you're reading a long book or taking notes. And speaking of notes…
Easier pen use
The lower weight contributes to this, but being able to grip a solid surface instead of individual keys on the back of the tablet helps as well. If you do a whole lot of inking, you'll want a Chrome tablet to make the experience that much better.
Easier mobility
Right now the HP Chromebook X2 is the only Chrome tablet available to normal consumers — the Acer Chromebook Tab 10 is only available in educational channels — and its 12-inch screen makes it about the same size as most other Chromebooks. But other 10-inch and smaller tablets will become available, meaning the device will require less space in your bag. You'll still be able to use all the same accessories you can use on typical Chromebooks, so you can have your tablet on the go and a hub of expandability at home.
You can use it as a laptop anyway
While the Acer Chromebook Tab is 100% a tablet — it doesn't have a keyboard included like the HP model — it will still work with Bluetooth or USB keyboards. This is certainly clunkier than having a laptop with an attached keyboard, but it will work. As will your mice, webcams, microphones, and external displays. Meanwhile if you try taking the display off of a Pixelbook, it and your wallet will get very angry.
It's only going to get better
There are still a few areas that need smoothing out on the Chrome tablet experience. The interface is slowly moving to be more touch-friendly, with Android apps being able to run in split screen and access the microSD card. If you're going to use a Chrome tablet in a school or other enterprise, you'll need a physical keyboard to enroll the Chrome tablet into your administrative console.
But there's hope. A Google representative told Ars Technica that they expect to have a complete, tablet friendly UI by the end of 2018. A new Chrome version comes out every six weeks, so you'll see your tablet experience evolve very quickly over the next few months.
What are your thoughts?
Do you want your Chromebook to just be a laptop, or would you like to also use it as a tablet? Let us know down below!
Android Central Newsletter
Get instant access to breaking news, the hottest reviews, great deals and helpful tips
I'm really hoping that Google releases one. My Nexus 9 died and my Pixel C is really showing it's age. I need a tablet to be a tablet and never used a keyboard on either one.

I was in the same boat and bought the 8 inch Samsung tablet. Even though it's a year old... still a great little tablet.

Google really needs to expand ChromeOS availability if they really want it to become mass market. In many countries (including mine) there isn't a single officially launched Chromebook or Tablet available. From a user perspective, i hope Google brings the ability to add Widgets to the ChromeOS homescreen.

Theres 2 or 3 android apps I use in the UK that won't work on Chrome OS, so it's a no deal for me sadly

At this point, it's time to stop blaming Google and Chrome OS. Nearly all Android apps are now compatible. Put the blame where it belongs. Stop being big cowering wus. Contact the app developers and demand that they make a few small updates so that their apps run properly on Chrome OS. If they refuse, look for alternatives.

I'll rephrase. Theres 2 or 3 apps that won't ever run on Chrome OS as the Devs don't want them too. Don't be a dick

Would agree this is not on Google but the app developer. How was he a dick? Kind of calling him a dick is really a dick move. Grow up

The latter calling the former a dick would be a dick move, if the former didn't call the latter a big cowering wus.

Yeap! Agreed. mabr82 should stop whining and approach the developers of those 2 or 3 (don't know?) android apps and why they are not working on ChromeOS compatibility. It's not like Google can go to each developer and forcibly command, 'Make your apps work on ChromeOS!' This is a developer's issue. Find alternative solutions to the 2-3 apps that do not work like you want them to work. 100s out there.

I'd like to see Lenovo release a Miix 320 as a Chromebook. In a Chrome tablet, I'd like a 10-ish inch device, with built in GPS.

Add me to that list. I love my Samsung Pro as both a laptop and tablet, but Chrome tablets will never rival true tablets until they incorporate critical portability features like LTE, GPS, and rugged cases.

Hope they start coming out with a LTE option for these CB tablets/ 2-1s.

I have been following these developments with great interest. I use my present tablet daily, mostly for reading, email, watching videos. Occasionally I maintain my small business records with it. I like my hardware very much but I am disappointed with it's Android security maintenance. ChromeOS seems like the ideal replacement candidate for me, or perhaps will be by the end of the year. I owned a transformer tf300 for quite a while and enjoyed it. It was an Android tablets with an optional detachable keyboard. I used it as a tablet 80% of the time but the keyboard added a lot of functionality when I needed it. The HP X2 intrigues me.

"Others still just want a laptop to be a laptop, and a tablet to be a tablet." That would be me. For more than two years, I was iOS-only at home, and never once wished for an outboard mechanical keyboard for my iPad. For me, a tablet makes for a better "laptop" experience than does a laptop, with the onscreen virtual keys on the same plane, as opposed to a clamshell form factor. If a Chrome OS tablet can make full use of the "desktop" Google web apps—Docs, Sheets, et. al.—it sounds great to me.

I have been using a Samsung Tab4 for a few years now without any problems, I use Doc & Sheets daily, while moving around town. I also use as my home/business computer a ChromeBox I acquired after my HP laptop crashed. I have not missed anything using Android and Chrome for everything my business requires, I find it just easier. Yes, at home I do use a docking station.

Is there a decently sized ChromeOS tablet? If I were to pick one of these up it'd be to replace my iPad mini. 10" is too big.

I really need a new non-iPad tablet but everything out fails in one way or another (too expensive, cheap but poor specs, old software with little hope of updates, etc.). I am really hoping for a 8-9 inch Chrome OS tablet under $250.00 with solid build quality and a bright display.

both of my android tablets (a 7 and a 9) croaked during system updates and can not be restored. in the case of the 9, some MBA in the manufacturing org *locked* the boot loader. i sooo love lawyers and MBA's. i will never buy a tablet again from anyone (except maybe apple at this point, and i hate apple).

I was lucky enough to have an old ViewSonic Windows 8.1 tablet that wasn't used much so I happily loaded Neverware Cloudready on it. Astounding! This tablet was never this useful as a Windows device. Google is on the right track.

Ingenious! Most things can be done quite easily on Chromium OS without having to resort to Android apps.

My Nexus 7 (2nd gen) is hanging on but slowing and showing age. I need a new tablet (not a convertible). ChromeOS and Android apps should be a no brainer - really confused as to why this is taking so long. And the comment about price or cheap quality is right on - big problem. A phablet just doesn't do it for me.

Same here. Nexus 7 with no good replacement. 7" Amazon Fire is $50.

I'm testing the Acer Chrome tablet for my work and I haven't touched my windows tablet since I've had it. It would be better if it had a finger print sensor for sign in and ChromeOS still has too many android bugs for my taste (error messages randomly popping up and random selection of apps that work or don't). The device itself is reasonably light and manageable. The screen is good (for me anyway). The battery life doesn't seem as good as my old Nexus 7 tablets and the ChromeOS GUI isn't optimized for touch so can be a bit fiddly at times, but its definitely evolving in the right direction.

Kind of wish I did. I got impatient and bought a Chromebook pro. Really love it actually but feeling a keyboard on the back in tablet mode kind of sucks, won't lie.

Everyone is different. I barely notice the keys unless I intentionally think about it.

I've been eyeing the x2 lately, been debating whether to get it of an s3. I would just like to know what the benefits of chrome over android would be and what apps work on chromebook.

The biggest advantage of ChromeOS over Android is full desktop Chrome. Another is getting updates about every six weeks as opposed to being abandoned. Most Android apps should work.

I wish Google would make an affordable Chromebooks tablet with a great screen and speakers. I'm thinking about the new Samsung Tab A that will be coming out soon. But the lack of long term software updates is not appealing.

You don't actually need a keyboard to enroll these in an enterprise management. There is now a drop down "more options" menu on the first login screen where you can choose enterprise enrollment so you don't have to use the key combo (finally got my Acer Chromebook Tab 10 at work to test with last week).
I've got very high hopes for these things in my district!

No disrespect, but rather confusing read. Although an effort is made to distinguish between a Chromebook and Chrome tablet, at times it implies that a Chromebook is a tablet!!? Anyone else get this, or just me? Perhaps some tablets are branded as Chromebooks, is that it?

Or you could just buy a tablet after my nexus 9 died I got a m5 don't regret out either amazing device to use

Correct me if I'm wrong. Chromebooks now run more apps out of the box than any other device in the world, right? Play Store has more apps than App Store, plus web apps, plus Chrome apps, and now Linux apps are coming. A device that went from "but you can't run apps" to a device that has more apps than anything else. Boom.

I'd like an LTE Chrome OS tablet. I have the Samsung Chromebook Plus and it's good but it's a bit big for carrying everywhere. I use my LG G Pad (8" tablet on AT&T) constantly, especially to read books.

I agree with you. A Chrome OS tablet connected by LTE would be perfect for me. I currently am using the LG G Pad 8 inch tablet with T-Mobile and I really appreciate having it, but the screen resolution isn't the best and neither is the amount of storage.

Yeap! I want one. I just wish there were more choices then just the HP model (for now).

Really depends on your needs. I replaced my Mac book with. Pixel book and could not be happier. But would not have made sense to get a chrome tablet. I do development and need a laptop not a tablet. With the PB I now have gnu/Linux built which is better than OS x as the cloud is gnu/Linux. OS X is close and much better then windows but still not gnu/Linux. Now i can use the exact same containers I use in the cloud on my laptop. I can take a snap shot of a containers with an issue and debug on the plane. But then get the best security you can get.

This is what I want for my next tab. Hopefully Samsung will have a 10.5 inch Chrome tablet with LTE soon.

This is my next dream tablet! Samsung 10.5 chromebook tablet with lte,gps and that lovely S Pen. I have a Note8, Tab S3, Huawei Mediapad M3 and a Surface Pro (2018)... my Samsung Tab S3 gets the most use except for my phone if course... but I want LTE.

Why YOU CAN HAND WRITE is not written about?
I tried Google hand write "keyboard" in my ALLDOCUBE under 45€ 8" tablet, and writing with my fingers and it worked great. With any stylus I suppose it will work even better,
So if you can hand write, why would you need a physical keyboard?
For some special gaming perhaps, but that is not a normal use for a tablet.

Because some of us can type faster than we write.
Android Central Newsletter
Get instant access to breaking news, the hottest reviews, great deals and helpful tips
Thank you for signing up to Android Central. You will receive a verification email shortly.
There was a problem. Please refresh the page and try again.