3 Google Assistant Routines you should set up right now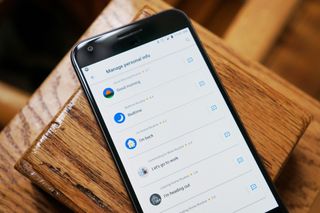 (Image credit: Android Central)
In just a few short years, Google Assistant has gone from a cool glimpse of the future to come to a legitimate digital helper that you can use every day with your smartphone, Google Home speakers, and soon via Google Assistant-powered smart displays.
One of the coolest new ways to use Google Assistant is the Routines feature which allows you to use one command to get Assistant to complete multiple actions. This feature is not available in all language and is best supported for English (U.S.), where custom created routines are still rolling out to users in America.
But custom routines aside, these are the most convenient Assistant routines you should set up right now!
Google Assistant Routines: Everything you need to know
Enhance your morning routine
Mornings are hard, but Google Assistant can help you be more productive as you're waking up. It's pretty common for people to reach for their smartphone as soon as you wake up in the morning — whether it's to check for any emails or messages received or simply to turn your phone off silent. But that ultimately distracts you from the other routine stuff you need to do to prepare for your day.
With the "Good Morning Routine", your Assistant can handle those mundane tasks like taking your phone off silent while also give you the day's weather forecast so you can plan your outfit and an estimation on your commute to work so you know how much time you have before you need to be out the door.
Depending on the Assistant-controlled smart devices in your home, you can also control the smart lights around the house or start brewing your day's first cup of coffee.
Then you can have Google play your favorite playlist, give you a rundown of the latest news, start playing your favorite morning radio station or load up a podcast to start your day. I'd personally recommend The Daily by the New York Times, which has become the informative highlight of my mornings.
All this can be triggered by simply saying "Good Morning", "Tell me about your day", or "I'm up".
These Products and Services Work with Google Home
Create a worry-free commute experience
Once you're ready to leave the house, use your Assistant to improve your daily commute.
Using Assistant on your phone, you can use the "Commute to Work" routine to get a briefing of any upcoming events for the day from your Google Calendar, get an up-to-the-minute update about traffic conditions for your commute, and adjust your Nest smart themostat to a lower temperature to cut down on your energy bills.
Finally, you can get Assistant to launch into your favorite playlist or podcasts and more and adjust the volume just the way you like it.
There's also a "Commute to Home" routine which offers a few different features, including sending texts to your significant other letting them know you're on your way home, or even broadcast that you're on your way home to Google Home devices around your house.
As you'd expect, there's a bit of setup required to set up some of these cool features, including which playlists or podcasts you want to listen to, and the cell phone number and message you want to send to your loved one. But once you've got everything configured, all you need to say is "Let's go to work" or "Let's go home" and Google handles all the rest.
Best Universal Car Mounts for 2018
Let your Assistant shut down the house at night
Technology can be a real thorn at nighttime when your body is trying to wind down for the night but you can't rip your eyeballs away from your phone screen. Google Assistant won't fix your bad habits, but it can help you get ready for bed in other ways.
With the "Bedtime Routine", your assistant can put your phone on silent, give you a quick rundown of what's going on tomorrow, and toggle off any smart lights or plugs you have set up in your home. Then you can set your alarm for the following morning and then choose your favorite relaxing music or "Sleep sounds" (think a relaxing babbling brook or white noise) to help you fall asleep peacefully.
Once it's set up simply tell your Assistant "Bedtime" or "Good night" and then tuck yourself in. Sweet dreams!
How to get Google to softly lull you to sleep
What's your favorite Assistant routine to use?
These are our recommendations, but we want to know how you use Google Routines! Let us know in the comments.
Get the Android Central Newsletter
Instant access to breaking news, the hottest reviews, great deals and helpful tips.
Marc Lagace was an Apps and Games Editor at Android Central between 2016 and 2020. You can reach out to him on Twitter [@spacelagace.