How to get Google Home to softly lull you to sleep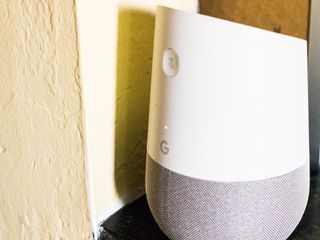 Finding it hard to fall asleep with the blaring summer heat? Google Home is good for more than turning off the lights or playing back your favorite podcast. You can use it as a noise machine of sorts for when the current environment just isn't your vibe. If you're in the U.S., you can use these quick tricks to get the Assistant-enabled speaker to drown out the noise of the trains, planes, and automobiles outside your window and instead transport you to a serene nature scene — or whatever else you need to be to fall asleep.
Start by asking it nicely
It's straightforward: All you have to do is utter Ok Google and then ask it to play ambient noise. If you'd rather listen to a particular sound, ask it to play river sounds, for instance, or play white noise if you're simply in need of a little background ambiance. Google Home will play the audio for an hour if it isn't manually turned off, and since it typically takes 10-20 minutes for the average person to fall asleep, that should be plenty of time for you to get settled into slumberland.
Sometimes, if you shout out the command, Google Home doesn't seem to budge or understand where you're getting at, and it can become frustrating and thus keep you from working on getting to sleep. If you're finding yourself there, ask Google, What other ambient sounds do you know? Google Assistant will give you a rundown of what it can do. Or, you can peep this list from the official Google Home support page:
What's your favorite sound?
What do you like to fall asleep to at night? Let us know in the comments below!
Get the Android Central Newsletter
Instant access to breaking news, the hottest reviews, great deals and helpful tips.
Florence Ion was formerly an editor and columnist at Android Central. She writes about Android-powered devices of all types and explores their usefulness in her everyday life. You can follow her on Twitter or watch her Tuesday nights on All About Android.