Google Assistant routines: Everything you need to know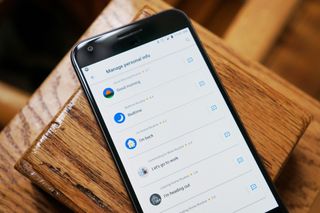 (Image credit: Android Central)
The dream of living in a futuristic smart home where you can control everything with just your voice within reach, thanks to Google Assistant and Google Home speakers.
Routines allow your Google Assistant to trigger multiple actions when you say a specific phrase. Google unveiled routines earlier this year with six standard routines baked into the Google Home app. At Google I/O, Assistant was front and center showcasing a bunch of cool new features being added — including the addition of custom routines.
What's new in Google Home and Assistant at Google I/O 2018
How do Routines work with Google Assistant?
If you've ever played around with Alexa routines, it's essentially the same situation now for the Google Assistant. With routines, you can pre-program Assistant to perform specific tasks when you say certain commands.
Google has included a number of ready-made routines that cover six common scenarios where you'd want Google Home to automate certain actions:
Good Morning Routine: With the Good Morning Routine, your Assistant can turn on your lights, give your daily briefing, tell you the weather, play music, and more. All you need to say is "Good Morning", "Tell me about your day", or "I'm up"
Bedtime Routine: Use this routine to have your Assistant turn off your connected smart lights, brief you about your upcoming day, set a morning alarm, etc. All you need to say is "Bedtime" or "Good night"
I'm Home Routine: You can set your Assistant to turn on your lights, give any home reminders, and play your favorite music. All you need to do is say "I'm home" or "I'm back".
Commuting to Work Routine: Assistant will brief you on your upcoming calendar events for the day, tell you about your commute, start playing music or podcasts and more. All you need to say is "Let's go to work".
Leaving Home Routine: Your Assistant can ensure all your smart home products (smart lights, smart thermostat, smart plugs, etc.) when you leave the house. All you got to say is "I'm heading out" or "I'm leaving".
Commuting Home Routine: This routine can be set to give you information about your commute, text others to say you're on your way home, play music or a podcast and more — all by just saying "Let's go home".
All these routines can be customized based on the smart home products you may have connected in the Google Home app.
These Products and Services Work with Google Home
Can I create custom routines?
Custom routines are a thing, but are still rolling out and only currently available in the U.S., so the rest of us will have to wait.
If the feature is live in your Google Home app, it's a cinch to create your own routines. From the Google Home app, tap the menu icon in the top left corner and find the "More settings" section.
If you see the Routines section, tap it and then tap the "+" icon to create your own routine. From there, you're able to create a custom command which will be the words or phrase you'll use to trigger your custom routine. You can either type out the command or tap the microphone to speak it to Google. Next, you'll set what actions you want the Google Assistant to take on your commend and that includes practically anything that the Google Assistant can control and also the option to
In the future, Google will be adding the option to let you schedule routines to go off automatically at a certain time of day without needing to be manually triggered, opening up a whole new level of smart home awesomeness.
What's the difference between Routines and Shortcuts?
If you don't see the Routines section in your Google Home app, you should instead find Shortcuts, which operate similar to routines although don't allow you to do as much with one voice command.
The main difference is that Shortcuts are used to customize a single action with a customized trigger word, where as Routines let you group multiple actions together. Keep in mind that you won't be able to use multiple voice queries for setting actions for Shortcuts or Routines — yet.
Get the Android Central Newsletter
Instant access to breaking news, the hottest reviews, great deals and helpful tips.
Marc Lagace was an Apps and Games Editor at Android Central between 2016 and 2020. You can reach out to him on Twitter [@spacelagace.